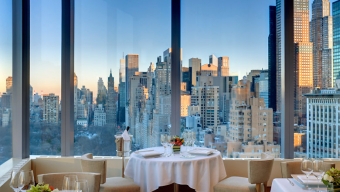 Asiate
A LocalBozo.com Restaurant Review
80 Columbus Circle near Broadway, 35th Floor of Mandarin Oriental, Upper West Side
212-805-8881
Getting There: 1,A,B,C,D to 59th Street-Columbus Circle
http://www.mandarinoriental.com/newyork/fine-dining/asiate/

Restaurant Review: Asiate
E
ven from the ground floor, it's difficult to feign being unimpressed by the picturesque fountain that sits in
Columbus Circle
, where in New York City even a traffic-laden passageway can be particularly eye-catching with a little elbow grease. Thirty-five floors up and that same view, coupled with the sights of
Broadway and Central Park
amid a west side skyline, makes for a setting that is truly striking. Yet here we find ourselves, gazing out of these floor to ceiling windows inside the posh
Mandarin Oriental
, a luxury hotel that is home to
Asiate
, a sophisticated restaurant that sports American-nouveau inspired cuisine with sense altering dishes that somehow rival the place's breathtaking view.
Despite any advance requests, Asiate has only so many tables situated windowside and as the restaurant will advise, there are no guarantees. Just a few feet back however and there is still plenty to behold from inside- the wall of hundreds upon hundreds of wines, the booth lined exteriors of the space and the bright lights atop the city buildings nearby. Aside from the special atmosphere, it's the little things that Asiate takes care of that makes dining here so exceptional- the friendly hostess who also checks your coats, the exemplary waitstaff who don't leave a water glass even half empty, even the few additional tastes sent out by the chef before and after the completion of your meal- and it's these little things that set a standard of excellence at Asiate.
Diners have the option of a Prix Fixe Menu, three courses priced $95 or a seven course Tasting Menu for a heftier $150, with an additional $110 per person for the optional wine pairing. Having been thoroughly impressed with the Tasting Menu previously, the Prix Fixe was surprisingly superior in our estimation during this visit. The "Buckwheat and Eggs" is offered on both menus fortunately and it is absolutely exquisite. Delightfully flavorful with hints of fresh fish, the dish combines strands of soba noodles, Osetra Caviar, and uni cream that results in a colorfully decorated and decadently rich tasting serving. Similarly delectable, the "Ocean" looks like a handful of prepared seafood pulled from a cauldron and delicately placed on a plate. With fresh squid, a perfectly seared scallop, hearts of palm and a prawn, the end result is somehow decidedly creamy highlighted by a golden foam that drapes every green and hunk of seafood that sits beneath.
After much consideration, we tack on the requisite additional $10 to include the "Lobster," expertly poached and served beside pickled pear and parsnips. The meaty chunks of lobster meat are served inside a halved red shell and topped with purple florets atop the bed of vegetables and with little in the way of seasoning, it's clear that there's no substitute for the sheer taste of freshly cooked lobster. But for Asiate's finest dish, look no further than the outstanding "Long Island Duck Breast." Prepared perfectly, the unbelievably tender slices of duck were spread over a sweet glaze and tart cherries and served with a side of miniature Brussels sprouts. Enveloped in its own seasoned salty browned skin, each savory bite delivered a juicy and succulent combination of distinctive flavors- an unequivocal must taste at Asiate. Though the desserts that followed were equally as rich, including a thick chocolate sauce filled "Souffle" that was gooey and spectacular, it was the duck that we still can't stop raving about- a testament to the fact that the food being served inside of perhaps New York City's most scenic restaurant somehow manages to supersede the unparalleled view.
Rundown of the Meal
Three Course Prix Fixe Menu ($95)
First Course
Ocean*
Buckwheat and Eggs*
Second Course
Lobster (sup. $10)
Long Island Duck Breast*
Dessert
Chocolate Soufflee
Chocolate Mousse
*Meal Highlight
Related Articles
Share
About Author
(0) Readers Comments