Our correspondent vowed to have a drink at every single bar in Hoboken and did so successfully with Spirits in the Sixth Borough." Every Friday morning, we'll pick up where he left off, showing you distinctive bars in each New York City borough perhaps for the very first time, perhaps to refresh your memory of a fun place you've ducked into, or perhaps to suggest a new spot for you to check out as you gear up for the weekend. You can follow our sudsy travels every week with LocalBozo.com's "Drink Here Now."
The Press Box
932 Second Avenue at 50th Street, Midtown East
212-317-1826
Getting There: E,M to Lexington Avenue-53rd Street; 6 to 51st Street
http://www.thepressboxnyc.com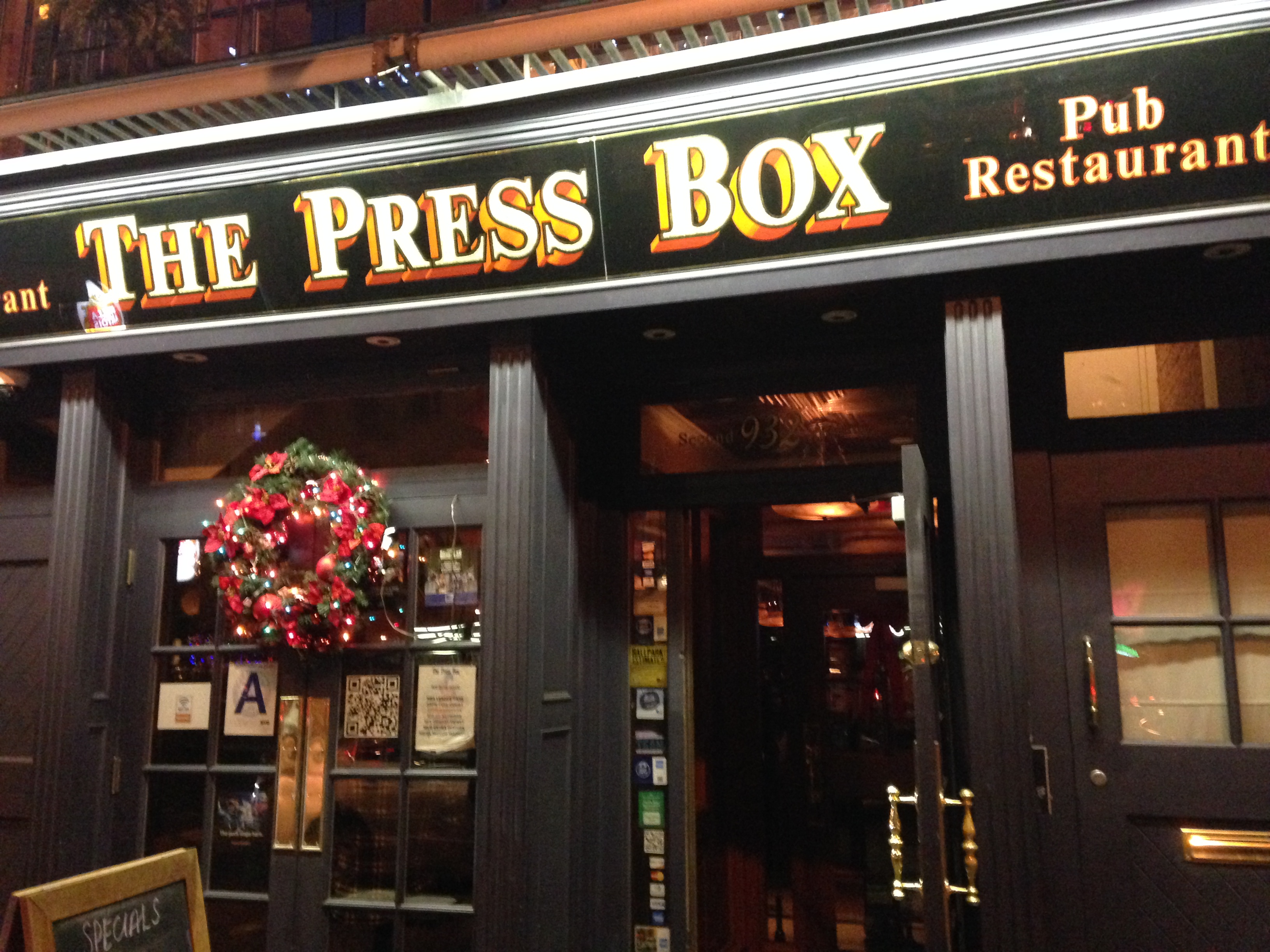 Often I find myself in Midtown East, wandering the streets in search of a quality destination following a happy hour or a hearty meal. And in looking for a place that is a step and a half above a run of the mill dive bar, I always seem to find myself at The Press Box, which sits neatly on Second Avenue. The two floor space is often packed at the first floor bar, but behind those shadows also sits an Irish American inspired restaurant- warm and inviting by any standards- with items like "The Sun," "The Times," and "The Post" which hint toward a kitschy nod to the media via the bar's name.
While you won't find blaring club music here or a spot where you can't reach the bar because there are so many people crammed inside, what you fill find is often more pleasurable: a very solid bar and restaurant that is well suited for catching up with buddies or even enjoying a drink with just one other person. The scattered televisions behind the bar might indicate that The Press Box is a New York City sports bar, but that's actually a bit misleading. It's a traditional, classy sort of pub that looks like it would fit in comfortably on any street in Dublin. Inside, rich brown wood drapes the entire space from the bar stools to the back of the bar to the ceiling no less in a fitting bit of class for the after-work types who frequent the pub.
There's close to 15 draught beers on the menu including "Magic Hat #9," a perpetual favorite of mine. Meanwhile, the wines by the glass here are reasonable at around $9 per and a fairly basic cocktail list that doesn't exceed $15. But the reason to take a trip over to The Press Box is the pub fare that pairs with each drink. Be it the "Press Box Burger" ($14) with onion confit or the "Boursin Burger" ($15) overstuffed with garlicky cream cheese or even the requisite wings, tenders, skins, sticks, buffalo shrimp and rib tips that you'd hope to find at every corner bar, the menu here is vast and delicious. If you're here for a real meal- there's the likes of "Shepherd's Pie" ($16) and "Braised Short Ribs Over Pappardelle" ($19) as well. Hey, a guy's gotta eat right? Why not here?
The Rundown
Bar Type - A modernized take on a classic pub. Just don't classify it as solely a sports bar.
When to Visit – Early evening weekends are a lot of fun here- especially if you've got a small group and can grab seats by the window. Happy hour is destined to be busier, but the same experience can be had.
Value - The Press Box is not a dive bar so you might not find too many $2 beer nights. That said, the prices are comparable with neighboring watering holes.
The Lowdown – I'm not sure what it is, but there's something that is just distinctly likable about The Press Box. It's got above average comfort food by the bar and offers a different experience altogether if you stop inside for lunch or dinner. We prefer to use the first floor bar space to shoot the breeze and people watch and to throw back a few beers before heading back out to our day to day responsibilities. You won't find too many young people here- but that's okay sometimes. It's a relaxing adult bar equipped to handle hungry diners, hardcore sports fans and the casual drinker inside of a more upscale bar than you're probably used to frequenting.
-Alex Corrine
Related Articles
Share
About Author
(0) Readers Comments