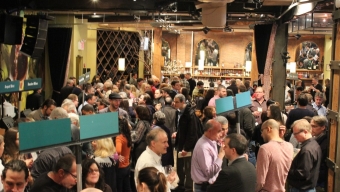 More than forty of the finest creators of Pinot Noir assembled at Tribeca's City Winery on Saturday afternoon for the now annual "Pinot Days" event- a three hour Grand Tasting that featured winemakers from the different California wine regions alongside some from the Pacific Northwest and New Zealand. The afternoon was a showcase of the distinctiveness of wines by producer and the vast differences of each bottle whether sourced from a single vineyard or collaboratively in a blend with other grapes. With so many truly different wines to sample, narrowing down our favorites was no easy task- especially with so many of them having some exceptional characteristics.
"Pinot Days" is one of the more unique events that comes through Manhattan because its rare for a wine tasting to focus solely on one section of the increasingly expansive wine community. More often than not, events will host an array of whites and reds that don't offer as formidable an opportunity to compare and contrast likes and dislikes because the wines are on opposite sides of the spectrum. Not here though, where the wines are similar in style but differ greatly across the board.
The lineup of hundreds of thirsty patrons ran outside of the doors of City Winery and out onto Varick Street on Saturday afternoon with so many eager attendees arriving prior to the 1pm start time. But the line moved quickly as guests checked in, checked their coats, and grabbed an empty wine glass from a nearby table. Fortunately, the wineries were all arranged alphabetically around the room which made selecting your next tasting incredibly easy.
Upon entering, we quickly headed toward the back of the list and re-visited one of our favorite stops from last year's "Pinot Days" event. Wrath isn't just a cool sounding name- they also dole out some pretty notable wines as well. This year, the winemakers were serving two 2011 single vineyard Pinots- one from Santa Lucia Highlands (McIntyre Vineyard) – the other from Monterey (San Saba Vineyard). With just under 70 cases produced, the Santa Lucia's floral nose and delightful hints of red fruits were evident from the start, an ideal wine to begin our afternoon of tasting.
Just steps away we met a new-to-the-game mother-daughter team from Trombetta Family Wines, pouring their 2011 Sonoma Coast "Gap's Crown Vineyard" Pinot Noir- a berry filled sense explosion that brought about scents of dark fruit and a bit of cocoa on the finish. Their wine was only matched by the friendly and outgoing rapport they shared with many visitors to their table all afternoon long- certainly a pairing that we'll be rooting for and monitoring in the months to come. We also enjoyed the wines courtesy of Villa Maria, among New Zealand's most highly regarded producers. Of the four bottles being poured, their "Marlborough" 2008 Reserve ranked highest to our discerning palates. With its spice filled nose and assortment of cherries on the front end, the wine was remarkably balanced from start to finish.
There were more than 100 wines being poured at City Winery on Saturday afternoon and thus tasting each one without falling over wasn't impossible, but proved to be challenging- what with the assortment of charcuterie, fresh cheeses, and samples of jerky courtesy of KRAVE keeping us thoroughly distracted from the endless bottles of vino being poured. But that said, there were a plethora of other wines worthy of praise in this section- namely Fess Parker Winery and Vineyard, Dutton-Goldfield Winery, Macmurray Ranch, Loring Wine Company, and MacPhail Family Wines' 2011 "Sundawg Ridge, bold and texture filled and a suitable representative for what we'd expect from a Pinot Noir.
Although we couldn't taste everything, we made sure to request suggestions from the buzzing crowd that surrounded us so that we'd be able to taste some of their favorite wines of the day. The friendly faces in attendance certainly seemed to be having as interactive an experience as we were in chatting with the wine purveyors at each of the tables. The only unfortunately piece that we were left with as the event reached its conclusion, was that there simply aren't enough "Pinot Days" in the course of the calendar year- though this one reinforced our love for that beautifully made, wonderful tasting red, drinkable wine.
- Jane Van Arsdale
Related Articles
Share
About Author
(1) Reader Comment