Otto's Tacos
A LocalBozo.com Restaurant Review
141 Second Avenue near 9th Street, East Village
212-796-1500
Getting There: 6 to Astor Place; L to 14th Street-Union Square; F to Broadway-Lafayette Street
http://www.ottostacos.com/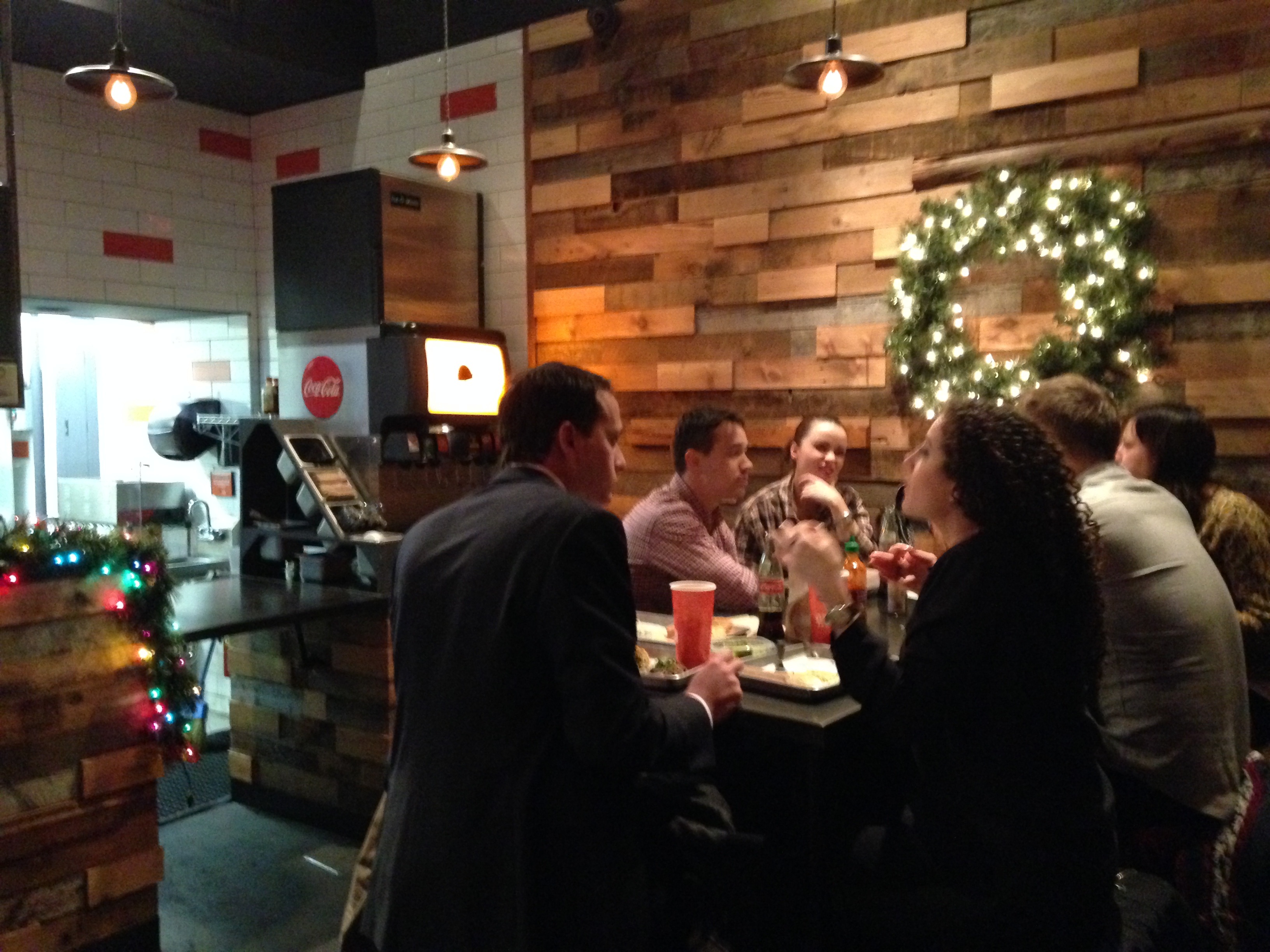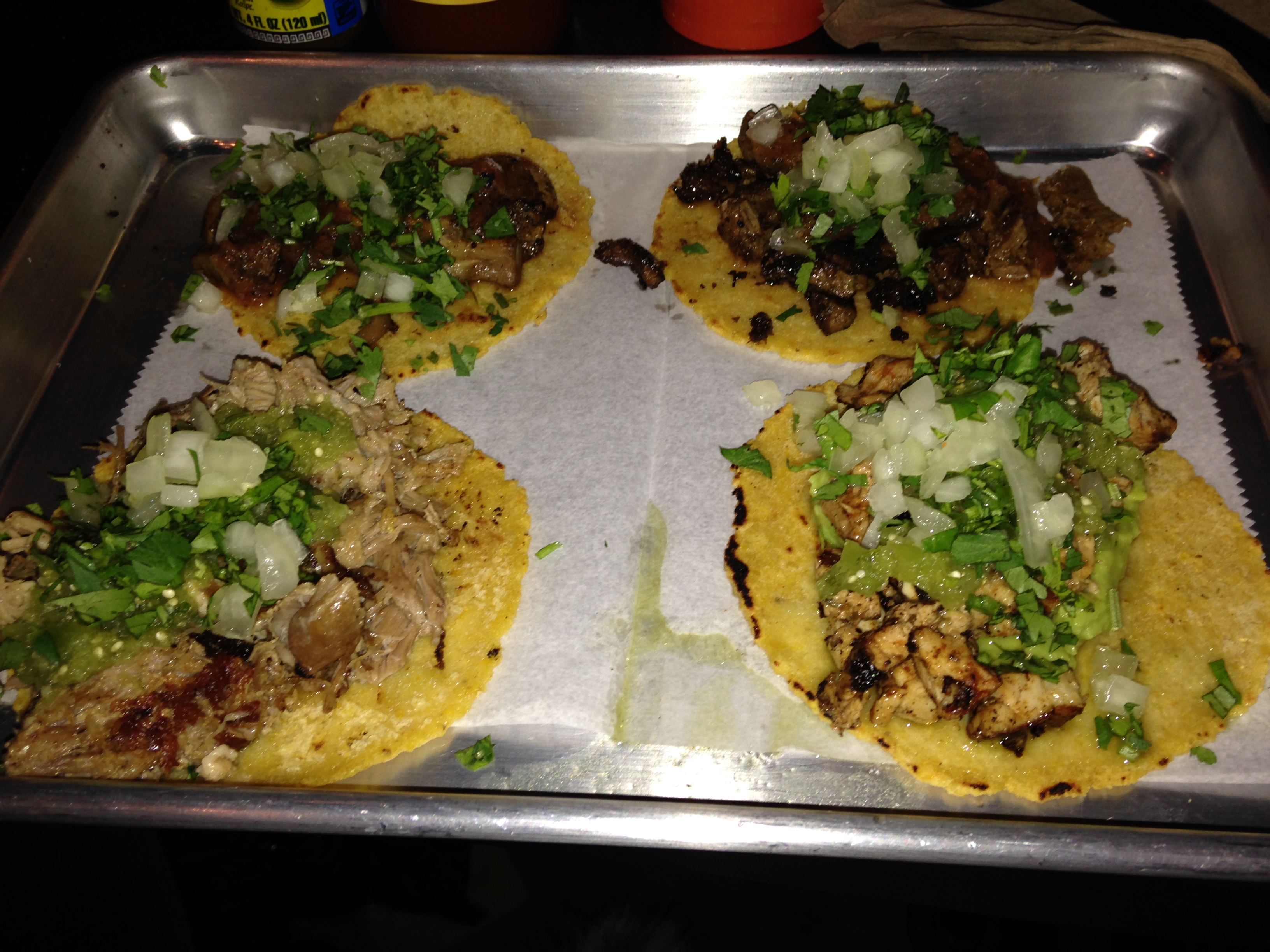 Most New Yorkers share an affinity for grab-and-go food- it's our nature in the can't stop-won't stop bustle of city living. And yet somehow, with such a preponderance of niche eateries and restaurants on every corner, our City has never seemed to be able to tap into the perfected west coast art of taco making. All of that changes though with the fall opening of East Village haunt Otto's Tacos, a fast casual taco spot that serves up some succulent tacos and makes it look easy in the process.
The space is scant inside Otto's Tacos most nights. Even as you place your order at the counter, you'll be scanning the area around you where you're likely to find a dearth of empty seats. But despite your brief panic, stools always seem to open up just as you need them as courteous diners avoid lingering here as they notice your desperate need to sit and consume. At Otto's, the decor is hardly fancy although it manages to be particularly inviting so much so that you"ll want to enjoy your food here rather than take it home. Inside, the space is decked out much like a traditional taqueria you'd expect to find out west- the requisite fountain soda machine camouflaged into the wood paneled wall and counter area, one lone television hanging above the register, and a friendly employee who seems genuinely happy to steer you through the place's abbreviated menu.
Below: "Carne Asada" & "Carnitas" Tacos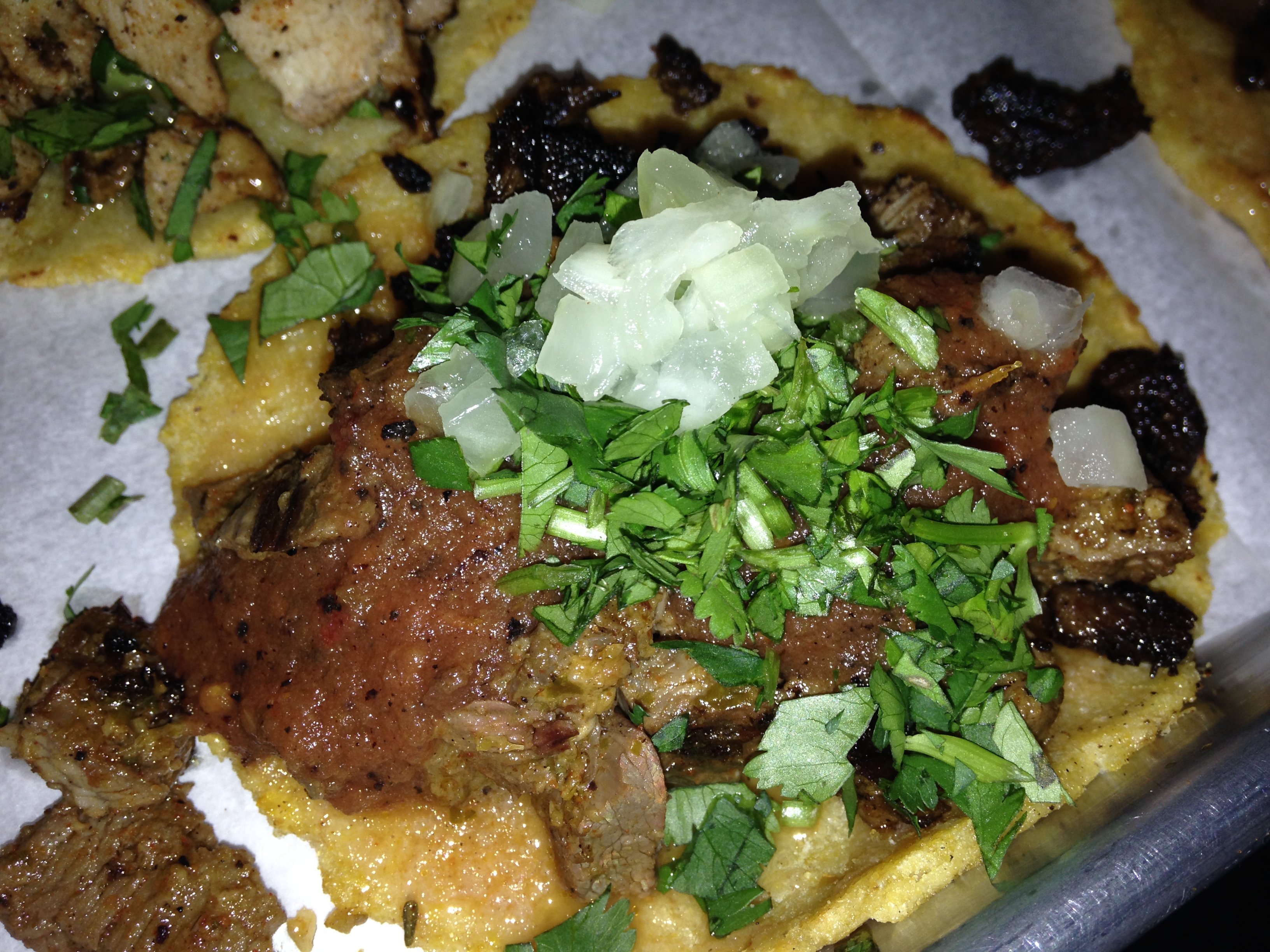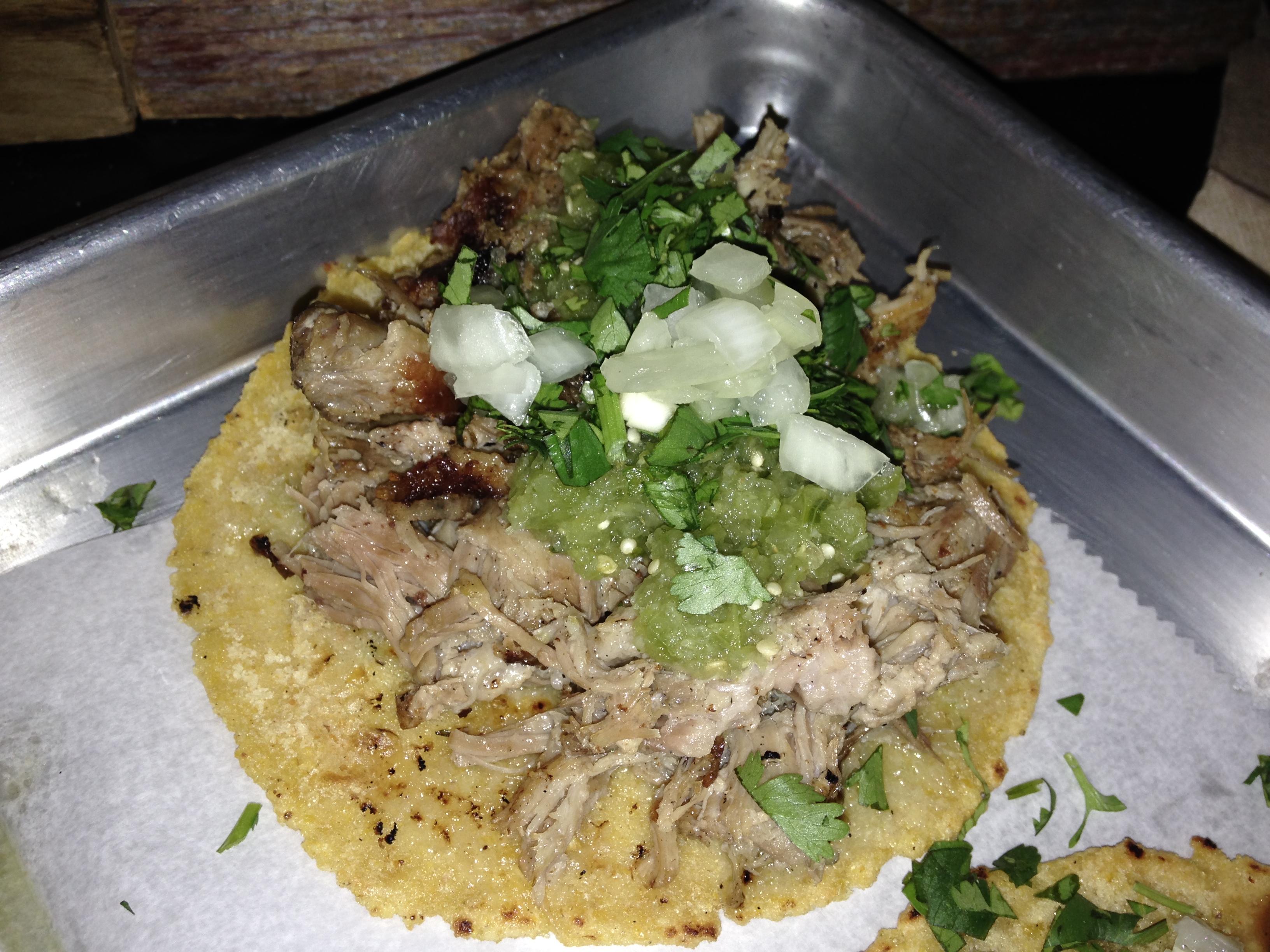 You'll have your selection of five tacos here, adorned with traditional taco flavorings- some fresh cilantro, chopped onion, delicious salsa- and in a style classic to Los Angelinos, no cheese. Each of the "Carne Asada," "Carnitas," "Chicken," and "Mushroom" varieties will run you just $3, with the "Shrimp" coming in just a touch higher at $3.50, all of which are a veritable steal based on flavor alone. Each taco is served on house made corn tortillas served fresh and warm and definitively delectable on their own. We order up a tray of four, eschewing the vegetarian option, and after a minimal wait, the brightly colored arrangement is doled out to us. While you can't really go wrong with any of them, the "Carne Asada" and "Carnitas" yielded the finest flavors to our palates, each with a bit of a salt filled kick. Portion-wise, the tacos are hardly massive, but three should do the trick for the hungriest of eaters.
Below: "Chicken" & "Mushroom" Tacos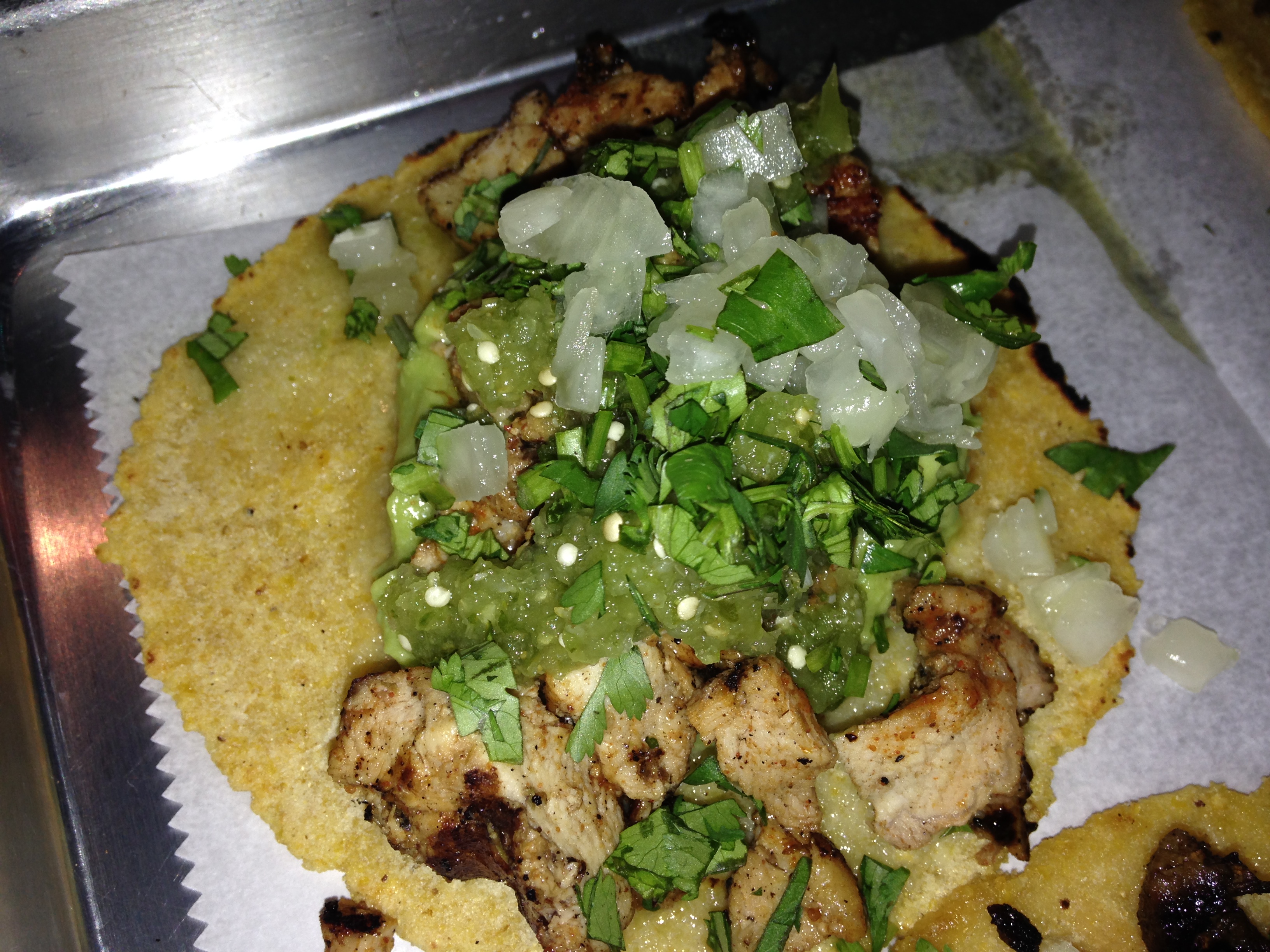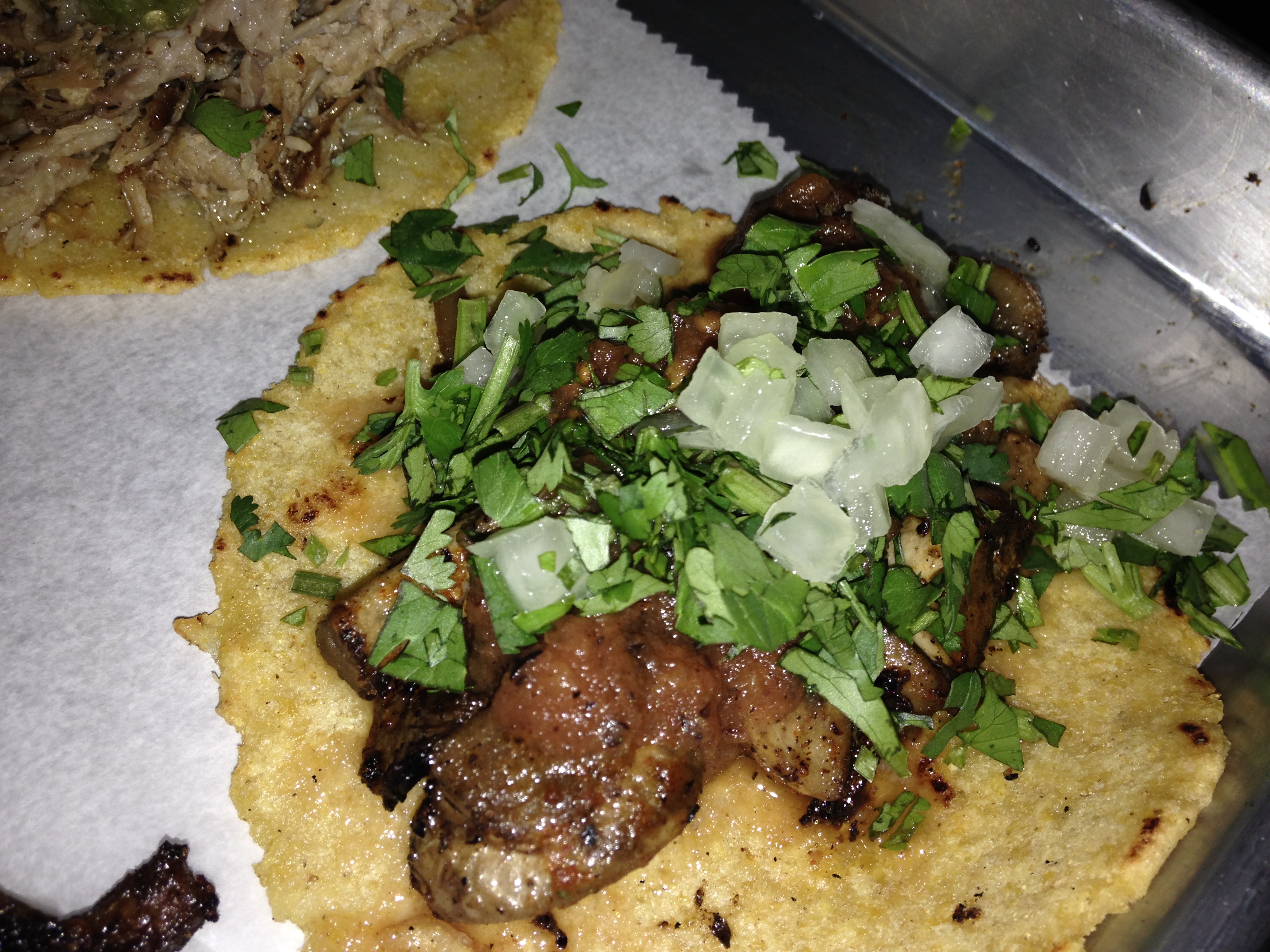 Unless you're dating an uber-cool gal, Otto's Tacos might not be the best call for a first date spot. But if you're looking for a reasonable night out- be it with buddies or with someone you're comfortable with- you won't find much better value anywhere in Manhattan, where tacos are often sub-par and quickly forgotten. Not here though, where Otto's Tacos is breathing some much welcomed new life into a depleted and tired fast-Mexican food scene.
Rundown of the Meal
Tacos
Carne Asada ($3)*
Carnitas ($3)*
Chicken ($3)
Mushroom ($3)
*Meal Highlight
Related Articles
Share
About Author
(0) Readers Comments