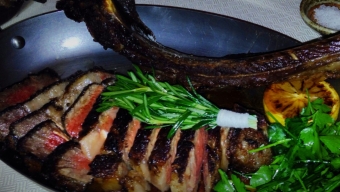 Costata
A LocalBozo.com Restaurant Review
206 Spring Street near Sixth Avenue, SoHo
212-334-3320
Getting There: C,E, 6 to Spring Street; N,R to Prince Street; 1 to Houston Street
http://costatanyc.com/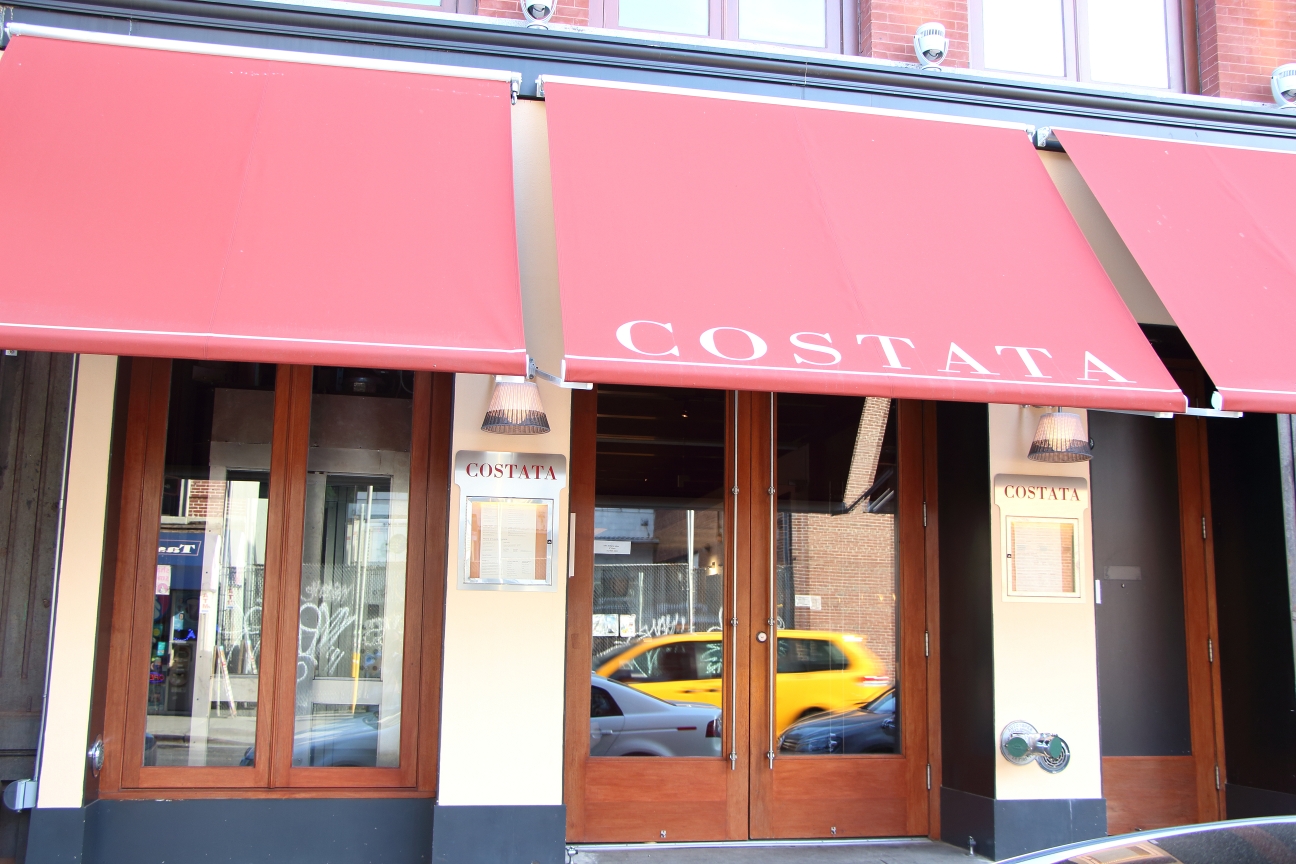 In Italian, Costata means ribeye. In New York City, it means another wonderful restaurant opened under Chef Michael White's Altamarea Group umbrella. The team's fifth such opening, its first but not last foray into the world of high end steakhouses (see Ristorante Morini), brings a refined touch of business class to the younger skewing SoHo neighborhood. The bi-level space opened in the middle of 2013 and immediately added a deliciously marbled steak to Chef White's already much hyped penchant for hand-crafting an array of delectable crudos and house made pastas at Costata's sister restaurants. And with portion sizes sliced from a bone that would make Fred Flintstone salivate, Costata manages to deliver tastes that are equally as eye opening as the presentation itself.
Costata doesn't waste much time with decor that is too elaborate for its setting. Instead, it makes fine use of the space that it occupies with a glass elevator that transports guests to the second level bar area as your reservation is accommodated. The hosts meanwhile make use of the digital age and search for pictures of the reservation bearer so that they can greet you by name upon entering- an absolute touch of class that shows a willingness to go the extra mile for a customer base that has already consented to paying a pretty penny by dining here. While you'll certainly be awestruck by an extensive wine list that is the size of an encyclopedia, finding a bottle that suits a diminished budget can be a bit of a search, though there are a few that exist here.
Once inside, the two floors are remarkably well lit, a much welcomed change of pace to the traditionally dimmed 'boys-club' feel that most steakhouses exude. But Costata succeeds because of the Italian inspiration of its Chef/owner and its ability to exceed beyond the realm of a steakhouse with a menu that includes pastas prepared in house, inventive and succulent starter dishes like the "Quail Saltimbocca" ($21) and the "Mare" ($21- a warmed seafood salad), and yes, a bevy of mouthwatering meats, dry-aged for 40-55 days in house.
Considering our sizable party, we made the cardinal error of eschewing the Crudo and heading right for the pastas and appetizers, a mistake that we hope you'll avoid on your first visit, considering Chef White's notable pedigree. That said, the pastas here, while not as exceptional as those served at Osteria Morini, were quite good. The "Risotto" ($19) combined bits of duck confit with a thich, delicious marsala glaze draped around fresh hen of the woods mushrooms. Equally as tasty was the "Cavatelli" ($17) with creamy fontina and richly braised hunks of oxtail embedded around a sea of small al dente pasta shells, but it was the tender "Octopus & Pork Belly" ($22)- on its face a peculiar combination- adorned in an orange marmalade, that although diminutive in size, packed in a wallop of flavors.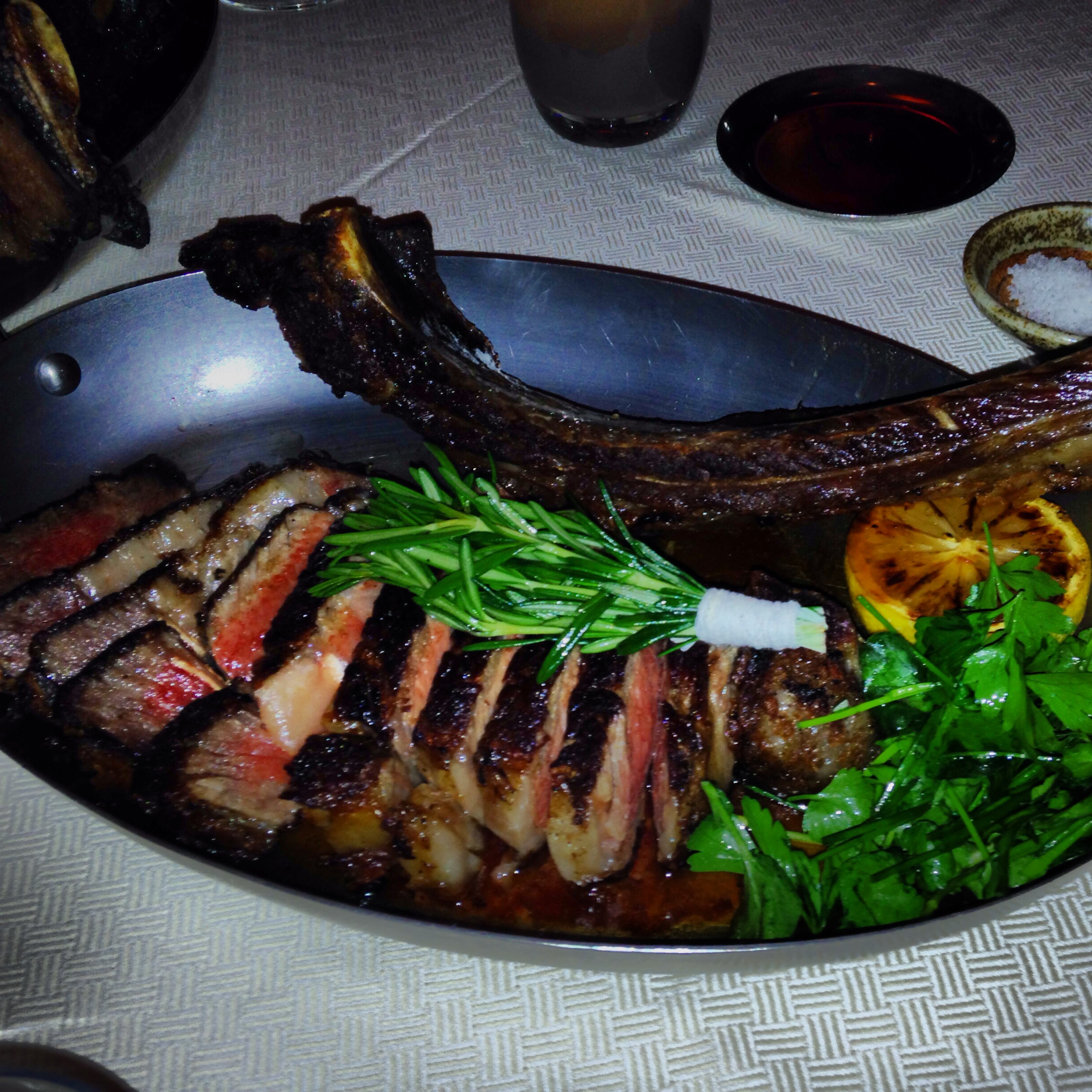 Costata offers four traditional steaks prepared for one- the 18 ounce boneless "Ribeye" ($57) is remarkably charred and savory- but you'd be best served opting for the prime black Angus cuts for two. Specifically, the house specialty "Costata" ($126) also known as the 44 ounce 'tomahawk ribeye' is decadent in both price and in flavor. Dusted in olive oil and with a sprig of fresh rosemary, the combination of deliciously tender meat perfectly cooked to a medium rare and flavored with just salt and pepper, was served table side on a massive tray and cut from the dinosaur sized bone. The slightly less pricey "Fiorentina" ($122) for two is a leaner, more traditional porterhouse cut but is similarly extravagant when richly doused with "Black Truffle Butter" ($3) or the "Black Pepper Pancetta Cream" sauce ($4), which rank atop the nine different accoutrements to your steak. Though no steak is complete without a requisite selection of sides, the "Crispy Red Bliss" ($10) potatoes were the standouts here, topped with freshly sliced garlic, rosemary and chili flakes to starchy perfection.
With Costata, it seems like nothing is off limits for Chef White. In the space he made famous at the turn of the century with Fiamma, the Italian inspired steakhouse is an ideal middleground between a haven for meat seeking carnivores and an elegant, almost chic space that even a group of ladies can enjoy. Though perusing the menu will likely leave you drooling, you'll find yourself in far too refined an environment to let the excitement best you. But try as you may to keep it together, the arrival of the "Costata" is likely to turn even the most polished diner into a modernized primal caveman.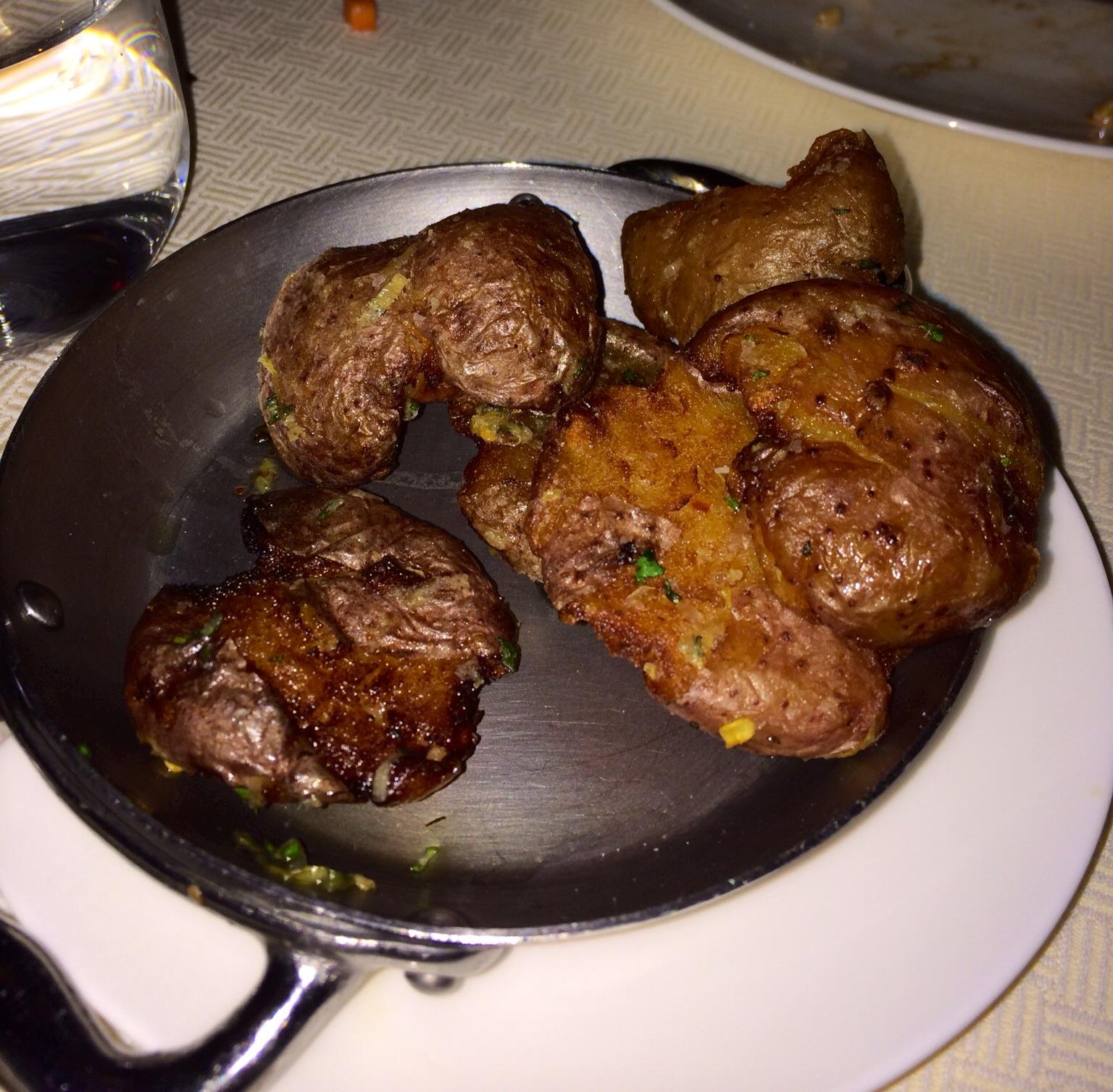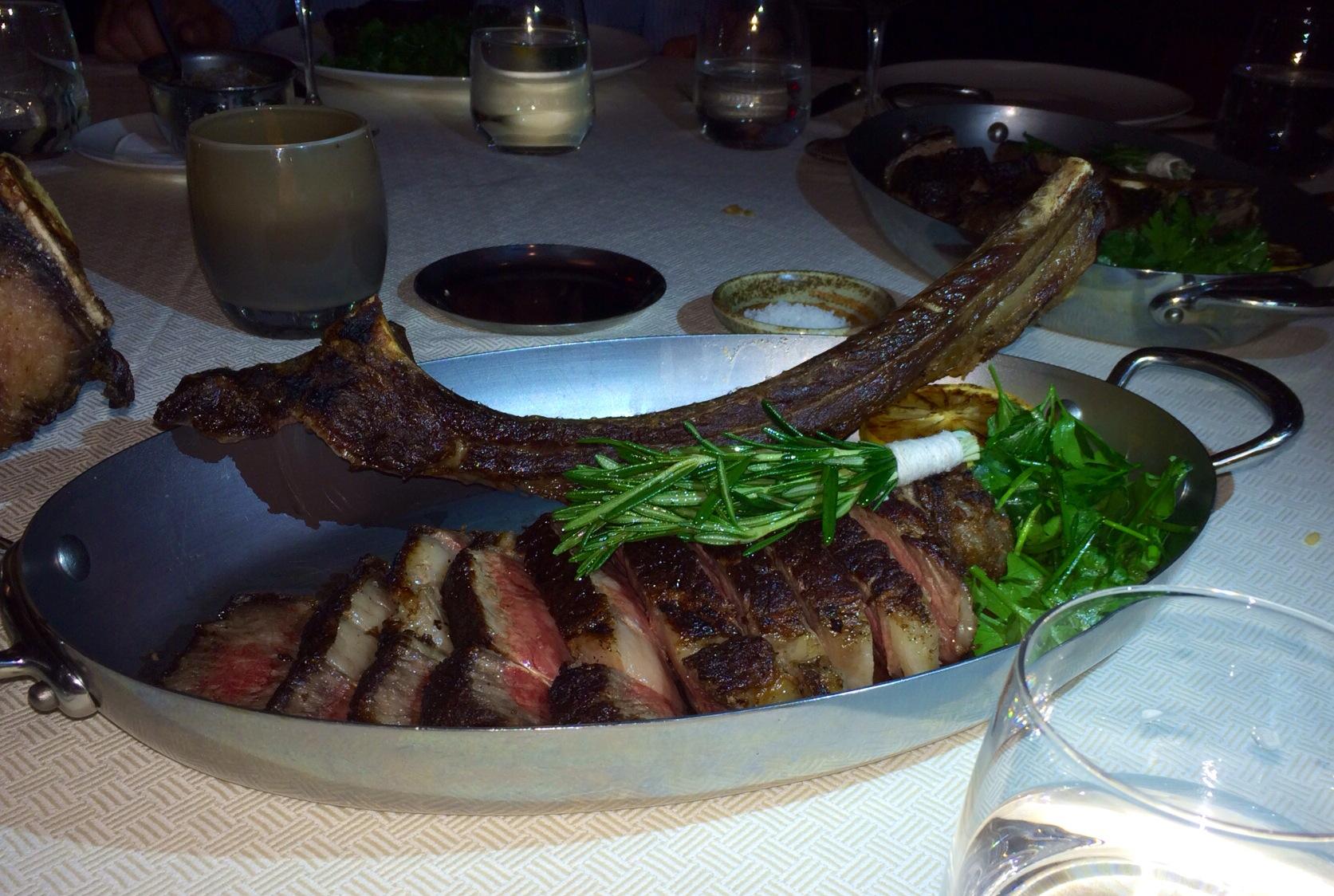 Rundown of the Meal
Appetizers & Salads
Quail Saltimbocca ($21)
Octopus & Pork Belly ($22)*
Pasta
Cavatelli ($17)
Risotto ($19)
Potatoes & Grains
Crispy Red Bliss ($10)*
Farotto ($10)
Vegetables
Creamed Spinach ($10)
Brussels Sprouts ($10)
Prime Steaks & Chops
Fiorentina ($122)*
Costata ($126)*
Ribeye ($57)*
Butters
Black Truffle ($3)
*Meal Highlight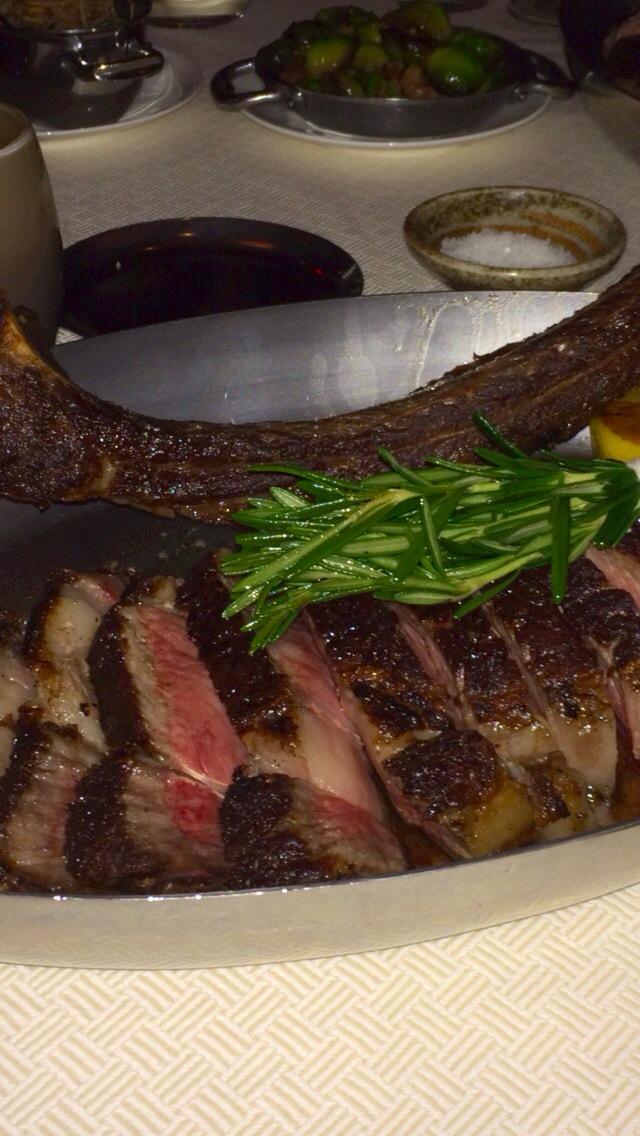 Related Articles
Share
About Author
(1) Reader Comment