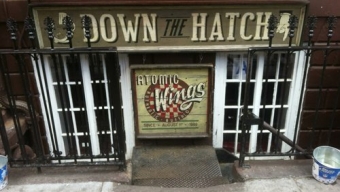 Our correspondent vowed to have a drink at every single bar in Hoboken and did so successfully with Spirits in the Sixth Borough." Every Friday morning, we'll pick up where he left off, showing you distinctive bars in each New York City borough perhaps for the very first time, perhaps to refresh your memory of a fun place you've ducked into, or perhaps to suggest a new spot for you to check out as you gear up for the weekend. You can follow our sudsy travels every week with LocalBozo.com's "Drink Here Now."
Down the Hatch
179 West 4th Street near Jones Street, West Village
212-627-9747
Getting There: A,B,C,D,E,F,M to W. 4th St – Washington Sq.; 1 to Christopher St.-Sheridan Sq.
http://www.nycbestbar.com/downthehatch/
Drink Here Now: Down the Hatch
Ah New York City. There are new bars and there are old staples. I've been visiting West Village bar Down the Hatch for the better part of the last decade- as far back as I can remember having been able to get into bars. Its underground location is an ideal respite from the typically chilly winter nights and the scorching summer afternoons. Although it caters to a younger, frattier audience, there are also guys like me who have grown up with the place and continually head back for a visit every now and again- though candidly, it's never as frequently as I'd have liked- so you find a decent mix of after work grown-ups and after class college students co-inhabiting the dimly lit space.
The name Down the Hatch always seems to resonate with people conversationally, jogging their memory of a hookup gone wrong, a drunken afternoon, or an emergency trip into one of their tightly spaced rest rooms. And that said, the place does always seem to evoke fond memories of a true West Village institution on a street laced with sex shops, small restaurants, and some less exciting bars. Inside the space is decorated like any run of the mill kitchy bar. But part of the NYC Best Bars family, which includes The Stumble Inn, The Gin Mill, Hair of the Dog, The 13th Step, and Off the Wagon, the staff knows a thing or two about running a successful bar and whether your visit is a rehashing of some old memories here or whether its your very first visit, Down the Hatch is quite a unique haunt.
After being given a thorough once over by the always friendly (at least, at the beginning of the day) bouncers, there's ample seating for parties on both sides of the bar. Ultimately, you'll find yourself sitting on the communal swing which hangs in front of the DJ booth or toward the back of the adjacent room either playing a drinking game at the large table or working on a game of beer pong, which will almost certainly end in a fight based on competing rules and tossing etiquette amongst two competitive strangers. Down the Hatch has carved a name for itself over the years because of its unbeatable daytime drink specials on weekends, where from 1pm to 6pm all you can eat wings and beers will run you just $23. Although it's limited to just three pitchers, bringing enough singles and saw bucks to tip out the friendly bar staff will make their count easy to overlook. The Atomic Wings being brought out from the kitchen also don't hurt as they are some of the tastiest in town. So while you might not order an Old Fashioned or a Martini at this bar, grab a cheap pint of light beer and a basket of wings and relive some of the good old days at a bar that's remained its same superior self for so many years.
The Rundown
Bar Type - An NYU area bar that caters to collegiate youths, married old men, and seemingly anyone in between looking for an unpretentious night to kick back
When to Visit – You need to visit on Saturday at 1pm. Period. $23 for unlimited wings, fries, onion rings and beer. For 5 hours.
Value - The owners ensure value at all of their bars and Down the Hatch is no different, every day of the week. After work, sit down for $2 cans, $8 pitchers, $3 bottles- it varies all week long based on day of the week but the bar is half price until 8pm Monday through Friday.
The Lowdown – Down the Hatch is one of New York City's best drinking establishments, evidenced by its reputation and its penchant for perpetual good times. Those who scoff at drinking light beer in a basement bar would be best suited elsewhere, but for those of us looking to enjoy a taste of our City in a space that's indicative of the fun neighborhood that surrounds it, we look no further than DTH. And although as I've gotten older my visits have become more sparse, each time I drop in I feel like I haven't grown up at all.
-Alex Corrine
Related Articles
Share
About Author
(1) Reader Comment