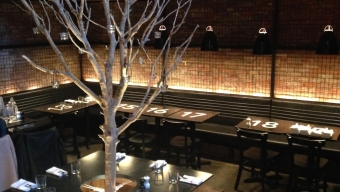 Tartinery
A LocalBozo.com Restaurant Review
209 Mulberry Street at Spring Street, Nolita
212-300-5838
Getting There: J,Z to Bowery; 6 to Spring Street
http://www.tartinery.com/

Much of the menu at Nolita's modernized take on the classic French bistro, Tartinery, is quite basic. Take a topping of your choice and have it thickly layered atop some deliciously fresh bread and voila, you've got yourself a tartine. But much of the masterful cuisine here lies in the execution and technique from the kitchen and often the end result is pleasantly far more complex than you'd anticipate from such an elementary concept. With close to twenty distinctive varieties, Tartinery has certainly crafted its own niche amid an atmosphere that feels cozy and inviting.
The street level windows that peer out to Mulberry Street reveal the classy but casual sort of coffee bar feel that you'd expect to stumble upon while walking around in Paris. With small tables packed in tightly next to each other, Tartinery's top floor features a long bar and a communal window side bench backed by fluffy white pillows, but the setup upstairs is hardly indicative of the elaborate decor on the level below. Highlighted by a tree that grows in the center of the dining space, the main restaurant space is both chic and comfortable. Exposed bricks line the entirety of the surrounding walls, punctuated by eye catching black and white photos and overhead black dome lights which illuminate each of the numbered tables around the dining area.
Whether its an intimate dinner for two or a brunch for a group of friends, Tartinery's menu and sliced portions for sharing are suitable for any desired dining experience. That said, the restaurant is best served for the more fearless eater, unafraid of ordering unorthodox dishes- and it is those diners who are greatly rewarded here. Each tartine is considerable in size, sliced into five generous pieces that utilize crisp Poliane country bread as its base. The selection runs the gamut from the traditional- the fresh mozzarella and tomato topped "Mozza" ($12) and the fresh ricotta and prosciutto laden "Ricotta" ($12.50)- to the inventive- the "Crevettes Avocat" ($15) combines fresh shrimp, guacamole and cocktail sauce, all in one helping. Fortunately, much of the menu is entirely affordable with the sliced terrine of "Foie Gras" topping out as the priciest offering at $24. Eying the shared dish as our appetizer, the creamy spread of fattened duck liver was delectably rich across the sliced rustic bread. Sprinkled in sea salt, the helping was plated with a serving of sweet fig jam resulting in a confluence of different flavors meshing together in excellent fashion. Any remaining bread was thoroughly doused in our hearty soups, of which the "Soupe a L'Oignon Gratinee" ($8.50) or French onion soup was the standout, as you would anticipate.
We made sure to order from a spectrum of ingredients, eager to experience the different tartines being offered. Beginning with the "Tartare" ($15.50), it was imminently clear that the chefs at Tartinery had been thoroughly trained in the art of French cuisine. Combining hunks of seasoned minced raw ground beef with capers and a lone potato chip sticking far out from one side, each crunchy slice of bread produced a taste profile that was creamy and rich and as a result, not a morsel of chilled pink meat was left remaining on the shared plate. "The Croque Madame" ($15), a staple of any French kitchen, was similarly a can't miss here. Topped with a fried egg, the runny yellow yolk oozed down upon the torn apart cooked ham and creamy gruyere cheese and made for the finest combination of ingredients on our table. The wasabi mayonnaise infused "Thon Cru" ($17) with shaves of raw tuna and fennel and the seemingly Asian inspired "Confit De Canard" ($19), prepared with duck confit and cucumbers would have also been notable dishes had the first two not been so utterly fantastic.
As satiated as the main portion of the meal at Tartinery had left us, the restaurant pulled out yet another fantastic if not overly basic concoction for dessert. The "Tartine Nutella Banane" ($7) featured a hazelnut spread of brown Nutella coupled with thinly sliced bananas- perhaps the most rudimentary of preparations and somehow, the most tasty of confections- all similarly served on the same sliced bread that we had so thoroughly enjoyed in each of our earlier courses. While Tartinery's menu is not overly expansive, their ability to focus on the little things- excellent service, kitchen technique, adherence to the principles of basic French cooking- is what allows them to create such fine dishes from the most fundamental of elements. And it's the little things that make even a casual bistro feel like a special place.
Rundown of the Meal
Appetizers
Foie Gras ($24)*
Soups
Soupe a L'Oignon Gratinee ($8.50)*
Veloute Chat. et Champ ($8.50)
Tartines
Thon Cru ($17)
Tartare ($15.50)*
Croque Madame ($15)*
Confit De Canard ($19)
Desserts
Tartine Nutella Banane ($7)*
*Meal Highlight
Related Articles
Share
About Author
(1) Reader Comment