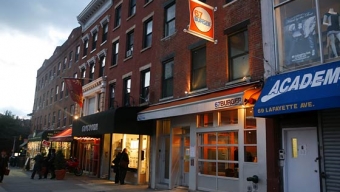 67 Burger
A LocalBozo.com Restaurant Review
67 Lafayette Avenue at Fulton Street, Fort Greene
718-797-7150
Getting There: C to Lafayette Avenue; G to Fulton Street
http://www.67burger.com/

Restaurant Review: 67 Burger
Whether you're a native of the neighborhood or you're traveling to Fort Greene for an event at BAM, the Barclays Center, or a tasting event at Skylight One Hanson, finding a decent spot for some quick and easy food sometimes requires that you look beyond Buffalo Wild Wings. And sometimes an intricately customizable burger is just what the doctor ordered. Mere minutes from the aforementioned destinations sits 67 Burger, which also sports a location in nearby Park Slope, and despite any cliches, the burger spot makes sure that your burger is hand crafted to your liking.
The space at 67 Burger isn't much, with scattered tables taking up most of the main dining area in a style not all that dissimilar to a luncheonette. The ordering line begins as soon as you arrive inside and you can take a look at the massive menu that outlines all of the ordering options to your left. 67 Burger also pleasantly sports a fine selection of craft beers and small bottles of Woodbridge by Robert Mondavi wines, priced at just $6 each. Their wide open grill put allows guests to watch their burger be crafted by a member of the 67 Burger staff, but with so few tables inside, your best bet is to secure some seating to catch the toppings sure to drop off of each burger.
Fortunately, there's plenty for non meat eaters to enjoy here, despite the restaurant's name. Aside from the seven different salad options, 67 Burger offers up turkey, grilled chicken, veggie and tofu patties to cater to any eater's dining habits in lieu of that fine red meat. Speaking of the meat, each burger is prepared with grass fed seasoned chuck from responsibly raised farms. The array of of burger fixings here seems daunting at first but whether you decide to utilize the crispy artichokes and olive tapenade or the BBQ braised onions and pesto sauce- it's all up to you. Candidly, we've been to 67 Burger both before and after events in Brooklyn and it's become our go-to spot because of its menu flexibility, affordability, and its truly satisfying fare.
But if you're in the mood for one of 67 Burger's primary concoctions, you can't go wrong in their hands. Burgers like "The Pastrami" ($10) which encrusts the patty with pastrami seasonings and pairs sauerkraut with Swiss cheese and mustard inside of a pretzel bun and "The Italian" ($8.50) which brings fresh basil pesto and parmesan shaves to your patty of choice. In anticipation of a forthcoming concert, we make our best attempt to stay with some lighter fare, opting for the generously sized "Thai Chicken Salad" ($9) and "The Oaxaca" ($10), with a turkey burger patty. The 100% lean, white meat was also nicely sized and well seasoned, topped with freshly sliced avocado and Cajun spices, cheddar cheese and a smear of chipotle mayonnaise. The southern style burger was deliciously smoky and the burger was surprisingly not messy considering the heaping toppings underneath the bun. Our side of "Sweet Potato Fries" ($3.95) proved to be an ideal compliment and contrasted the savory sandwich with the sweetly seasoned French fries. Meanwhile the salad was a much welcomed and health conscious alternative to the heartier dishes, served with the chicken on two skewers and the sweet Thai sauce capably flavoring the otherwise ordinary salad- which is all that we were looking for.
While 67 Burger might not be a leading candidate for the most exquisite, incredible burger in the existence of human kind, it doesn't necessarily need to be. It's a small, quaint spot amid a quiet area of an exploding neighborhood that produces good quality, affordable food for all eaters to enjoy. And rather than rank them or knock them for what they aren't, we should celebrate 67 Burger for the finely crafted tastes of Americana that they deliciously churn out, customized just the way we like them.
Rundown of the Meal
Burgers
The Oaxaca ($10)*
Salads
Thai Chicken Salad ($9)
*Meal Highlight
Related Articles
Share
About Author
(0) Readers Comments