Our correspondent vowed to have a drink at every single bar in Hoboken and did so successfully with Spirits in the Sixth Borough." Every Friday morning, we'll pick up where he left off, showing you distinctive bars in each New York City borough perhaps for the very first time, perhaps to refresh your memory of a fun place you've ducked into, or perhaps to suggest a new spot for you to check out as you gear up for the weekend. You can follow our sudsy travels every week with LocalBozo.com's "Drink Here Now."
Killarney Rose
127 Pearl Street near Hanover Street, Financial District
212-422-1486
Getting There: 2,3,4,5 to Wall Street; J,Z to Broad Street
http://www.killarneyroseny.com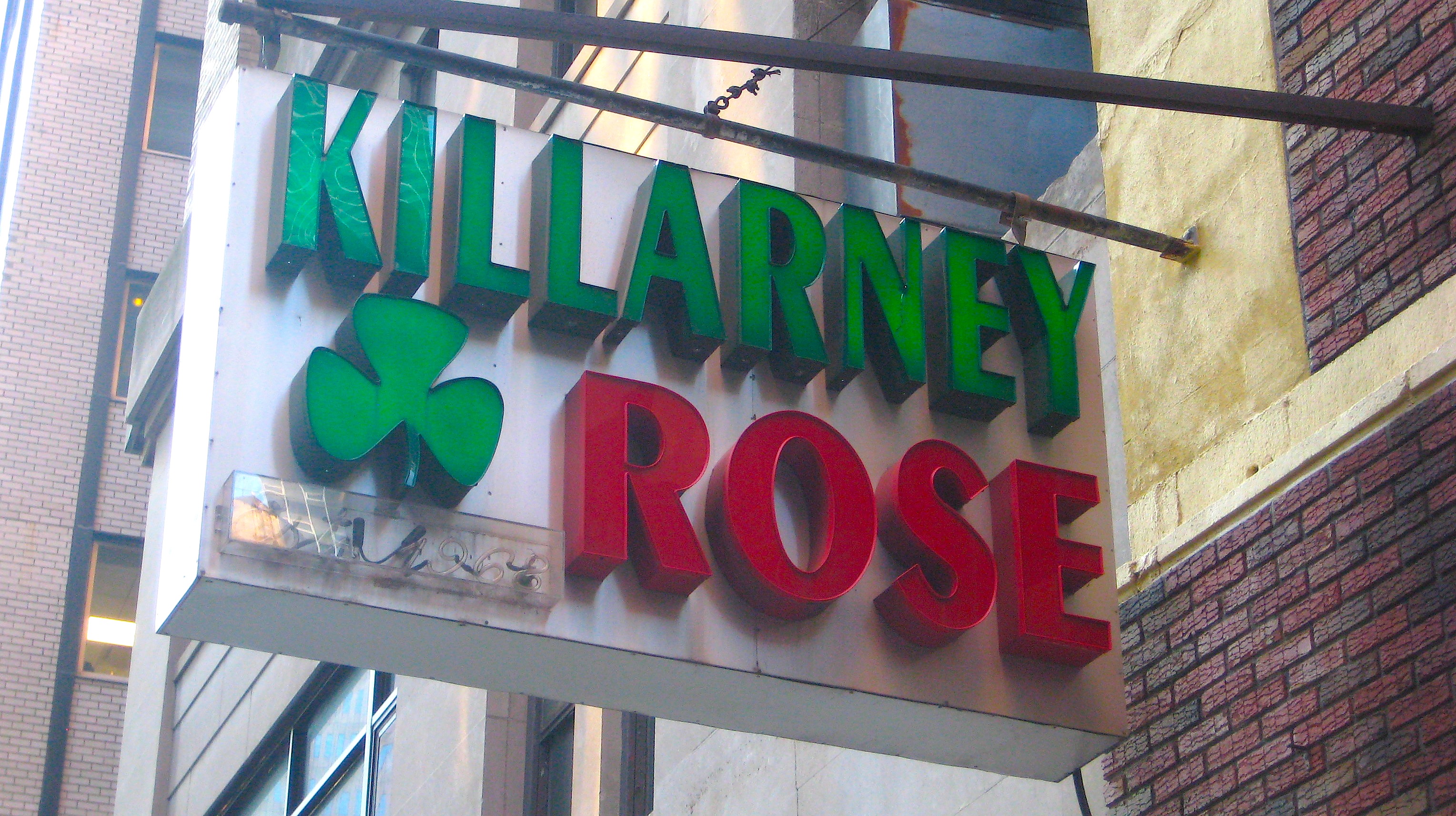 There are dive bars and there is Killarney Rose, a haunt in the Financial District which has for decades plied suit and tie types and local area residents with cheep booze and good times in an elitist and entitled part of town. But part of what makes the 'Rose' so charming is just that- it's ability to stand out for what it's not. It's a normal local bar through and through. And it's always busy.
A bit removed from the heavily trafficked Stone Street, after work types in the downtown area pay the 'Rose' a visit during Happy Hour, which often leads to the witching hour. Likeminded colleagues clash their drinks together happily off the clock, during an energy filled weeknight, to the tune of $7 "Dark & Stormies" and "Pickleback Shots." Upstairs, the second floor space is often open, but typically reserved for private parties, so much of the damage you do will be near the long narrow bar that takes up much of the first floor area. The food is your typical bar fare- "Chicken Fingers" ($8.95) fried to a crisp, and a variety of sliders and mac and cheese- ("Bacon Burger Mac & Cheese!!" ($11.95))- options that will make your mouth water while slugging down your brand of light beer. Yes there are salads and entrees as well, but in this setting, that just seems like overkill.
There's a preponderance of ordinary bars down near Wall Street, which is a surprise considering that it's essentially the financial capital of the world. And visitors to the area might pass by Killarney Rose and consider it as such- but it's the folks that live and work in the area and those of us that have an affinity for real dive bars that can appreciate a place that is so unpretentious and goes about its business like an everyman. That's what makes Killarney Rose so special. During a time when everything and everyone is vying to stand out, the 'Rose' fits in just right.
The Rundown
Bar Type - A dive bar.
When to Visit – Visit on any week night and it's bound to be busy- whether filled with patrons watching the game or clumps of people unwinding after work. Unless you're a neighborhood resident a weekend visit can be hit or miss just like the rest of the downtown area. Just stay away from the Seaport.
Value There's a cocktail and drink list that doesn't exceed $7. If you call ahead and can guarantee 10 people, you're looking at $4 bottles and draught beers and mixed drinks for just $5. How's that for value?
The Lowdown -There's a lot to like about Killarney Rose, if you leave your expectation outside of either entrance way. There's a ton of televisions, good pub fare, cheap drinks, and a lively atmosphere. How many bars do you wind up stumbling into just wishing there were other people inside. That's never an issue down at the 'Rose' during the week, although we can't promise that you won't try and punch some Wall Street tycoon in the face. But on the other hand, he probably deserved it anyway with that slicked back hair and three-piece suit.
-Alex Corrine
Related Articles
Share
About Author
(1) Reader Comment