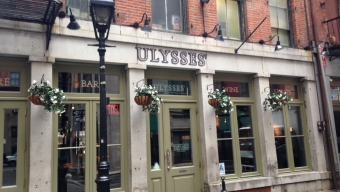 Every single Friday morning we'll be taking over where our own Link Cromwell's Spirits in the Sixth Borough" left off, showing you distinctive bars in each New York City borough perhaps for the very first time, perhaps to refresh your memory of a fun place you've ducked into, or perhaps to suggest a new spot for you to check out. You can follow our travels as we approach each weekend on Friday mornings with LocalBozo.com's "Drink Here Now."
Ulysses Folk House
95 Pearl Street, Financial District
212-482-0400
Getting There: 2,3,4,5 to Wall Street; J,M,Z to Broad Street
http://www.ulyssesnyc.com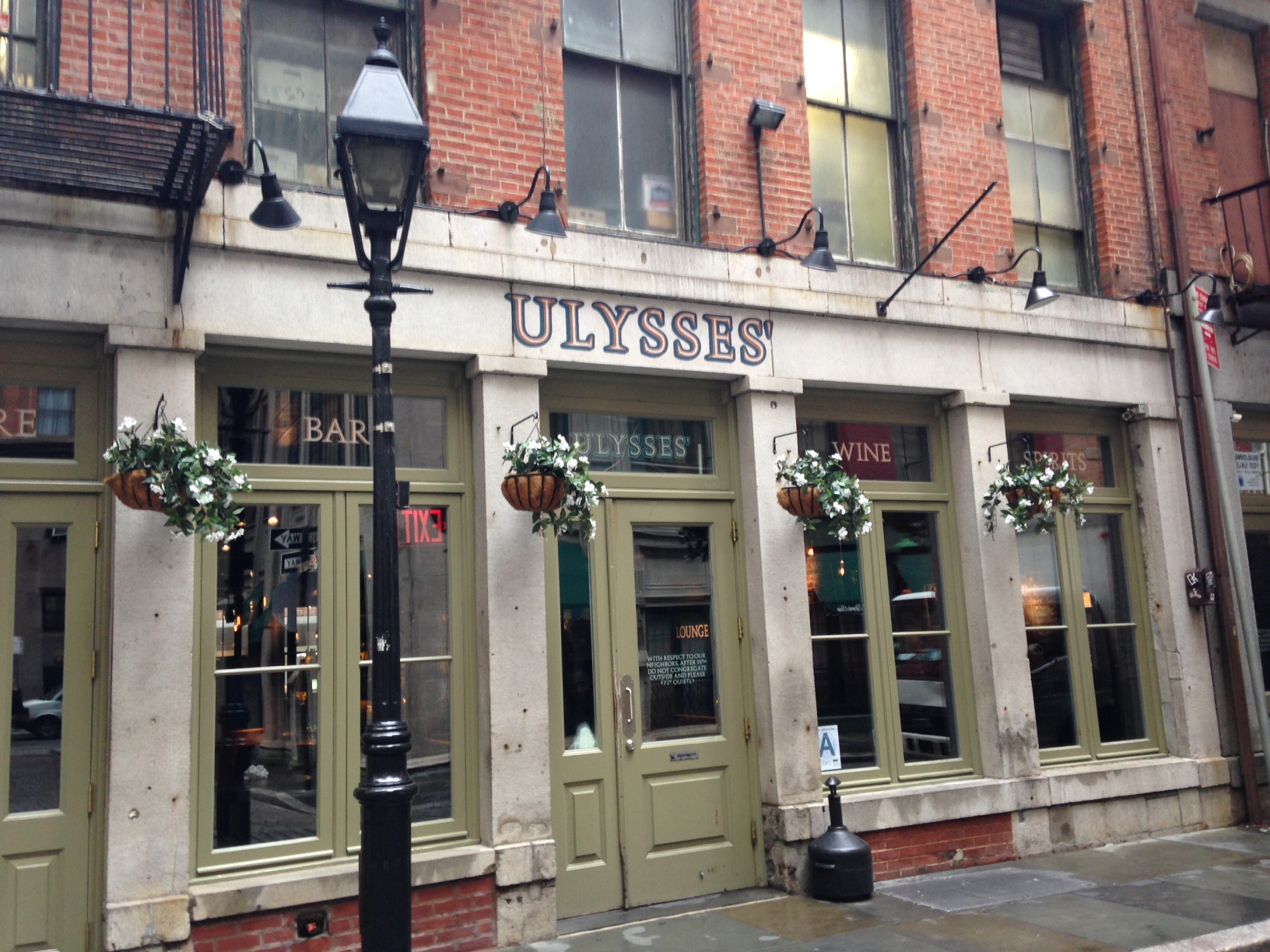 Ah, good old Stone Street. One of Manhattan's oldest and most celebrated blocks. Every weeknight the very heart of the Financial District beats with the bustle of suits and ties grabbing outdoor tables on the small cobblestone strip, clinging their glasses together and chatting about the day's biggest trades done that day. Bulls, bears, people from Connecticut. With a slew of busy bars all lined in a row, Ulysses' is perhaps the most well known of the bunch. And while it's always packed in with thirsty revelers, the Folk House is more than some run of the mill pub.
Because of the upscale clientele (and what's certain to be a lofty monthly rent for the space), you won't find any dive bars on Stone Street proper and instead each is a slight step above, with its own niche. Instead, Ulysses is a tavern that is inviting inside, comfortable to drink at casually, and serves the likes of pub fare, fresh seafood, and even sports a carvery area for slices of tender meats. What's most striking about Ulysses aside from the crowded patio area during business lunches and warm weather evenings, is the place's sheer size. Equipped with a massive main bar area surrounded by tables which make up roughly three-quarters of the enitre bar and an adjacent room for more intimate dining and table seating, the spaciousness is a much welcomed surprise after work hours. Granted, you still might be quarantined in a section of the bar where you're bumping elbows with other guests, but you get used to it awfully quickly here.
The selection of brews here is also nothing to sneeze at, with more than twelve draughts on rotation and dozens more by the bottle ranging from $7 to $12 each. We slapped down at the bar for two frothy pours of Guinness ($7.50) which seemed more than fitting at this establishment. The space is dimly lit, as any tavern should be, but that only adds to the ambiance inside, always buzzing with a post-work energy that is really unique and at the same time relaxed, especially a stone's throw from Wall Street. Ulysses also offers up some prime weekly specials including "Lobster Monday" ($18.95), "Oyster Wednesdays" (half dozen oysters and pint of Guinness for $12), and best of all – "Brewery Night" on Tuesdays that feature a different brewer each week and complimentary pours of their beers from 5-7pm. For some, the trip down to FiDi can be uninspiring, especially on weekends when it's all but pronounced dead. But Ulysses Folk House proves that a trip downtown doesn't have to be so bad, as it's as festive a tavern atmosphere as you'll find anywhere in the City.
The Rundown
Bar Type - An upscale take on an American tavern.
When to Visit – Absolutely after work. Hobnob with the rich and powerful or hang out with your buddies in a corner. Whatever you make of it, there's always a crowd here.
Value – Not here. Beers aren't crazy at $7 but they aren't exactly cheap either. But odds are, if you're hanging around downtown, you aren't too worried about dropping a little coin on a night out. And you shouldn't be either.
The Lowdown -The Financial District is just about fully recovered from Hurricane Sandy, but Ulysses has kept its doors open just about all throughout the year. Their weeknights are always filled with after-work types looking to unwind along with women trying to sniff out a rich guy to marry. The scene on Stone Street is always a fun one and if you find yourself down there, then Ulysses is your must visit haunt. So slap on your finest suit and tie and stuff a crisp $100 into your wallet for a night out on the town at the best bar near Wall Street.
-Alex Corrine
Related Articles
Share
About Author
(0) Readers Comments