Every single Friday morning we'll be taking over where our own Link Cromwell's Spirits in the Sixth Borough" left off, showing you distinctive bars in each New York City borough perhaps for the very first time, perhaps to refresh your memory of a fun place you've ducked into, or perhaps to suggest a new spot for you to check out. You can follow our travels as we approach each weekend on Friday mornings with LocalBozo.com's "Drink Here Now."
The Winslow
243 East 14th Street near Second Avenue, East Village
212-777-7717
Getting There: L,N,Q,R,4,5,6 to 14th Street – Union Square
http://www.thewinslownyc.com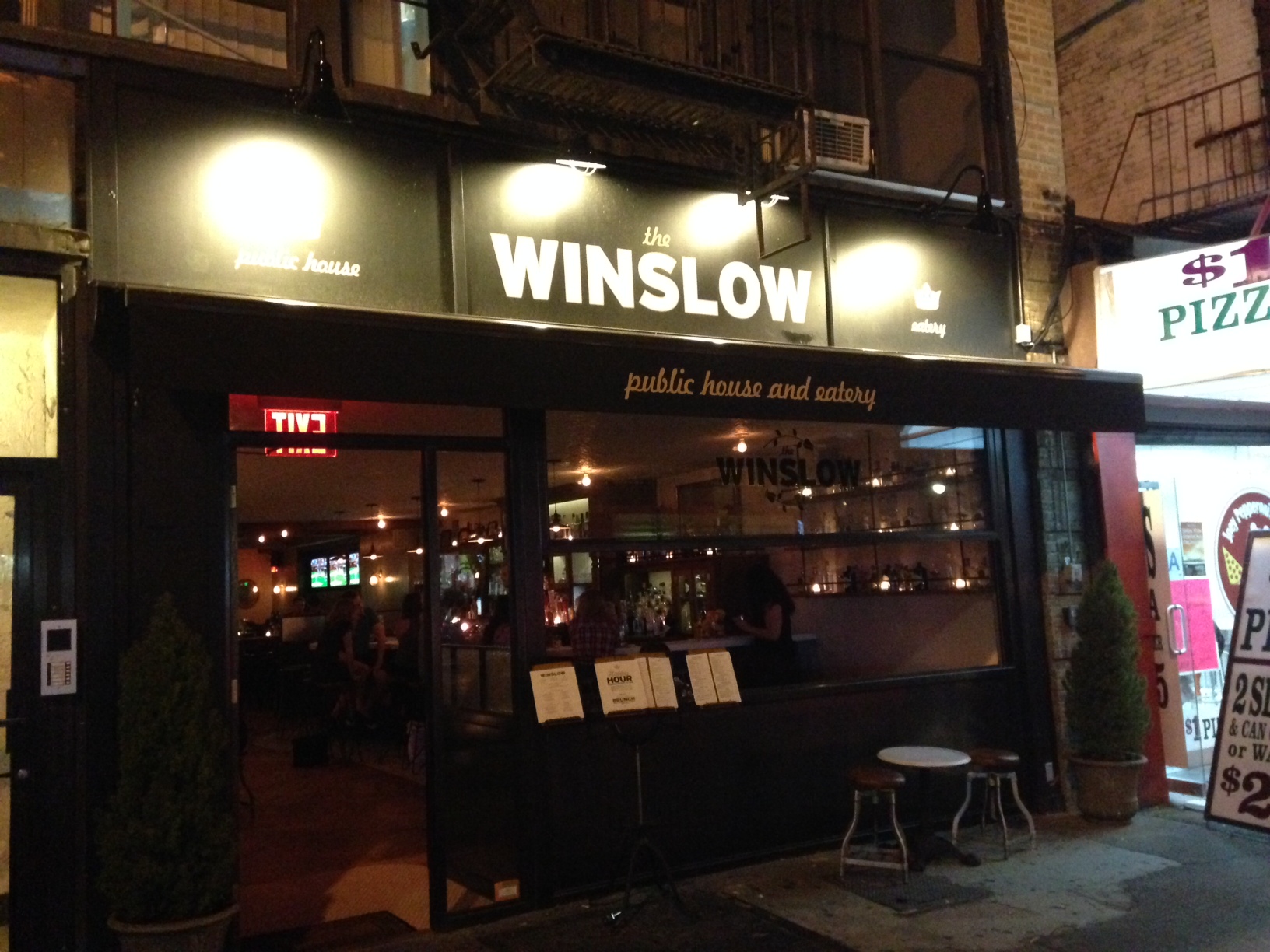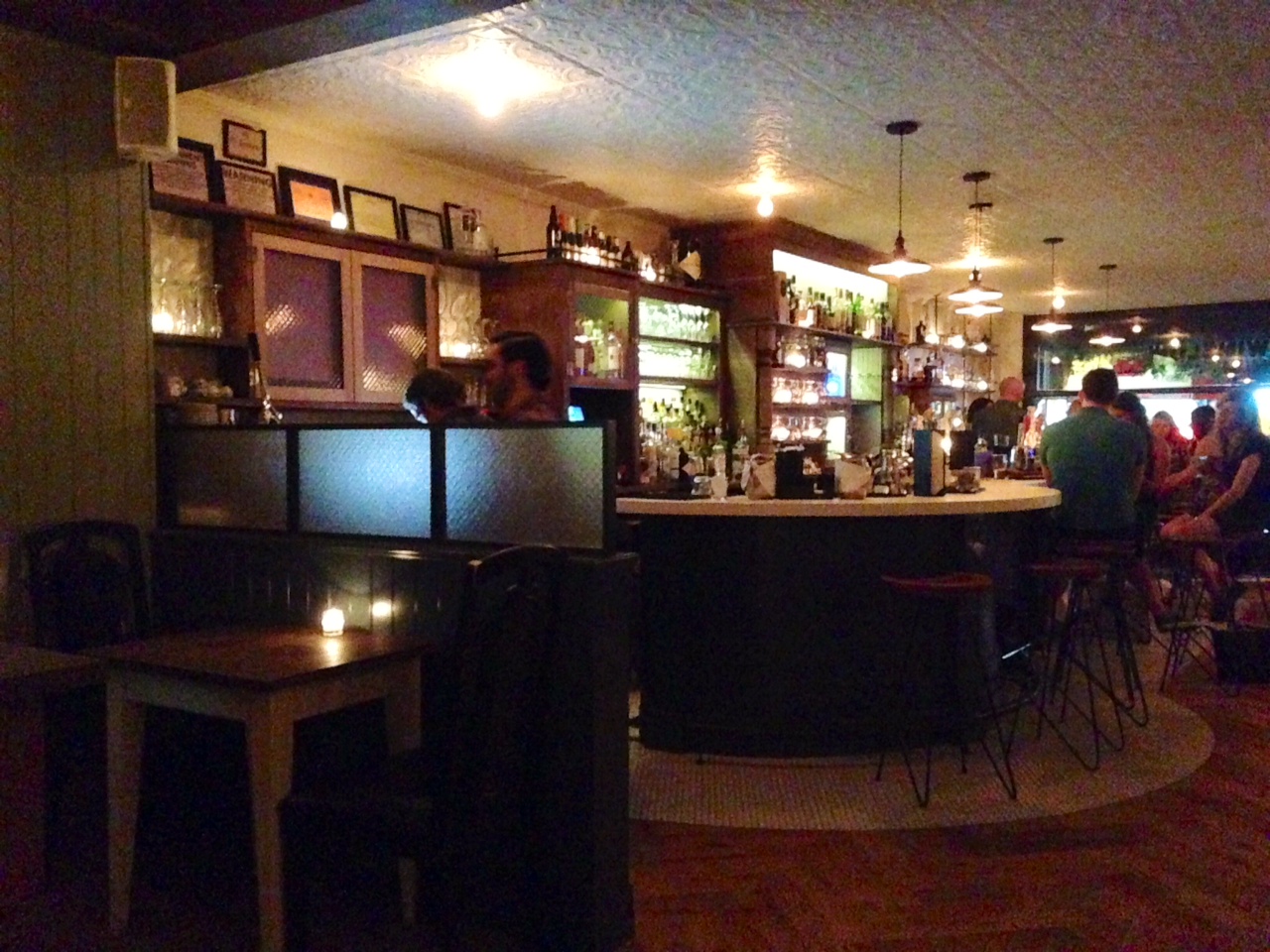 When The Winslow opened in early September, the bustling 14th Street breathed a collective sigh of relief. Rather than some run of the mill sports or dive bar, the new arrival is a modernized take on a classic cocktail bar and is a place of distinction for an area overrun by bouts of ordinary watering holes that cater to casual drinkers. And as such, this bit of refinement is a much needed and much appreciated haunt on a block that was sorely missing this very sort of place.
From the outside, The Winslow looks like the sort of pub that you might find on any busy London block, which is no accident considering that the very concept behind the establishment is just that. Inside, the space is flexibly broken up between bar, cocktail style lounge, restaurant, and communal seating, which suits parties of all shapes, sizes, and drinking palates. The old cocktail bar feel is evident in the front of the house, where there are no televisions and the in-house Mixologists are focused on creating custom drinks to suit any drinker's tastes. The Winslow's decor is minimal- you're surrounded by wood from the tables to the floors, as well as white walls, void of artwork aside from some eye-catching light fixtures. Candles are also strewn about the entirety of the space and all around the back bar, serving to highlight the selection of liquors in stock.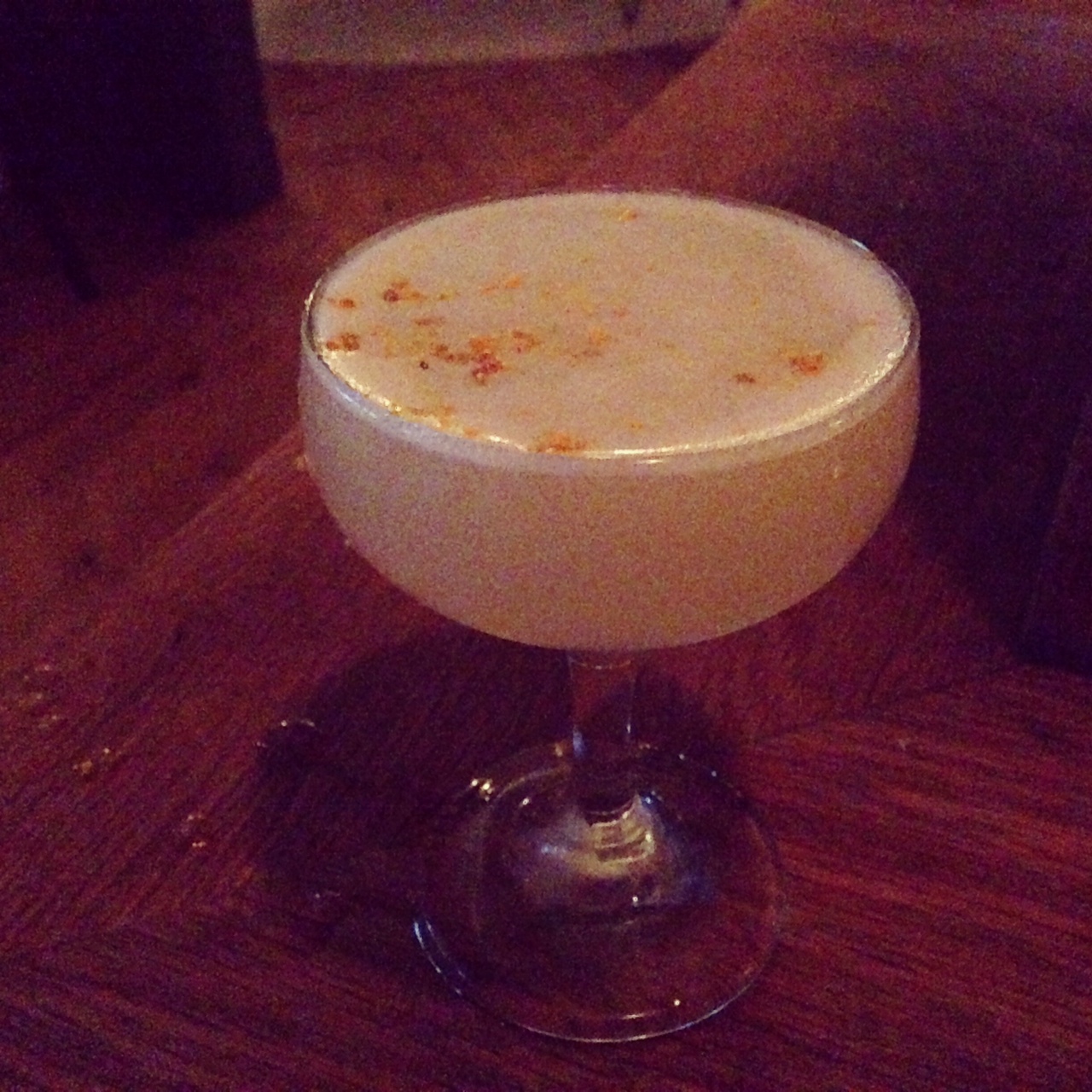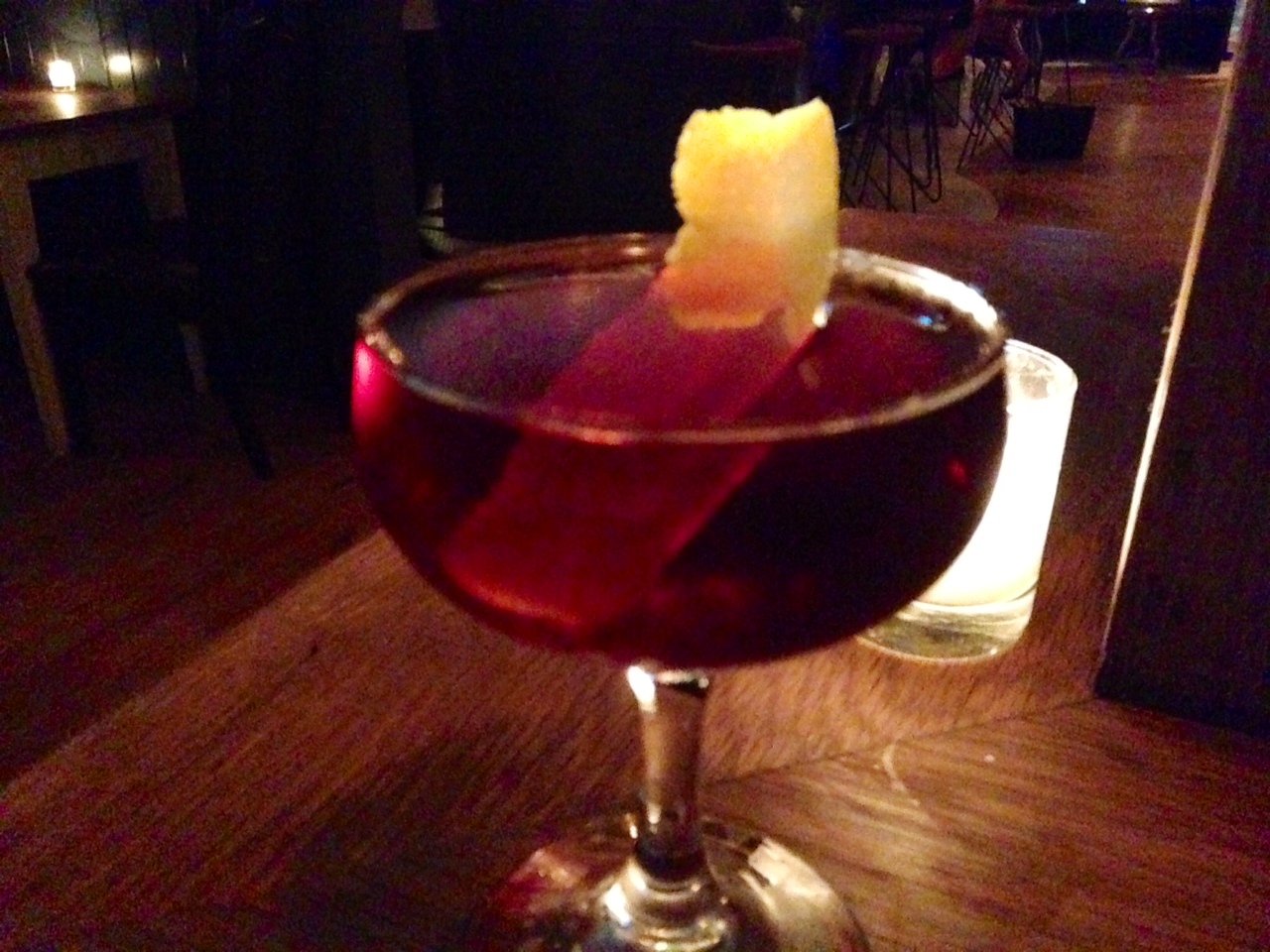 The dining and lounge space is a bit different, where three televisions illuminate the chalkboard underneath them, which house the day's notable wines and beers. Toward the back of the bar sits a secluded area with bench seating that exudes sort of a biergarten element. Meanwhile the drink menu sports a fantastic bottle and draught beer list alongside ten different gin varieties- of which the house specialty, "Death's Door Gin" goes for $10. We opted for the "Bees Knees" ($11) a sweet and refreshing cocktail that utilizes bee pollen as a tasty garnish floating amid the gin, honey, and lemony concoction and the "Martinez" ($11) combining vermouth, maraschino and bitters with Old Tom Gin for a syrupy, rich drink that delivered a bitter finish. The food menu is similarly distinctive with the majority of small plates- "Scotch Egg" ($8), "Duck Confit Crumpets" ($4), "Lamb Carpaccio" ($12)- a step up from your typical pub fare. Admittedly, I had a hard time passing on the "Winslow Burger" ($15), a meaty mixture of chuck, flank, and shortrib, with a spread of red chili aioli on their housemade brioche bun. The caramelized onion and cheddar cheese played perfect compliments to the meaty, juicy, and pleasantly sloppy burger with a side of excellent 'fat chips,' or French fries, to you and me. There is something intensely satisfying about chomping on a savory burger alongside a fresh pour of draught beer (Bronx Pale Ale, $7), that matches the comfortable and welcoming vibe that a UK pub like The Winslow exudes. Although this was only our initial visit, we are already looking forward to returning.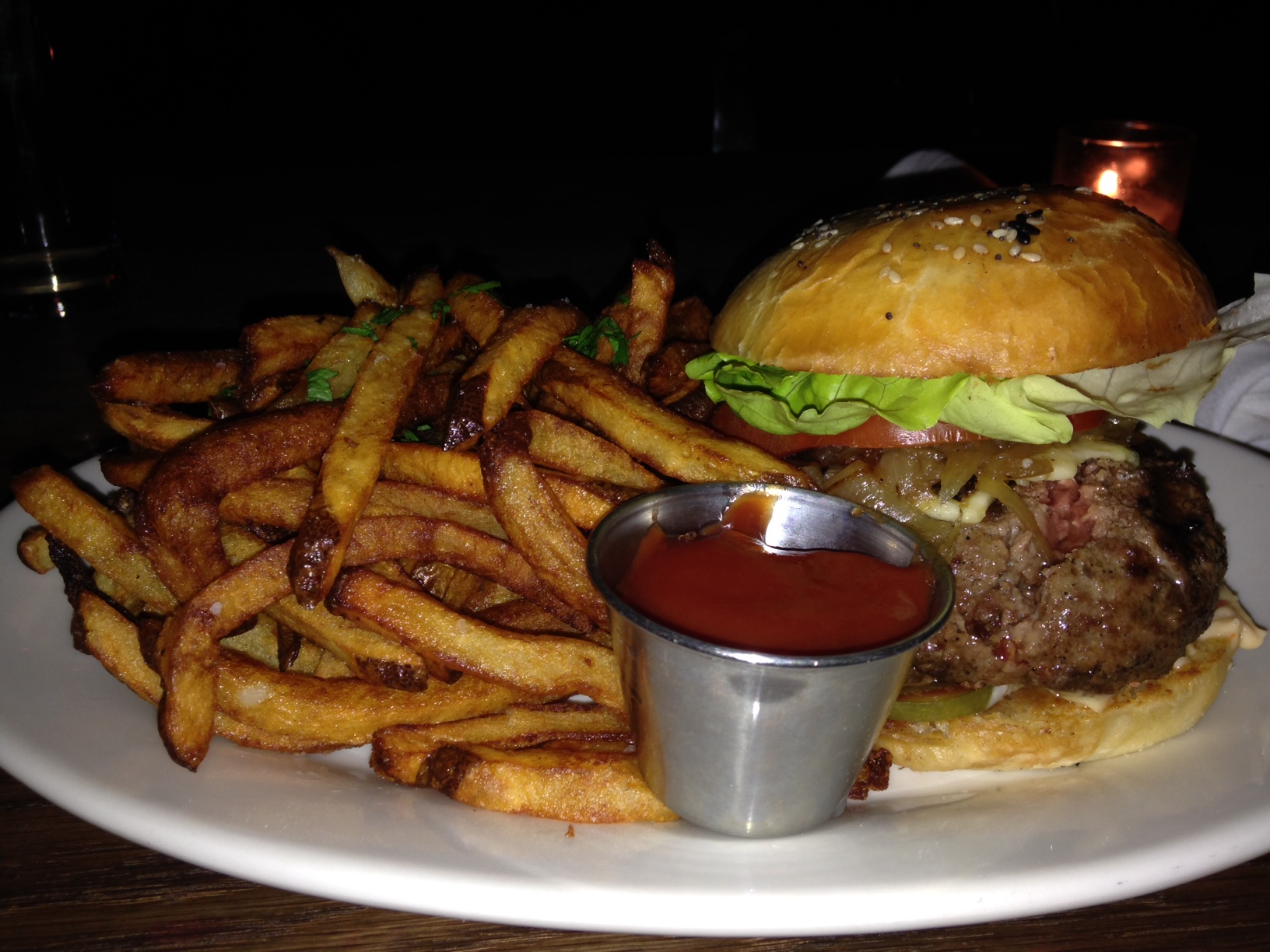 The Rundown
Bar Type - A slightly sophisticated UK style pub and cocktail bar that is a modernized take on a classic concept.
When to Visit – According to the staff, the place really heats up on weeknights after midnight. But we'd advise you to grab a small group of friends or colleagues and head over around 7 or 8pm. The menu is eclectic and the cocktails are diverse.
Value – With drinks priced affordably between $10-$12, you might not find better value at any other cocktail bar. And while some of the shared plates may be on the smaller side, $15 for a tasty burger AND fries is a value occurring less and less often in New York City these days.
The Lowdown -If you find yourself in the East Village or Union Square area, there's really no reason not to pay The Winslow a visit. The bar could easily exist in some of the more chic areas of town, but it's location and distinction there make it a true gem. The place is ideal for larger parties, but flexible enough for you to grab a seat at the bar alone and have the Mixologists prepare something special to your liking. You might not get watered down pours of Bud Light pitchers here, and that's just fine by us.
-Alex Corrine
Related Articles
Share
About Author
(0) Readers Comments