Every single Friday morning we'll be taking over where our own Link Cromwell's Spirits in the Sixth Borough" left off, showing you distinctive bars in each New York City borough perhaps for the very first time, perhaps to refresh your memory of a fun place you've ducked into, or perhaps to suggest a new spot for you to check out. You can follow our travels as we approach each weekend on Friday mornings with LocalBozo.com's "Drink Here Now."
Side Bar
118 E. 15th Street at Irving Place, Union Square
212-677-2900
Getting There: L,N,Q,R,4,5,6 to 14th Street – Union Square
http://www.sidebarny.com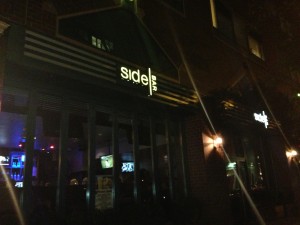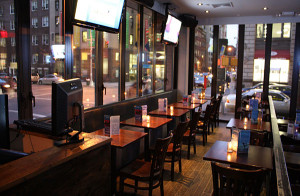 In all likelihood, you've been to Sidebar if you've lived or worked in Manhattan. From charity events to after work happy hours, pre-gaming before concerts at Irving Plaza or on weekends for Penn State Saturdays and Baltimore Raven Sundays, the bar is certainly one that skews to a younger crowd. But it combines good value with the elements necessary for that quintessential sports bar, just upscale enough to even bring in a vast female audience as well.
Side Bar's corner location on Irving Place makes it a 'stop-and-peek' attention grabber for anyone walking along the street out front. The place is always seemingly buzzing with action. But it's reputation for being the neighborhood's only true sports bar (sorry Brother Jimmy's) is enhanced by its two room space with enough televisions to catch any game regardless of your seat inside. And the place's food and drink specials all week long make its value incomparable in Union Square.
We've visited Side Bar solely on weeknights, never having taken advantage of their $30 boozy brunches on weekends. But virtually every night of the week there's an exceptional special for the non-discerning drinker. Highlights include "Tequila and Taco Tuesdays" (3 tacos and a shot for $10), $6 Sangria Wednesdays, and half off drinks for ladies until closing time on Thursdays. And those are just simple additions to Side Bar's daily happy hour specials which offer 2 for 1 drinks and $3 Bud Lights until 7pm.
Side Bar seems to have been around forever. Sometimes because of the crowd, each visit can seem a bit on the fratty side due to the collective ages of the clientele that gathers here most often. But we really can't complain about a bar that manages to bring in girls, cheap beers and drinks, outdoor sidewalk seating and always offers up a comfortable spot to watch the big game. So whether you were here three days ago or three years ago, pony up to Side Bar, grab a cheap drink, and relax. Lord knows you deserve it.
The Rundown
Bar Type - Slightly modernized and slightly upscale sports bar
When to Visit – The $30 weekend brunches are certainly noteworthy (and they include beer!) but in the fall, it's football season so be prepared to encounter obnoxious Penn State and Baltimore Raven fans. But during the week, if you can get past the 24 year olds in suits, you should be just fine to kick back and drink on the cheap.
Value – Now we're talking. $3 Bud Lights every day until 7pm, with food and drink specials like .25 wing Mondays on every weeknight? That's value.
The Lowdown -Perhaps Side Bar has found its calling as a stopover rather than a destination. It's a great place to pregame before a show, but maybe it's just a great, cheap spot to get your night started in general. Singles can mingle. Sports fans can go wild. Cheapskates can save some dough. Sounds like a winner, for a place we always seem to forget is always a good time.
-Alex Corrine
Related Articles
Share
About Author
(0) Readers Comments