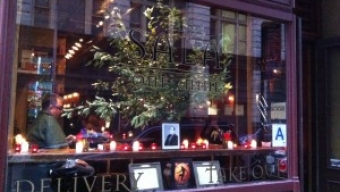 Sala One Nine
35 West 19th Street near Sixth Avenue, Flatiron District
212-229-2300
Getting There: 1 to 18th Street; F,V to 23rd Street
http://www.salaonenine.com

Restaurant Review: Sala One Nine
The Flatiron District has no shortage of Spanish and tapas style eateries and yet there is still something distinctive about the dimly lit and perpetually energetic Sala One Nine. Small and shared plates override the entirety of the menu, surrounded by a cocktail program that is both diverse and inventive. But perhaps more importantly, aside from a handful of exceptions, nothing on the menu is priced higher than $18, a refreshing pricing policy in the face of always rising costs to the diner. And the traditional Spanish cuisine is delicious to boot.
Entering the space, the dark lighting is certain to be a turn-off to some. But the bar is always buzzing and the noise level inside is festive just about every night of the week. And what's more, Sala One Nine offers $3 tapas and buy one-get one beers, wines, and sangria for weeknight happy hours even if you decide not to stay for dinner. Based on our start to finish dining experience however, dinner here is worth sticking around for. A couple of pours of red sangria compliment the vibe inside- tables in close proximity to each other inside the diminutive space- the dining area transports eaters to late night hole in the wall style restaurants authentically in Spain.
Although there are six different paellas offered here at just $19 per person (minimum of two people), you would be better served sticking to the tapas style fare. Toasts under the "Toastas" portion of the menu are outright mouthwatering- be it the "Hogaza De Lomo" (marinated pork loin, gruyere, peppers – $11), the "Magret De Pato" (grilled duck breast and shallots – $12), or the traditional "Tomate" (heirloom tomatoes and cucumber olive oil – $11)- you can really do no wrong based on whichever direction you decide upon. We went wild over the "Brie Fundido" ($11) which combined a baked brie draped over Serrano ham. The rich creamy brie basted the thick crusted sourdough bread and salted ham and was sliced into four pieces, ideal for sharing.
Meanwhile the Rations (Raciones) offers up entrees like a farm style rib-eye called a "Chuleton A La Brasa" ($32) with French fries and garlic butter and "Pinchos Morunos" ($17)- tasty lamb skewers that looked truly appetizing. We began with some outstanding "Datiles" ($8), five immaculate sweet and salty dates, stuffed with almonds and wrapped in excellent smoky bacon- a must try. Similarly delectable were the meaty "Albondigas" ($16), five unbelievably delicate and soft meatballs which were generously sized, tender, and broke apart easily into a sea of red sauce. The Spanish style balls were created with equal parts beef, veal, and pork with some pine nuts and brandy sauce thrown in for good measure. Meanwhile, grilled versus fried calamari is always a hotly debated topic at our dinner tables, put to bed by the garlic laden "Calamares a la Plancha ($16). Served without tentacles or legs in the dish, the charred squid was marinated in parsley and hot red pepper, but was lacquered a bit too much in lemon juice for our liking. Our side order of "Patatas Bravas" ($11) was another generous portion for sharing covered in a creamy white drizzle with a much welcomed kick to the not quite chipotle sauce.
Sala One Nine brings together an authentic yet modernized take on traditional Spanish cuisine and tapas, with a rustic interior decor- even if it feels like you can't entirely see everything because of the lighting. The servers are attentive and the ambiance is suitable to either an intimate date or a group celebrating a birthday. Affordability, a fun atmosphere, and some delicious food equals a worthwhile night out in New York City and to a staple of the Flatiron District's rich restaurant history.
Rundown of the Meal
Tostas (Toasts)
Brie Fundido ($11)
Raciones (Rations)
Datiles ($8)*
Patatas Bravas ($11)
Calamares a la Plancha ($16)
Albondigas ($16)*
*Meal Highlight
Related Articles
Share
About Author
(0) Readers Comments