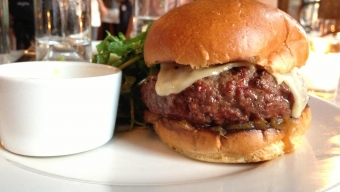 Reynard
80 Wythe Avenue at North 11th Street, Williamsburg, Brooklyn
718-460-8004
Getting There: L to Bedford Avenue
http://www.reynardsnyc.com

Restaurant Review: Reynard
Sitting on the ground floor of the first Manhattan-esque hotel to make its way into Brooklyn, the Wythe Hotel hosts Reynard, an American style brasserie that uses a farm to table preparation methodology for a menu that literally changes daily. On its own, the restaurant hardly feels like you're sitting adjacent to the lobby of a hotel. The hotel meanwhile, hardly feels like you're in Williamsburg at all.
Natural light pours in from the floor to ceiling windows that peer out onto North 11th Street, while the long old-fashioned bar is bustling, almost entirely occupied by hotel guests and those waiting patiently to be seated in either of the restaurant's large rooms. Overhead, elaborately shaped modern chandeliers sit beneath dark refurbished wooden panels near an exposed brick interior- all of which give Reynard a completely rustic feel. The tiled floor patterns and marble tables meanwhile casually invoke an upscale coffee shop atmosphere, although the fare being prepared is certainly more intricate than that might indicate- especially for an energetic dinner crowd.
With a constantly evolving menu, you would be hard pressed to find a more informed waitstaff than the ones who greeted us during our most recent visit. From the ingredients involved in the preparation of each dish to suggested entrees, our questions were answered thoroughly as we perused that day's menu options. Conceptually, the cuisine is considered American Nouveau, meaning the offerings can run the gamut amongst a variety of culinary inspirations. But on any given evening, you'll typically find seafood, chicken, vegetarian, and red meat items distinctively prepared on the rather diminutive menu- but even the most finicky eater can find something tasty here.
Reynard certainly ensures their dishes stand out if not in mouthwatering flavor, then certainly in presentation. The "Oyster Toast" ($13) was deliciously rich atop crunchy sourdough bread, topped with heirloom tomato and a garnishing of greens. The two sizable slices of toast were layered in fresh ingredients and worked incredibly well collectively as our introduction to the restaurant. Meanwhile, Reynard's "Grass-Fed Burger" ($15) from their all-day menu was somehow even more satisfying. Enveloped in a fluffy sourdough bun, the perfectly cooked medium rare meat oozed with flavor, topped with caramelized onion and, for an extra $2, some creamy gruyere cheese, which proved to be an ideal compliment. Plated with a side salad instead of French fries, the juicy burger was a revelation in both perfect size and savory flavor. On the lighter side, we also ordered up the restaurant's "Wahoo" ($25). Adorned with crumbles of salty pistachio and sweet cherries, the generous portion was light and tender, served with a bit of a Greek twist with hunks of cucumber and a thick white tzatziki sauce draped along the white meat filets. The wahoo's dark grill lines poking out atop the surrounding ingredients made the dish equally as satisfying to look at as the taste was to satiate us delectably.
An outstanding "Summer Corn" ($5) inspired ice cream with two spoons capped what was an outstanding intial foray into what's widely considered 'New-Williamsburg' – a Manhattan-lite endeavor, without any pretension. In both folklore and fables, Reynard is a cunning red fox, who is one part trickster, the other part hero. It's somehow befitting then that the restaurant that shares the character's namesake is equally laid-back and yet special- worthy of trekking past the confines of Bedford Avenue to experience. With the successes of the new hotel and a fantastic restaurant to boot, we've been given yet another reason to visit Williamsburg. Just make sure you come hungry.
Rundown of the Meal
Oyster Toast ($13)*
Wahoo ($25)*
Grass-Fed Burger ($15; add Gruyere $2)*
Summer Corn Ice Cream ($5)
*Meal Highlight
Related Articles
Share
About Author
(0) Readers Comments