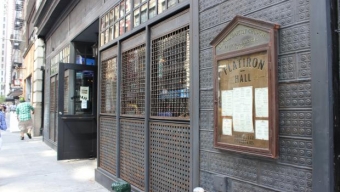 LocalBozo.com correspondent Link Cromwell vowed to have a drink at every bar in Hoboken before running the 2011 New York City Marathon. With every bar visit in the "Sixth Borough" now completed along with a successful race now finished, it's time to reel our reporting back toward the City. And as such, every single Friday we'll be taking over where Link left off, showing you distinctive bars in each borough perhaps for the very first time, perhaps to refresh your memory of a fun place you've ducked into, or perhaps to suggest a new spot for you to check out. You can follow our travels as we approach each weekend on Friday mornings with LocalBozo.com's "Drink Here Now."
Flatiron Hall
38 West 26th Street near 6th Avenue, New York, NY
646-790-3200
Getting There: 1,M,F,PATH to 23rd Street
http://www.flatironhall.com

Drink Here Now: Flatiron Hall
Make no mistake about it- 2013 in the New York bar scene is all about the openings of spacious beer halls and biergartens all over town. Following the ribbon cutting of the wildly successful Houston Hall downtown comes its sister in the sprawling space of the Flatiron District's NoMad, creatively titled Flatiron Hall. The 7,500 square foot, bi-level space combines elements fitting of an old-world new york with a modernized take on a beer-lovers paradise. And they've got as interesting a menu to pair with those beers as any recent opening in Manhattan.
The old doors to Flatiron Hall open wide to a long L-shaped bar adjacent to a more upscale version of big group seating than you're probably used to seeing, equipped with high top stools. The walls meanwhile are adorned in green paneling from top to bottom, pleasantly matching the dark brown tables and chairs, which sit atop the refurbished wooden floors. Overhead medieval like chandeliers illuminate much of the restaurant's main floor, which feature just enough hi-definition televisions to also have Flatiron Hall double as an oversized sports bar. That said, there's also plenty of room in the back of the space for more intimate (and probably less rowdy) dining or to catch up quietly over one of twelve exclusive draught beers to the bar. Downstairs, the space is even more ideal for bigger or private parties with a bar that looks to have been left in-tact from a New York of decades earlier.
You might not find too many ten cent wing nights or dollar draught specials at Flatiron Hall, but really, what gigantic beer haunt offers that anyway? What you will find here though is an array of food that sounds just right to be washed down with a frothy pint of suds. Appetizers like "Sashimi Tacos" ($14), "Chicken Tikka Masala Wontons" ($8.50), and "Pastrami Reuben Spring Rolls" ($10- pastrami from Carnegie Deli), the bar's own Pat LaFrieda blend of dry aged beef in their selection of burgers ($12.95 – $16.50), and main courses that run the gamut from "Traditional Fish & Chips" ($17.50) to "Bacon & Chicken Mac N' Cheese" ($16) are just some of the innovative menu items that raise Flatiron Hall from bar/restaurant to restaurant that also serves beer. And if these comfort food options sound a little too rich, rest assured- there are also sandwiches and salads galore for you to choose from. Long gone are the simple days where a biergarten serves up a sausage and pretzel with mustard. Well maybe not long gone, but there's so much more than that at Flatiron Hall, and that's just fine by us.
The Rundown
Bar Type - A super-sized bar that can host big parties or be your neighborhood sports bar. But in reality, it's a huge beer hall.
When to Visit – The place is newly opened so when word officially gets out, expect it to be as packed as its sister Houston Hall. It may even be before you finish reading this sentence. Quieter times rest ahead on the weekend days, but after work is when you should shoot to head over.
Value – It's a new beer hall that needs to pay rent in Manhattan. Lets be real. The value here lies in checking the place out for the first time.
The Lowdown - With new spaces opening virtually every day, Flatiron Hall combines enough elements of good, delicious and exclusive beers with a bevy of menu options that are truly indicative of the vibe that the space is trying to create. You can clunk together big liters of beer here screaming "Hopa!" or you can taste some of their food in the dining area in back. However you decide to experience Flatiron Hall, make sure that you experience it somehow.

-Alex Corrine
Related Articles
Share
About Author
(0) Readers Comments