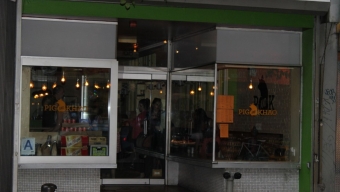 Pig and Khao
68 Clinton St, Lower East Side
212- 920-4485
Getting There: J, M, Z to Essex Street
http://www.pigandkhao.com/

Restaurant Review: Pig and Khao
There's a delicious satisfaction when a contestant on Bravo's "Top Chef" moves beyond the realm of the popular show and opens their very own restaurant to show off their culinary prowess to the public. In that vein, former contestant and Chef, Leah Cohen's recently opened Lower East Side Asian centric restaurant Pig and Khao combines the pinache of the chef's personality with the unmistakable energy exuding from the lively neighborhood. Ducking into the crowded and diminutive space, the vigor both inside the room and on the outdoor patio was feverish as a hungry collection of diners awaited the innovative portions being placed in front of them.
With bright neon green walls opposite exposed brick, the brightly lit Pig and Khao is as inviting a setting as there is in the neighborhood. The open kitchen reveals cooks working collectively in a frenzy much as you'd expect to find in an unknown spot in Chinatown, scaled up of course in this setting. Although the tables are closely placed, there's hardly a circumstance of discomfort unless you're stuck waiting for the establishment's lone bathroom. Outside in seasonal weather, the open air setting is a refreshing one with the walls adorned in differing colors and small gardens of plant life embedded around the space.
Keeping the vibe casual and fun, we grabbed cans of "Genesee Cream Ale" ($3) and "Pork Slap Pale Ale" ($5) as we waited for our table to be ready near the place's long front of the house windows. The fare here has been described as 'Asian hipster' with a variety of Thai and curry induced flavors resplendent across the board. But Pig and Khao is first and foremost a tribute to the pig, with Cohen's snout-to-tail style prevalent in a majority of the offered dishes. For instance, even our starter dish was draped in swine as the "Pork Wrapped Shrimp" ($14) was out to our table first. Deep fried and encased in pork, as well as a thorough sprinkling of 'chicharron' smattered across its exterior, the handheld servings were delivered piping hot alongside fresh lettuce for wrapping and a tangy and spicy vinegar drizzle was provided for dipping. We then opted for the "Sizzling Sisig" ($14), an impressive looking hot plate loaded with juicy cubes of pork head, chilis and an entire egg. Swirling the flavors together, we were presented with a savory, brilliantly fat filled example of Chef Cohen's mastery of our four legged guest of honor. To balance out the delectable meats, we ordered up the "Market Vegetable" ($7), similar to an Asian spinch or bok choy and some smooth "Jasmine Rice" ($3) to soak up every drop of sauce left over on our emptied plates.
Following a serving of "Grilled Sirloin" ($15) which brought us tender slices of medium rare steak plated with crispy garlic and a spicy issan sauce, we selected our main entrees. The "Whole Fried Fish" ($29) was a revelation, served in its entirety with its head sticking out from a cauldron filled with hot and sour broth. The soupy mix coupled cilantro and Thai basil with a touch of lemongrass, tomatoes and oyster mushrooms surrounding the fish. We were encouraged to strip the fish meat down into the bowl, covering each tender morsel with the salty mixture. Fortunately, the bones found were minimal and the combination of flavors worked together well. The "Pork Ribs" ($25) meanwhile was the evening's true revelation. The tender tear off the bone meat was lacquered in a tremendously sticky barbecue sauce, complimenting each pinkish pull brilliantly. And with so much meat offered on the half-rack, there was plenty to pass around the table for our party, each of whom longed for just one more bite.
The dining experience at Pig and Khao is purposefully laid back. Cans of ice cold beer and a relatively small cocktail list ensure that you're perfectly fine leaving your jacket at home. In fact, the self-serve bottomless drafts of Pabst Blue Ribbon for just $15 probably demand it. Or perhaps it's the collection of delicious sauces and flavors coupled together inventively and decorating each piece of pig that provide a messier dining experience than you're probably used to. Regardless, part of Pig and Khao's charm is its welcomed lack of refinement. Sometimes a night out to dinner is just a night out to dinner. And deliciously, that's exactly what's delivered here.
Rundown of the Meal
Small Plates

Evening Special: Pork Wrapped Shrimp ($14)
Sizzling Sisig ($14)*

Grilled Sirloin ($15)

Large Plates
Whole Fried Fish* ($29)
Pork Ribs* ($25)
Sides

Market Vegetable ($7)
Jasmine Rice ($3)
*Meal Highlight
Related Articles
Share
About Author
(1) Reader Comment