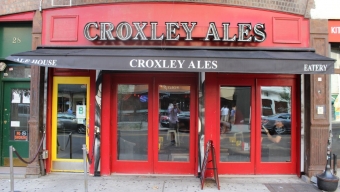 LocalBozo.com correspondent Link Cromwell vowed to have a drink at every bar in Hoboken before running the 2011 New York City Marathon. With every bar visit in the "Sixth Borough" now completed along with a successful race now finished, it's time to reel our reporting back toward the City. And as such, every single Friday we'll be taking over where Link left off, showing you distinctive bars in each borough perhaps for the very first time, perhaps to refresh your memory of a fun place you've ducked into, or perhaps to suggest a new spot for you to check out. You can follow our travels as we approach each weekend on Friday mornings with LocalBozo.com's "Drink Here Now."
Croxley Ales
28 Avenue B at 3rd Street, New York, NY
212-253-6140
Getting There: F to 2nd Avenue
http://www.croxley.com/manhattan

Drink Here Now: Croxley Ales
Look, if you've lived in Manhattan for any amount of time, you've certainly been to or you've heard about Croxley Ales or as it's affectionately called- 'Croxleys.' Known for their legendary wings (which LocalBozo.com called The Best in the Neighborhood), for years Croxley Ales has been a go-out-of-your-way to check out drawing card for Avenue B. With five locations in the New York area and a sixth coming to Brooklyn soon, the bar's reputation is growing faster than even I can write about it. Fortunately, I dropped by with some members of the "Drink Here Now" crew on a recent weekend afternoon – and my most recent visit just reinforced Croxley's already outstanding reputation.
From the street, Croxley's doesn't necessarily stand out as anything more than a run of the mill pub, with bright red paint lining the exterior underneath the bar's white lettering. In warmer months, the front doors and windows are left pleasantly ajar allowing a good deal of natural light inside, which is ideal if you're seated in the front of the space. Dark wooden booths outline the tabled space surrounding a bar area that sports upwards of 32 beers on tap- from domestics to imports and all the craft beers in between- though be advised, the bar makes no secret that they do not carry Bud, Miller or Coors. The expansive space has overflowed to another adjacent room with more traditional table seating for a more private dining experience.
If you make your way down to Croxley's, the aforementioned wings are an absolute must. Golden orange and meaty, their bone-in variety will run you just .20 each on Monday thru Wednesday from 5pm to 1am, and sports brand new flavors like Thai Peanut and Red Hot Chili Powder in addition to your typical selection of temperature options. Meanwhile the boneless variety is available all day on Sunday and from 12pm to 5pm on Saturdays at just .10. And with wings this good, the value here is literally unbeatable. Aside from a full menu of food, Croxley's beer list is also no slouch. The in house Croxley Blonde is as good as any lighter summery beer you'll find in New York City while the usual suspects Six Point, Blue Moon, Dogfish, Anchor Steam, and too many more to name are here in draught and bottle form- most of which won't run more than $6 a pop. And Croxley's 20th Anniversary Red Ale is another exclusive to the bar, filled with enough malts and hops to make you enroll in a Master Brewer Program. From rare whiskeys to seasonal suds, beer cocktails (like a killer "Dark and Story") to other brews from around the globe, there's something for any drinker at Croxley Ales. Just make sure you order the wings. That's non-negotiable.
The Rundown
Bar Type - Croxley Ales is just a bar. With outstanding wings and specials to keep you inside and drinking- day or night.
When to Visit – There's nothing better than a plate of wings and day drinking. And luckily, those are the best times to hit up Croxley Ales with specials on boneless wings Saturday and Sunday.
Value – At the end of the day, prices at different bars all run together- some a bit higher or lower than the norm. Where the true value lies here is in selection and in accoutrements. And you get the best of both at Croxley's for sure.
The Lowdown - You'd be hard pressed to find a regular bar that with stronger ratings than Croxley Ales anywhere in New York City. And with their eyes on statewide expansion, there's no telling where the next stop is. But the formula is sound. The beer pairs with the food brilliantly and there's enough flat screens to make this a perfect spot on game day. There is perhaps no bigger compliment than to compare another bar to the standard set at Croxley Ales. So what are you waiting for? Get your ass down there already.

-Alex Corrine
Related Articles
Share
About Author
(0) Readers Comments