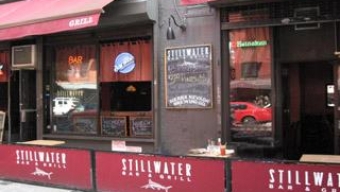 LocalBozo.com correspondent Link Cromwell vowed to have a drink at every bar in Hoboken before running the 2011 New York City Marathon. With every bar visit in the "Sixth Borough" now completed along with a successful race now finished, it's time to reel our reporting back toward the City. And as such, every single Friday we'll be taking over where Link left off, showing you distinctive bars in each borough perhaps for the very first time, perhaps to refresh your memory of a fun place you've ducked into, or perhaps to suggest a new spot for you to check out. You can follow our travels as we approach each weekend on Friday mornings with LocalBozo.com's "Drink Here Now."
Stillwater Bar & Grill   
78-80 E 4th St, East Village, Manhattan
212-253-2237
Getting There: 4, 6 to Bleecker Street
Drink Here Now: Stillwater
Saturday's are holy to the, "Drink Here Now" crew. We shake off the work week and duck into our favorite pubs. On a recent Saturday afternoon we were bouncing around the East Village trying to hit some spots that we hadn't gone to before or simply don't remember for obvious reasons. Enter, "Stillwater Bar & Grill" a side street, neighborhood friendly sports bar that would be our home for hours on this particular weekend day.
It was in the late afternoon when we walked through the door and into the bustling pub. Our crew was instantly met by a spunky waitress who quickly showed us to one of their high top tables. As we looked around we spotted hockey and basketball plastered all over their collection of huge HDTV flat screens. Needless to say Stillwater is all about the celebration of all things sports, and we love that. A few moments after drinking this all in it was time to do some actual drinking. That same waitress quickly returned to our table to take our order. We opted for cans of Pabsts Blue Ribbon which ran us around $3, making that our choice brew of the day. As we polished off a few, "PBer's" it was time to eat. Our spitfire of a waitress came over and told us that their hot wings were the only way to go. Since we aren't ones to ever question wings we placed the order. When they arrived we knew we had made the right choice. Each wing was super saucy, spicy, crispy and most importantly delicious. They rank up there with some of the best in the city.
After a few more beers and a pile of wet naps for our wing fingers it was time to hear some tunes. Stillwater has a jukebox that literally has everything. As rock n' roll enthusiasts we were thrilled to see the juke loaded with the likes of, "The Offspring", "Volbeat", "Dropkick Murphy's" and of course, "The Rolling Stones!" The bar is big enough to rock out without bothering anyone who is watching a game, which was quite important on this day. We're not sure if the bar is named after the band from the movie, "Almost Famous," But, after one visit to Stillwater we totally have the, "Fever Dog" for this bar.
Bar Type – Spacious East Village sports bar with a laid back divey feel.
When to Visit – Saturday afternoon's or whenever a game is on is when Stillwater truly comes alive.
Value – Super cheap cans of PBR and regular Happy Hour's will keep your wallet loaded with green while the rest of you is happily buzzed.
The Lowdown – There are tons of sports bars in the City and many of them are in the East Village. But, Stillwater has cracked the code in keeping an extremely chill atmosphere amongst all the rowdy activity that goes down on game day. If that's not enough for you the killer hot wings and jukebox will keep you coming back.

 
-Alex Corrine
Related Articles
Share
About Author
(0) Readers Comments