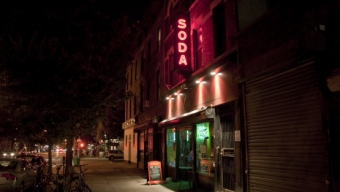 LocalBozo.com correspondent Link Cromwell vowed to have a drink at every bar in Hoboken before running the 2011 New York City Marathon. With every bar visit in the "Sixth Borough" now completed along with a successful race now finished, it's time to reel our reporting back toward the City. And as such, every single Friday we'll be taking over where Link left off, showing you distinctive bars in each borough perhaps for the very first time, perhaps to refresh your memory of a fun place you've ducked into, or perhaps to suggest a new spot for you to check out. You can follow our travels as we approach each weekend on Friday mornings with LocalBozo.com's "Drink Here Now."
Soda Bar  
629 Vanderbilt Ave, Prospect Heights, Brooklyn
718-230-8393
Getting There: 2, 3, 4 to Grand Army Plaza
Since the opening of the Barclays Center, bars in the surrounding area are beginning to receive a much deserved influx of attention. The neighborhood of Prospect Heights directly borders the newly opened venue and its longtime mainstay watering hole, Soda Bar is primed to get a ton of new business. The "Drink Here Now" crew and I made our way to this multipurpose pub- (you'll find out later) – on a weeknight to throw back a couple and share a few laughs.
From outside the bar, Soda Bar appears to have once been a typical shop in the heyday of this ever changing neighborhood. It's beautiful glass windows may have once held mannequins donning the fashion of the day or even a soda fountain. We're speculating of course but the latter is most likely, hence the bar's name. As we headed inside we were instantly impressed by the dimly lit space with its very mellow vibe. Candles light up the wooden bar making the entire room feel both casual and comfortable and nearly the entire room is similarly covered in worn wood. Our crew grabbed up a few of the remaining stools facing the window to people watch inside and outside of the bar. On this particular night we wanted to stick to the craft beers and wines and pints of Kelso Pilsner ($6) and hearty pours of Sauvignon Blanc ($7) were ordered. This is about the average price we expected to spend given the fact we weren't drinking light domestic brews or well drinks. I guess it was a classy night for the crew! We had already eaten dinner before coming, but we spotted patrons around us eating hot wings and fries that looked rather tasty. These eats are sure to be on our list for the next visit.
As the night rolled on, the crowd thinned out slightly but fortunately the great atmosphere did not. Throughout our stay we kicked back to great tunes from late 80s bands like The Replacements and"The Smiths, which also happen to be some of our personal favorites. And even though we made our visit during the week, we intend to head over on a weekend and check out Soda's second room which doubles as a cozy lounge with huge couches, vintage cushion chairs and a DJ spinning a little bit of everything. On Sunday nights, fans of popular AMC shows Mad Men, Breaking Bad and The Walking Dead will be tickled pink to find out the bar plays all these shows on a huge projection screen. Remember when I said this was a multipurpose bar? Well, now do you get it?
Bar Type – Extremely laid back neighborhood bar that wears two hats as both a divey joint to grab beers and food and a lounge to kick back to some tasty DJ spun grooves.
When to Visit – Weekends are best to go since you will be able to experience all the different crowds that inhabit this highly diverse watering hole.
Value – Nothing at Soda Bar will ever break the bank from the brews to the food. During weekend Happy Hours you'll have a "Sunday Funday" with dollar off drinks.
The Lowdown – If you want a truly unpretentious spot that allows you to chill out, party and even watch all those popular AMC shows you love, then prepare to have a new best friend at Soda Bar.

-Alex Corrine
Related Articles
Share
About Author
(0) Readers Comments