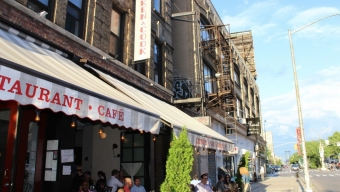 Ken & Cook
19 Kenmare Street near Elizabeth Street, Nolita
212-966-3428
Getting There: J,M,Z to Bowery; 6 to Spring Street
http://www.kenandcook.com

Restaurant Review: Ken & Cook
The sunshine of early evening is still shining bright upon the almost completely full outdoor front patio of Ken & Cook. Despite being situated just a few steps from the bustling Bowery, the restaurant is relatively isolated, a testament to the 'forget everything going on outside' feeling that takes over once inside the open air restaurant's front doors. The mixture of American brasserie meets French bistro effectively collaborates culinary influences from both worlds, alongside a menu featuring the likes of savory comfort foods and a raw bar to boot.
Inside Ken & Cook the atmosphere feels more Parisian than anything else. White exposed brick walls outline much of the space, surrounded by burnt orange booths adorned by candlelit tables as the lights of early evening dim to dark. The sizable bar area is backed by shelf after shelf of floor to ceiling bottles behind an aisle of standing room and high top stools, crowded and buzzing on this night with a collection of after work types looking to unwind. In the background, the music is at a noticeable level with classic rock tunes from The Beatles to The Animals playing to our delight behind some energetic conversation inside. Unfortunately, we manage to just miss the restaurant's Happy Hour which lasts until 7pm with choice selections of freshly shucked oysters at just $1 a piece.
Pleasantly, the service here is both friendly and attentive and the staff makes us wait nary a moment before filling up out water glasses or delivering a round of ordered drinks. The "Nolitas Tea" ($13) was especially tasty, decorated with a fresh cucumber sitting above a fresh green tea cocktail infused with the kick of tequila. The menu meanwhile is pulled in a variety of different directions- from charcuterie and cheeses, to towering plateaus of fresh seafood courtesy of the staffed raw bar, to a selection of freshly prepared in house pastas- along with a bevy of main course options fit for eaters of all kinds. With warmer weather in mind, we begin with a very delightful "Kale" ($13) salad. The sweet and summery plate is the perfect portion size for two to share, doused with blood oranges and fresh pomegranates that mix excellently with the nutty finish of sliced parmesan cheese which top the chilled greens. The "Tartar" ($17) however, was absolutely sensational. Served beneath a delicately poached egg and beside a drizzle of honey mustard, the dish was beautifully plated. Despite our reluctance to break up such a fine looking dish, the three buttered slices of toast proved essential for lapping each clump of pink meat and the raw seasoned beef was delectably light and creamy.
Next we opted for a shared portion of the "Pappardelle" ($24), which Ken & Cook was more than happy to divide into two plates. Again, the heaping portion was perfectly sized to share. The thick braids of house made pasta were surrounded in a soupy orange broth, topped with thin shaves of rich cheese that complimented the pulled hunks of tender veal. Fortunately we had saved some left over bread for ample dipping into the salty sauce base. After hearing about the list of celebrities that had dropped into Ken & Cook and ordered the "Chicken" ($21), we'd have been remiss to seek out our main entrée elsewhere. Served in two pieces of long tenders and two pieces on the bone, the piping hot chicken was cooked to a golden brown, crispy and crunchy around soft white and dark meat inside. The pieces were well seasoned without being overly so, complimented by the sliced break-apart buttermilk biscuit outfitted by a spread of honey and a rich butter square. The entirety of the dish was both well conceived and well executed, leaving us completely satiated without much room for anything else.
With so many spots popping up in the surrounding neighborhood, it's easy to overlook Ken & Cook's side street location. But as a restaurant, it's accommodating on a variety of levels with the ability to compliment an outdoor dining crowd, dinners for groups or for the intimate, ideal for drinks at their energetic bar scene, raw fare for seafood lovers, and perhaps most importantly, a full service lounge scene downstairs known as 'Lil Charlie's,' which for people in the know, rocks until the wee hours of the morning. So whether you're stopping in for a round of drinks or for their "Cote de Beouf" ($95 for two), even the most finicky eater can find something of interest at Ken & Cook, perhaps the Bowery's most unheralded and underrated eatery to come along in quite some time.
Rundown of the Meal
1st Course
Kale ($13) – pomegranate, blood orange, parmesan
Tartar ($17)* – beef, egg, toast
2nd Course
Pappardelle ($24) – veal, radicchio, tomato
3rd Course
Chicken ($21)* – fried, biscuits, honey
*Meal Highlight
Related Articles
Share
About Author
(0) Readers Comments