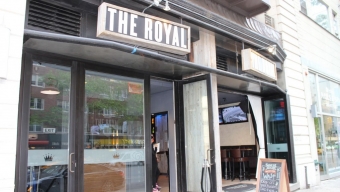 LocalBozo.com correspondent Link Cromwell vowed to have a drink at every bar in Hoboken before running the 2011 New York City Marathon. With every bar visit in the "Sixth Borough" now completed along with a successful race now finished, it's time to reel our reporting back toward the City. And as such, every single Friday we'll be taking over where Link left off, showing you distinctive bars in each borough perhaps for the very first time, perhaps to refresh your memory of a fun place you've ducked into, or perhaps to suggest a new spot for you to check out. You can follow our travels as we approach each weekend on Friday mornings with LocalBozo.com's "Drink Here Now."
The Royal
127 4th Avenue, West Village, Manhattan
212-260-1099
Getting There: 4,5,6 to 14th Street – Union Square
Drink Here Now: The Royal
Sports bars in New York City have changed dramatically over the past five years. They are no longer the home to gravely old men sharing three teeth between the lot of them. If you read last week's entry of this column it was easy to see how a classic institution for sports can make improvements to enhance the experience for the modern consumer. This week the "Drink Here Now" crew traveled to the border of Union Square and the West Village to bring you another shining example of this terrific trend in updated sports bars. The Royal, which opened in January of 2013 is an upscale sports lounge perfect for the bustling streets where the two neighborhoods converge. Formerly known as The Forum- where a scene from the film "Black Swan" was filmed- this relatively new sprawling watering hole was the perfect joint for us to pop into for some sports and brew action.
It was the middle of the week and therefore a perfect day for some Happy Hour imbibing. As we walked into The Royal's wide open glass door we gazed upon the long wood paneled walls literally loaded with gigantic flat screen HDTV's. Every wall and even behind the bar space is covered in these televisions, making this a sports bar where everyone- including people on the street- will have a view of the action. During "March Madness," The Royal was packed to its limit with passionate and tipsy Syracuse fans looking for a good time. It was insane in the best possible sense of the word. Our most recent visit was slightly more mellow, as the crew and I were able to get prime seats at the bar on their uncommonly soft bar stools. Even though the place was abuzz with activity, the bartender came right over to take our order. The fact that there were three bartenders on duty during this time was a great way to keep customers happy with constant drink service with no lag.
Our bartender was extremely attentive, quickly pouring us pints of Shock Top, which were only $5 during Happy Hour. When it came to cocktails the bartender was happy to make several recommendations during some friendly banter- such as which bourbon makes the best Manhattan. While we threw back multiple pints of wheat beer we took in the tunes coming over the bar's outstanding sound system. Sure, we are rockers at heart but had no problem bobbing our heads to some hot classic hip hop and modern jams. The Royal may be the best example of a sports bar where you can watch the Super Bowl, while also bringing a girl on a date and impressing her with your style. If that's not a win win, we don't know what is!
Bar Type – Upscale sports bar and lounge perfect for catching a major sporting event or just kicking back with some cocktails.
When to Visit – This all depends on how packed you like a bar to be. During college games and NFL Sundays prepare to be elbow to elbow with other fanatics. If you like it more on the mellower side go during the week after work.
Value – $5 draft beers during weekday Happy Hours make The Royal a perfect joint for getting a solid buzz on while saving some dough.
The Lowdown – You no longer have to go to a divey bar with crappy TV's for watching the game any longer. The Royal proves a bar can easily combine gridiron action with girly delights and come out on top with both parties having a blast. 

-Alex Corrine
Related Articles
Share
About Author
(0) Readers Comments