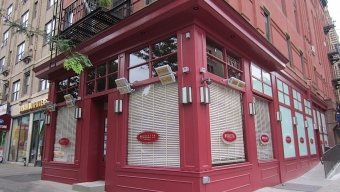 Nicoletta
160 2nd Avenue and 10th Street, East Village
212-432-1600
Getting There: 6 to Astor Place; L to First Avenue; N,R,W to 8th Street- NYU
http://www.nicolettanyc.com
Restaurant Review: Nicoletta
Once word broke about Chef Michael White's newfangled concept to bring his mid-western style of pizza under the umbrella of the Altamarea group, the critics and naysayers seemed to emerge in unison, knocking the chefs previously sterling reputation. But with some time operationally for Nicoletta to have worked out the kinks, White's most casual and more importantly, affordable setting yet has found a much welcomed home on a quaint East Village corner. With thin crust and personal style pizzas currently all the rage in Manhattan, Chef White's penchant for concocting large pies with thick, fluffy dough is a welcome respite from a tired run of the ordinary, by using the same courageous inventiveness that made him stand out as one of New York City's most notable chefs in the first place.
Inside, Nicoletta is a slightly more refined, slightly more modernized traditional pizza parlor. Typically a walk-in at a Michael White restaurant is no sure thing, but there's no pretension here. The overall design of Nicoletta is laid back and warm. From the entirely red and white interior to the old fashioned brick oven to the open air kitchen, diners are welcomed to feel right at home in the restaurant's rustic setting. Around us, fresh pizza after fresh pizza was delivered to nearby tables, perched atop elevated silver trays to simplify sharing. The menu meanwhile is straightforward- White's signature homemade pastas, while sparse, make a much welcome appearance next to nine different pizzas, some small bites, antipasti and salads, and two basic Italian dinner staples.
With an evening of carb-loading ahead of us, we jumped in with both feet and the handheld "Stromboli" ($6) was a perfect match. Delectably old-school, each crisp and dough stuffed stick oozed with a smattering of parmesan cheese, fresh mozzarella, and salty pepperoni, which we liberally dipped into their house made marinara sauce. Specialty pizzas are Nicoletta's bread and butter (pun intended) and as such we ordered up the "Classica" ($17) and the "Calabrese" ($21) to pass around the table. Each broad slice offered up the taste and authenticity that you'd hope for with an ideal sauce to cheese distribution indicative of a kitchen staff that knows what they're doing. The "Calabrese" specifically, overloaded with thick cuts of spicy pepperoni, fennel sausage, and red onions, brought us to a meat lovers paradise with each hearty bite.
The terrific pizzas might be the restaurant's trademark but it was the "Pollo Alla Parmigiana" ($18) that was the standout for us. The bulbous hunks of chicken were excellently prepared and perfectly sauced, yielding an ideal combination of juicy meat with a mouthwatering fried breaded crunch. The thick red sauce also proved to compliment the chicken well, without being overly sweet. As our party finished the last droplets of our red wine and a single slice remained around the scraps of crusts that non-pizza experts somehow avoided, we began eyeing each other to see who which of us would yield and which would be aggressive. And as the fight ensued for Nicoletta's last slice, it became infinitely clear that regardless of its relative condemnation early on, Chef White knows a thing or two about preparing some delicious pizza.
Rundown of the Meal
Small Bites

Stromboli ($6)
Specialty Pizzas

Classica ($17)
Calabrese ($21)*
House Specials

Pollo Alla Parmigiana ($18)*
*Meal Highlight
Related Articles
Share
About Author
(0) Readers Comments