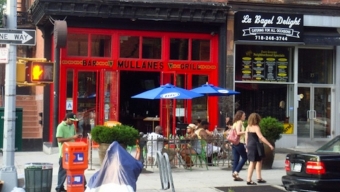 LocalBozo.com correspondent Link Cromwell vowed to have a drink at every bar in Hoboken before running the 2011 New York City Marathon. With every bar visit in the "Sixth Borough" now completed along with a successful race now finished, it's time to reel our reporting back toward the City. And as such, every single Friday we'll be taking over where Link left off, showing you distinctive bars in each borough perhaps for the very first time, perhaps to refresh your memory of a fun place you've ducked into, or perhaps to suggest a new spot for you to check out. You can follow our travels as we approach each weekend on Friday mornings with LocalBozo.com's "Drink Here Now."
Mullanes Bar & Grill 
71 Lafayette Avenue, Fort Greene, Brooklyn
718-797-7606
Getting There: A, C to Lafayette Avenue
The "Drink Here Now" crew loves to spend an entire weekend afternoon at a solid bar watching the game. It doesn't matter which game, because when a bar is laid back and fun everyone wins. On a recent Saturday, the crew and I headed to one of Brooklyn's most historic and currently up and coming neighborhoods, Fort Greene- home to the dynamic Brooklyn Academy of Music, the Barclays Center, and the neighborhood where director Spike Lee houses his office. On this day however, we wanted to intake our culture from a pint glass. Luckily for us the corner of Lafayette Avenue houses one of the most fun and chilled out sports bars in the area. It's Mullanes Bar & Grill, a no nonsense watering hole where everyone is welcome to soak in the spirits and forget about the day's troubles.
The second we walked inside we knew we had made the right choice. The bar was completely packed but in the best possible way. The roar of the crowd enjoying afternoon baseball and golf sent us right into the thick of it and up to the bar. The great thing about Mullanes is that they staff more than one bartender at a time, which helps move ordering along in a super efficient way. On this Saturday we decided to keep it super simple and ordered bottles of Budweiser and Bud Light all pricing out roughly around $5 dollars. As we kicked back and enjoyed our beers we noticed people talking about a concert going down nearby at the aforementioned arena. They had chosen Mullanes as their pre-game spot for drinking, thus putting another positive point in the bar's "Drink Here Now" tally. Weekends are extremely lively at Mullanes but during the week the party goes on with some extremely good values. If you head to the bar Monday through Friday from 4pm to 7pm they have a free buffet to fill you up while you guzzle down $5 house wines and $2 well drinks and tap beer.
Since the weather was nearing summer temperatures Mullanes' patio and sidewalk cafe have now both opened. In our opinion there is nothing better than sitting outside of a bar to drink and people watch and you won't find a cooler street on which to do it. As the hours rolled on the crowd increased, and so did the fun. Sure there were a couple characters who may have been hanging around the bar a tad too long but that did nothing to hamper the great time we had that afternoon. The next time we visit we plan to try the many food selections on their grill menu. We hear the wings and the nachos are supposed to be other levels good. The "Drink Here Now" crew raises a pint high in the sky to the fine work the folks at Mullanes are doing to keep the sports bar alive and well.
Bar Type – Classic sports bar located on one of the best cross streets in Fort Greene. Sports nuts, families and those who are pre-gaming before at show at BAM or the Barclays Center are all welcome to come in and have a pint.
When to Visit – Since Mullanes is geared towards sports, all big games are a reason to visit. Our stop in took place on a late Saturday afternoon and the place was pleasantly packed.
Value – Most beers will run on average between $5 and $6 dollars which is totally acceptable. If you head to the bar Monday through Friday from 4pm to 7pm they have a free buffet!
The Lowdown – Between the historic and constantly growing neighborhood of Fort Greene and the spacious laid back attitude, Mullanes has a lot going for it. A place like this would be a huge hit in Manhattan but one bustling corner in Brooklyn, U.S.A. is truly it's home.

 
-Alex Corrine
Related Articles
Share
About Author
(0) Readers Comments