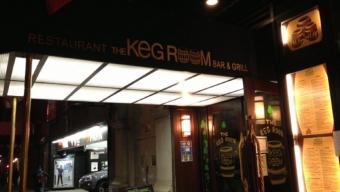 LocalBozo.com correspondent Link Cromwell vowed to have a drink at every bar in Hoboken before running the 2011 New York City Marathon. With every bar visit in the "Sixth Borough" now completed along with a successful race now finished, it's time to reel our reporting back toward the City. And as such, every single Friday we'll be taking over where Link left off, showing you distinctive bars in each borough perhaps for the very first time, perhaps to refresh your memory of a fun place you've ducked into, or perhaps to suggest a new spot for you to check out. You can follow our travels as we approach each weekend on Friday mornings with LocalBozo.com's "Drink Here Now."
The Keg Room
53 West 36th Street, Midtown West, Manhattan
212-643-1400
Getting There: B,D,F,M to 42nd Street-Bryant Park
Drink Here Now: The Keg Room
The "Drink Here Now" crew knows that navigating Midtown Manhattan is often a daunting task. With so many restaurants and bars based solely on the tourist trade, a New Yorker has to be very discerning on where they spend their hard earned cash. But breathe easy New Yorkers, that's why you've got us. Enter "The Keg Room," a gigantic craft beer centric sports bar located smack in the middle of the Midtown crush, but without any of the pitfalls one would usually encounter in this area. On a recent weeknight the crew and I wanted to grab some pints, some wine and some grub, so we stopped into The Keg Room's massive space for a bit of all three.
Opened in December of 2012, the less than a year old bar has plenty to boast about even in it's early age. As we entered the front door our jaws nearly hit the floor when we spotted the huge rectangular bar which has been noted as one of the biggest in the city. This bar literally covers so much square footage that no one will go thirsty. Add to that to the fact that The Keg Room is outfitted with over 43+ beers on draft, 37 bottled beers and several rotating seasonal beers. As customers hang around the giant bar they will have absolutely no reason to be bored, as almost every wall is plastered with oversized HDTV screens. Sports fans' mouths will water as they capture all the action any place in the house. As far as bars perfect for watching "The Super Bowl," The Keg Room has it nailed.
On this particular night standing at the bar wasn't our forte. The crew and I quickly secured a table near that back of the house for waitress service. We grabbed some pints of Sam Adams' Spring seasonal ($7) and glasses of Pinot Noir ($9). Since drinking goes best with eating, the Buffalo style "Wings" ($10) were ordered as well to munch on. And even though the bar was hopping during this time, our drinks and wings came out fairly quickly. The beer was crisp, without the slightest taste of bitterness while the wings were seriously the cherry on top. We ordered them medium spiced and they arrived steaming and saucy. Each bite yielded a truck load of meaty flavor.
The crew and I are thrilled whenever we find a bar in Midtown worth patronizing. The Keg Room satisfies this simple goal and so much more. From the tasty brews, tons of space and killer television sets we've found a real winner here. It's the upscale,classy sports bar that even a non-sports fan can identify with.
Bar Type – Gigantic Midtown West sports bar with a seasonal craft beer menu on constant rotation. 
When to Visit – Any day of the week is fine but we recommend heading to The Keg Room directly after work and during big games to experience this joint at it's full capacity. 
Value – Most domestic beer bottles will run you between $7 to $8, about par for the course in the heart of Midtown. Craft brews may run you slightly more but nothing that will break the bank. 
The Lowdown – Boasting some incredible square footage The Keg Room has room for literally everyone. Be it watching the big game, having a quick meal or grabbing pints of cold brews, they have something for every taste. Sports fans mouths' will water at the hulking HDTV screens outfitted throughout the bar. They seriously pepper in enough of these so each patron pretty much has their own TV for whatever game they came for.
-Alex Corrine
Related Articles
Share
About Author
(0) Readers Comments