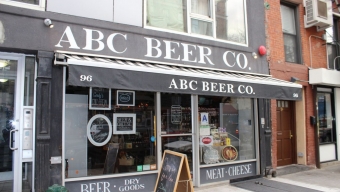 LocalBozo.com correspondent Link Cromwell vowed to have a drink at every bar in Hoboken before running the 2011 New York City Marathon. With every bar visit in the "Sixth Borough" now completed along with a successful race now finished, it's time to reel our reporting back toward the City. And as such, every single Friday we'll be taking over where Link left off, showing you distinctive bars in each borough perhaps for the very first time, perhaps to refresh your memory of a fun place you've ducked into, or perhaps to suggest a new spot for you to check out. You can follow our travels as we approach each weekend on Friday mornings with LocalBozo.com's "Drink Here Now."
Alphabet City Beer Co.
96 Ave C, East Village, Manhattan
646-422-7103
Getting There: L to First Avenue
Drink Here Now: ABC Beer Co.
Do you realize that the East Village's Avenue C used to be nicknamed "Caution" in the not so distant past? Alphabet City was once a very shady area where most city dwellers didn't dare travel to. Needless to say, a lot has changed in the last ten years. Avenue C and this area in general has been morphed into a thriving headquarters for commerce and cool. The "Drink Here Now" crew loves it when a neighborhood truly comes into it's own and becomes a place prime for some serious imbibing. With Alphabet City Beer Co., we find ourselves inside of an extremely laid back craft beer store, bar and specialty shop. We stopped by "ABC" on a recent weeknight for a few delicious pints and some rest and relaxation.
As we passed through the glass door to travel inside, our initial thought was that this place was purely a shop selling the sweet hoppy nectar we adore so much. The wood adorned space has two hulking refrigerators on both sides, housing an intimidating yet impressive selection of bottled beers to be purchased as single bottles or combined into makeshift six packs. The establishment has upwards of 350 bottles to choose from, giving you a selection that blows any local bodega completely out of the water. Growlers are also available to fill any huge thirst needs. But just be forewarned, patrons aren't allowed to actually consume bottles or growlers in the store due to policy. So stock up on the good stuff and bring it home to impress the ones you love to booze with. Don't worry friends, the good people at "ABC" aren't going to let you go home thirsty. This innovative bar-shop has plenty to drink while kicking back within their warm walls. Alphabet City Beer Co. has 12 constantly rotating taps to please any taste.
I opted to grab my pints at their bar which also doubles as a counter to order specialty meats and cheeses. The wood theme continues in a bold way, making one think they are in some rural joint and not the middle of New York City. In the back of the house, guests can cozy up at several chairs and a long bier hall style table. Luckily for us, our visit fell during Happy Hour where tap brews were $1 off. Typically pints will run you on average between $6 and $8 dollars, so we were thrilled about the value. We asked for caramel styled beers and were advised to try the "Greenport Harbor Havre Rouge," a brown ale loaded with crisp, semi-sweet flavor which perfected satisfied our thirst. Next we opted for a serious pilsner and we were presented with an "Oskar Blues Mama's Little Yella Pils." This brew is perfect for summer sipping with it's slightly sour flavor and light body. So if you want to kick back with a fine beer in a great space while getting some shopping done at the same time then we wholeheartedly believe you should "Drink Here Now" at Alphabet City Beer Co.
Bar Type – A hybrid craft beer store and bar with a seemingly endless selection of outstanding ales to enjoy inside or in the comfort of your own home.
When to Visit – If you are into kicking back and letting your worries melt away, then head over on a weekday in the late afternoon. You and your friends will have plenty of space to relax and try twelve tap beers while you munch on delicious cured meats.
Value – Craft beer in general is not cheap. But "ABC" offers a great $1 off Happy Hour that allows patrons to drink what they like without worrying about spending too much cash.
The Lowdown – The crew and I have been to several bars that pour some of the best craft beers in the country. Yet there is something about the charm of Alphabet City Beer Co. that makes the drinking experience that much more enjoyable. From the beautiful space to the friendly and knowledgeable staff they truly have a lot going in their favor and you will definitely see us in there again in short order.
-Alex Corrine
Related Articles
Share
About Author
(0) Readers Comments