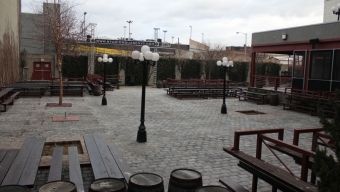 LocalBozo.com correspondent Link Cromwell vowed to have a drink at every bar in Hoboken before running the 2011 New York City Marathon. With every bar visit in the "Sixth Borough" now completed along with a successful race now finished, it's time to reel our reporting back toward the City. And as such, every single Friday we'll be taking over where Link left off, showing you distinctive bars in each borough perhaps for the very first time, perhaps to refresh your memory of a fun place you've ducked into, or perhaps to suggest a new spot for you to check out. You can follow our travels as we approach each weekend on Friday mornings with LocalBozo.com's "Drink Here Now."
Studio Square
35-33 36th Street near 35th Avenue, Long Island City, Queens
718-383-1001
Getting There: G,R,V to 36th Street
Drink Here Now: Studio Square
We're just days away from St. Patrick's Day here in New York City, which only means that warmer weather is right around the corner. And if you've only heard of the illusive beer gardens that the borough of Queens has to offer, it's time to take the short train ride out there from Manhattan and experience them for yourself. In the growing, bustling neighborhood of Long Island City sits a massive indoor and outdoor space that casts a far reaching shadow over all beer gardens which have come before it. Enter Studio Square, a gigantically modern but incredibly laid back space with huge communal tables on the patio out back as well as inside the hall for days when inclement weather is prevalent.
Having been to Studio Square during a St. Patty's Day in the past, I can assure you that there is truly nothing like the experience anywhere in the City. From the festive attire donned by the sea of guests to the heavy smiles painted on faces of thirsty drinkers just happy to be outdoors somewhere, waving goodbye to the blustery winds of winter, Studio Square on St. Patrick's Day is an outright party. That said, the holiday is only the kickoff to the experiences which lie ahead for the rest of the year. With minimalist design, the 30,000 square foot interior is a sight to behold, but not necessarily one who's décor you'd marvel at. The run of the mill German styled rustic design is absent at Studio Square, and in its stead lies a basic, new looking event hall that just happens to house a ton of beers. But therein lies much of the place's charm.
We dropped by on a recent weekend afternoon. During the colder months, crowds can be minimal early in the day but we found a couple of welcoming stools at the bar and enjoyed pours of "Blue Moon" and "Blue Points" offered up in differing sizes, including traditional German style liters or 'Steins.' Although it was too chilly to step out on the back patio, we did manage to survey the surrounding space, which has more televisions than you can imagine, endless supplies of seating, and a full service kitchen preparing everything from fries, wings, and sandwiches to German beer fare like brats, sausages, pretzels, and hot dogs. (Alright, maybe there's more German influence than we gave them credit for) Studio Square also offers up some great deals if you manage to make it inside before 8pm during the week with any 5 pitchers for $60 and shots priced at $2 and $3; not to mention $12 Blue Moon and Coors Light pitchers during any Nets and Knicks regular season games. But our advice, get out there for St. Patrick's Day to see what Studio Square is like at its zenith. And from there, you'll be desperate to return time and time again.
Bar Type – An absolutely massive 30,000 square foot beer garden that mixes in elements of sports bar, hot spot, and a modern twist on traditional German elements.
When to Visit – Head over for St. Patrick's Day, but when the weather warms up, grab a group of your buddies, get there early, and secure a table. See if you leave before the sun goes down.
Value – The value lies in the weekday specials, so make sure to duck inside before 8pm to take advantage of some excellent deals. The beers aren't exactly cheap, but $12 pitchers on NBA game nights certainly isn't out of line.
The Lowdown – It's difficult to speak any more highly of Studio Square. There's a reason that everyone you know talks about the 'beer gardens in Queens,' and this place is perhaps the best of the best. It's a great spot for non-beer drinkers based on the vibe and atmosphere inside, and the outdoor patio space feels like the most fun tailgate you've ever been to. It's modern. It's fun. And it's reason enough to take the short ride out to Queens with all of your friends. Studio Square is proof that you CAN have fun, exploring your city.

-Alex Corrine
Related Articles
Share
About Author
(0) Readers Comments