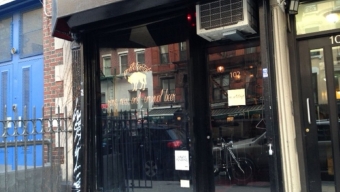 LocalBozo.com correspondent Link Cromwell vowed to have a drink at every bar in Hoboken before running the 2011 New York City Marathon. With every bar visit in the "Sixth Borough" now completed along with a successful race now finished, it's time to reel our reporting back toward the City. And as such, every single Friday we'll be taking over where Link left off, showing you distinctive bars in each borough perhaps for the very first time, perhaps to refresh your memory of a fun place you've ducked into, or perhaps to suggest a new spot for you to check out. You can follow our travels as we approach each weekend on Friday mornings with LocalBozo.com's "Drink Here Now."
Proletariat
102 St Marks Pl, East Village, Manhattan
212-777-6707
Getting There: 6 to Astor Place
Drink Here Now: Proletariat
When it comes to serving our seemingly never ending craft beer appetite, it's important to have a discerning mindset as to which bars pour your pint. That is why the "Drink Here Now" crew does our beer homework friends. This week we take you back to the East Village and inside a bar the size of an airstream diner, but packs in a ton of much deserved buzz. It's Proletariat, a microbrew safe haven for those seeking rare and new suds served up by knowledgeable bartenders.
We made our way inside on a weekday and the thick evening crowd was already starting to load into the small warm space. As soon as we sat down we were pleasantly greeted by Led Zeppelin blaring over the speakers, (quite fitting since Proletariat is located mere steps away from the building used for Zepp's "Physical Graffiti" album cover) and a friendly bartender, who quickly came over to take our order.
After a few minutes of chatting we went for drafts of Carton Brewery's "Gorp" ($8) and Flying Dog's "Woody Creek Wit" ($7). The "Gorp" showed off the Atlantic Highlands, New Jersey brewery's eye for dark ales loaded with notes of raisins and peanuts. The "Woody Creek Wit" is a more sour and lighter beer that is perfect for any time of year, especially during this cold start to Spring. Proletariat's beer menu is constantly changing, taking patrons on a tour through how ales should actually taste. Most pints will run you between 7-9 dollars on average. While that may not be cheap, as you sip you'll see where that extra money went. Every day the popularity of Proletariat grows, deservedly so. And knowing the space is relatively small we highly advise all the suds lovers get there early, hold down some real estate and strap in for a drinking experience you won't soon forget. Unless you black out.
Bar Type – A tiny, yet warm craft beer outpost located in the heart of the East Village. You may forget that you are a block away from the craziness that does down on Avenue A.
When to Visit – We urge you to visit during all points of the week. But just remember this small space will fill up as soon as the doors are unlocked daily.
Value – Cheap beer lovers will have to adapt to Proletariat's prices. Sure, pints and bottles will cost you a few more bucks each but once you start gulping it down you'll be happy to shell out the cash.
The Lowdown – 2013 has brought with it a ton of great new beer bars in each of the boroughs so you really do have your pick of the litter. But we highly urge you to take the "Drink Here Now" crew's advice and put down your credit card and let the bartender take you on a beer flight like none other.
-Alex Corrine
Related Articles
Share
About Author
(0) Readers Comments