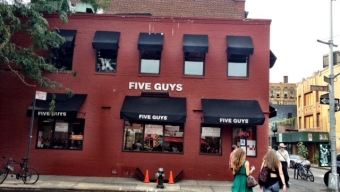 LocalBozo.com correspondent Link Cromwell vowed to have a drink at every bar in Hoboken before running the 2011 New York City Marathon. With every bar visit in the "Sixth Borough" now completed along with a successful race now finished, it's time to reel our reporting back toward the City. And as such, every single Friday we'll be taking over where Link left off, showing you distinctive bars in each borough perhaps for the very first time, perhaps to refresh your memory of a fun place you've ducked into, or perhaps to suggest a new spot for you to check out. You can follow our travels as we approach each weekend on Friday mornings with LocalBozo.com's "Drink Here Now."
CLOSED: Bleecker Heights Tavern
296 Bleecker Street between Barrow Street and Grove Street, West Village, Manhattan
212-675-6157
Getting There: F, A, C, E to West 4th Street
(This bar has since CLOSED)
Drink Here Now: Bleecker Street Tavern
So you say you're tired of all those bars you go to with signs in the front? Look, nobody actually says that. The "Drink Here Now" crew is back this week to tell you that some of New York City's best watering holes are sometimes a little hard to find, yet pretty satisfying once you do. But that's why you come to us. On a recent Saturday you could find us doing what we normally do- eating pork-laden foods and sipping various beers at bars. Today we focus on Bleecker Heights Tavern, a bar that literally sits above a Five Guys Burgers & Fries. If you like cold cheap beer, sports and the constant scent of burger grease this is your place friend!
In the late afternoon, we headed into what appeared to be a typical Five Guys joint, having gotten word from other brew heads that a bar existed somewhere inside. As we entered, everything looked pretty normal and we thought we had been had. But as we made our way to the counter it was blatantly apparent that something was going on upstairs. The sound of college basketball and 80′s rock drew us up the narrow flight of stairs into the hideaway pub. Bleecker Heights looks and smells just like your average divey sports bar- a long wooden bar with a larger than normal amount of stools allows patrons to congregate with ease. Additional tables fill the remainder of the floor giving everyone a place to hang out. Since the bar plays mainly to sports fans, huge HDTVs line the walls so you never have to miss a minute of the action.
Being that this was our first visit, and that the place appeared a wee bit grimier than our regular haunts, we opted to grab drinks served in a bottle. Basically it was a beer day. Even though the place was slammed with a diverse crowd of West Village locals and various other city folk, the bartender spotted us right away as new customers and took our order. We opted for domestic beers, each running between four and five dollars a piece, not atypical for the time of day and neighborhood. After a few pops, the Heights started to feel like a well worn pair of socks. We were comfortable inside, and look forward to returning to show our other friends the odd sports bar above a burger joint.
Bar Type – A divey sports bar hidden above a Five Guys restaurant. If that doesn't tell you what type of place this is, nothing will.
When to Visit – Bleecker Heights truly gets going on weekends, but it's also a decent spot after work. Grab your pals and head to the back staircase of the popular burger chain and head upstairs to be elbow to elbow with a pretty humorous crowd.
Value – If this place wasn't relatively cheap it wouldn't really have a reason for existing. Luckily no pretension lies at this secret pub. Most beers will run you between four and five dollars. Shots are pretty inexpensive as well- we may have downed a few picklebacks. What of it? But we wouldn't recommend the mixed drinks as we're not sure how often they clean the glasses.
The Lowdown – Secret bars and speakeasys make going out in New York City that much more fun. But secret dive bars are even more of a rarity. And when a place is extremely laid back and nicely priced there is reason to return often. Sure you'll leave smelling of burger grease, but is that really your biggest problem? 

 -Alex Corrine 
Related Articles
Share
About Author
(0) Readers Comments