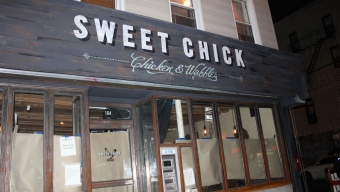 Sweet Chick
164 Bedford Ave at North 8th Street, Williamsburg, Brooklyn
347-725-4793
The 'corner store' location is as ingrained in the rich history of Americana as baseball, apple pie, and deep fried chicken. On February 19th, one of Williamsburg's busiest corners will welcome a deliciously creative new restaurant into its fold, doling out heaping portions of American style comfort food. It's the much bandied about Sweet Chick, the exciting new eatery from the culinary mind of Chef Randy Reppel. Conceptually, the restaurant began as an all out ode to the pairing of juicy fried chicken and waffles, but it has since progressed to envelope a multitude of staples of southern American culture. Although the restaurant won't officially open until next week, the LocalBozo.com Team was invited in for a preview tasting on Wednesday night. And if our experience was any indication, Sweet Chick is sure to have lines wrapping around the block hours before opening night.
From its exterior, the wooden front door and signage of Sweet Chick immediately exudes a friendly rustic atmosphere, lending a casual vibe to the ambiance inside. The medium sized dining area is filled with wooden tables, some communal in size, with long wooden beams on display overhead. Knick knacks and funky pictures don the walls, which only add to the farm-style, southern barn like display near the bar area, adjacent to the American flags and old windows which really compliment the space. Since there won't be any reservations available for small parties, it's easy to envision the place really filling up with energetic rock music playing as a backdrop to conversational crowd noise conjured up by patient, but anxious eaters.
The menu and the cocktail program have been carefully selected to pair with the vibe conjured up inside the restaurant. Drink names like the "Tiger Woods Y'all" ($11), which combines Honey Jack, Hennessy, fresh lemon, and Arnold Palmer soda and served in a mason jar, and "Purple Drank" ($11) mixing a gin fizz with Welch's grape soda, are playful takes on uniquely authentic concoctions. Both drinks deliver a sweet, summery taste and pair excellently with the fare being brought tableside. The restaurant's namesake however is the cocktail menu's true winner. "The Sweet Chick" ($11) pairs an inventive watermelon-infused Bootlegger Vodka, lemon, watermelon puree with a spicy brown sugar rim, that delivers a nice kick with each sip. Priced well below typical restaurant standards, the three refreshing cocktails deliver tremendous value in both taste and cost.
While the cocktail shaking continued behind the bar, it was time to sample some items from the rather selective menu. Sweet Chick seems to adhere to the old adage, 'bacon makes everything better.' And as such, the "Bacon Wrapped Oysters" ($9) reminded us of how much we love both of these decadent food items, although we had no idea how well they would pair together. The saltiness of the bacon blended effortlessly with the briny oysters, followed by the hearty and crunchy "Kale B.L.T. Salad" ($12). The plate of saucy and sweet "Sloppy Duck Sliders" ($9) served on brioche buns were perfect if you just want a small bite before hitting the main courses, but they didn't rank among our favorite dishes of the evening. The varied items on the "Pickle Plate" ($9) however were a delicious revelation as few places will take the time to pickle watermelon rind, eggs, carrots and dill pickles all on one plate.
What makes Sweet Chick truly inimitable is their ability to put their distinctive spin on customary American fare, and their "Sweet Chick Chicken and Waffles" ($16) is a testament to this notion. Having tried this dish in Harlem previously we thought we knew what to expect. Or did we? Sweet Chick has taken this soul food dish and taken it to broad new heights. The succulent pieces of chicken are fried to a brilliant golden brown with a skin that is super crispy but with a bevy of spices and flavors that surrounds the moist hunks of meat. Meanwhile, the waffles come in three differing styles: classic, rosemary and mushroom, or (no surprise here) bacon and cheddar cheese. The sweet of each waffle and the savory in each bite of chicken is a pairing that has long been utilized, but Sweet Chick's infusion is something truly special, when topped with their flavored spreads and syrup that sits atop each table. Vegetarians will also go wild for items like the down home styled "Appalachian Cider Beans" ($14) which include poached eggs and sweet corn bread, the "Artic Char" ($21) with its delectably salty flavored skin wrapped around a perfectly seared cut of fish, and even the vegetarian fried chicken, which allows more conservative eaters to enjoy the same tastes as the hungry carnivores in their party.
On February 19th the decision is clear. Grab the L train, a cab, or jump on your bike and line up for the outstanding flavors being served up at Sweet Chick. Chef Randy Reppel has embraced the current comfort food craze and taken it to a level that few dare to try. And it's one that we are pleased to pronounce as a sweet success. Just be sure to get yourself to the gym the following day.
- Jay Rubin
Related Articles
Share
About Author
(0) Readers Comments