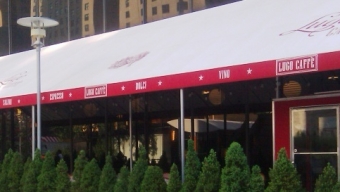 Lugo Caffe
1 Penn Plaza, Midtown West
212-760-2700
Getting There: 1,2,3 to 34th Street – Penn Station
http://www.lugocafe.com

Restaurant Review: Lugo Caffe
Sitting beneath the shadows of a renovated Madison Square Garden lies a modern looking, highly illuminated Italian eatery that upon opening in 2008 set the benchmark for the décor and fare that would emerge citywide some four years later. Earmarked by two Vespas decoratively placed outside of the restaurant's front entrance is Lugo Caffe, which meshes traditionally inspired Italian fare with the experience of sitting café side in a contemporary European setting. It's clear that conceptually, much of the thought of Lugo Caffe went towards the décor. But as impressive as the place's interior would suggest, the passable and utterly forgettable Italian dishes being served from the kitchen are simply substandard at such a fine looking dining establishment.
With a dearth of notable restaurants near the commuting hub that is Penn Station, Lugo Caffe Is certainly adequate in comparison. But as a standalone eatery, much of the anticipation of dining here dies down once the appeal of your surroundings subsides. That being said, the place does deserve credit for the big feeling, modern style Italian restaurants that more recent openings seem to emulate. From the eye catching floor to ceiling case of wine bottles to the borderline touristy, but not quite there Italian inspired wall hangings, well lit interior shines upon a restaurant with a great deal of promise and an unmistakable energy inside- perfect for commuters or after work types nearby looking to grab a bite; not so much for locals traveling here for a fine dining experience.
The menu is relatively expansive, broken down into the usual suspects- Salumeria, Pizza, Antipasti, Pasta, and Secondi- many of which sound better than they taste. Opting for a few different tastes, our party opened with a forgettable "Wild Mushroom" pizza. Reasonably priced at $13, the thinly cut, mostly crust laden slices were bland to a fault, despite being topped with provolone, tomatoes, and fresh parmigiano. Portion size here was no issue however as the affordable pizza is sized to fill even the hungriest pizza lover. The same could not be said however for the diminutive "Scallops al Cavofiore," astronomically priced at $28. With a plate of just three delicately prepared scallops, the accoutrements of cauliflower, black truffle, and a single piece of crispy proscuitto failed to make the plate look like a full dinner portion. Rather, it looked like the rest of the meal had been plucked off of the dish on its way out from the kitchen to our table. The lone notable however was a bowl of the "Gnocchi di Patate" ($20), soft pasta pillows blended with heirloom tomatoes, ricotta, and bits of arugula. Although the tasty pasta would not salvage an otherwise ordinary dinner, it the combination of red sauce and fluffy pieces of gnocchi and soft cheese did make for our favorite of the evening's selections.
Unfortunately the highlight of our sole trip to Lugo Caffe began to slowly deteriorate shortly after our arrival. And once the excitement of being inside of such a fun looking Italian establishment died down, the dishes managed to disappoint us even further. With a new expansion to Atlantic City's Revel, perhaps we'd be best served heading to New Jersey for our next dinner at Lugo Caffe, because after this experience, it certainly seems like it'd be worth the gamble.
Rundown of the Meal
Pizza
Wild Mushroom Pizza ($13)
Pasta
Gnocchi di Patate ($20)
Secondi
Scallops al Cavolfiore ($28)
*Meal Highlight
Related Articles
Share
About Author
(0) Readers Comments