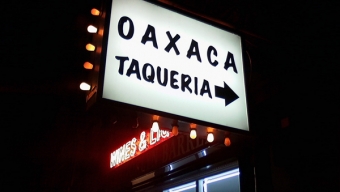 Oaxaca Taqueria
250 4th Avenue Between Carroll and President Street, Park Slope
718-222-1122
Getting There: R to Union Street
http://www.oaxacatacos.com
Restaurant Review: Oaxaca Taqueria
So many eateries across all five boroughs will claim to have the best regional Mexican fare and represent the country's street food culture to perfection. Yet when you take the "Mexican" Coke or Pepsi challenge, few of these joints actually cut the mustard or in this case the guacamole. The Mexican city of Oaxaca is not the first thing many of us think of when we talk about our sister country to the south. Yet one NYC business has taken this culture and its food, creating four locations (2 in Brooklyn & 2 in Manhattan) as of the time of this review. Oaxaca Taqueria may not be the fanciest of local eateries, but after four years in business, the growing chain is showing no signs of slowing down. During this outing our party ventured out to Oaxaca's Park Slope location, mere steps away from the Gowanus border.
The first thing you notice before you even step inside the taco shop is the old school, basic white hanging signage with flickering yellow light bulbs surrounding it. That in itself prepares diners for the laid back, bare bones and often humorous atmosphere just beyond the place's front doors. Once inside, the layout is incredibly cozy. The front of the restaurant wears many hats as orders are placed here, a short bar is set up for front of the house dining, and most importantly this is where much of the food is prepared to order. In the back exists a prep kitchen to keep Oaxaca's speedy flow going, near a handful of regular tables situated in a dimly lit space, perfect for a casual date or a quick dinner with the guys. Food is ordered up front, and as should be noted is cash only. Knowing that in advance is always a good thing to know in order to make your dining experience that much more relaxed. And trust us, relaxed defines our entire experience here. With some low volume tunes from "Death Cab For Cutie" and "Edward Sharp and the Magnetic Zeros" playing from a nearby iPhone, we perused the varied menu. Oaxaca doesn't try to have an overstuffed menu. Instead they keep it real by only offering what they know best.
Our party choose to order one thing from each menu category in order to get a well-rounded sampling of the place. First we opted for "Elote (Ear of Corn with Cotija Cheese and Chili Powder)" ($3). We had sampled this local delicacy from street carts on the west coast in the past and can easily say it matched those authentic flavors. The sweetness of the corn brilliantly matches the moderate spice of the chili powder and the tartness of the cheese. Next up we moved onto bolder fare with the "Carnitas (Braised Pork) Enchilada" ($2.95). With each bite, it's easy to taste that the salty pork had been braised for hours letting its flavor truly mature. Since we were in a meat mood, a "Carne Asada Taco" ($3.25) had to be next. Pickled onion, cilantro and salsa are just a few of the homemade and locally sustainable ingredients that top the perfectly juicy cut of seasoned steak. Needless to say, this was our favorite. While we ate these tacos we spoke to one of the workers at Oaxaca and he explained how important fresh, local produce is to their mission.
As mentioned previously, Mexican Coke is extremely popular here in the states due to its use of real sugar. Oaxaca has these on the ready so we grabbed a few with our meal that we downed at record speed. The restaurant does not have a liquor license but they welcome a B.Y.O.B. policy that any diner can appreciate. Luckily there is a grocery store directly next door with a huge beer selection at highly reasonable prices. After a highly positive experience at the Park Slope location, you can bet we are making a plan to hit the remaining three.
Rundown of the Meal
Dinner
Carne Asada Taco*
Carnitas (Braised Pork) Enchilada
Sides
Elote (Ear of Corn with Cotija Cheese and Chili Powder)
*Meal Highlight
Related Articles
Share
About Author
(0) Readers Comments