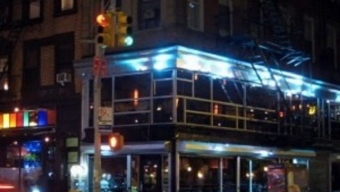 LocalBozo.com correspondent Link Cromwell vowed to have a drink at every bar in Hoboken before running the 2011 New York City Marathon. With every bar visit in the "Sixth Borough" now completed along with a successful race now finished, it's time to reel our reporting back toward the City. And as such, every single Friday we'll be taking over where Link left off, showing you distinctive bars in each borough perhaps for the very first time, perhaps to refresh your memory of a fun place you've ducked into, or perhaps to suggest a new spot for you to check out. You can follow our travels as we approach each weekend on Friday mornings with LocalBozo.com's "Drink Here Now."
2A Bar
25 Avenue A, East Village, Manhattan
212-505-2466
Getting There: F to 2nd Avenue
Whoever said "one is the loneliest number" was spot on correct. Things are always better in multiples and that's a fact. A watering hole exists in the ever popular East Village-Alphabet City area that captures everything that's great about the number two. It's "2A," the bi-level, corner located bar that has been happily serving an ever changing and thirsty clientele for nearly thirty years. If you have never been inside this joint before, I can almost guarantee that you have walked past it wondering what this huge blue lit establishment displaying movies on the opposite side of the street from a projector actually is. Well wonder no more and step inside for a bar that truly takes provides customers with a ton of great values.
This writer has been going to 2A on a sporadic basis since 2004. Most of these visits took place on weekends when the bar is pleasantly packed. The main floor or front bar allows the wilder set a place to let their hair down and imbibe while getting the chance to people watch outside the bar's huge windows which face the bustling Avenue A. While you drink and rock out inside, you are literally seeing one of the best shows in town just through their windows. Forget Broadway, I'd rather have a drag queen arguing with a Parisian poet in the middle of the street. The front bar may not be the largest space, but it can easily accommodate a sizable crowd both seated and standing. The music varies as it should with such a diverse crowd- you may hear some indie rock one hour and hip-hop the next. Having a birthday, or just want to get away from the crowd a little? No problem, just make your way up to the second level.  As you ascend the stairs you will see that the view of the street is even better from above and the vibe is even chiller. The second floor is perfect to gather with a small group and celebrate the day of one's birth in semi-bohemian style as a small yet cozy bar exists up here. It is also the location of one of my favorite  celebrity encounters with one of late night's friendliest hosts. You can guess who I am talking about.
Sure, weekends are a blast at 2A but let's not forget about the five other days that make up a week. My most recent visit went down on a Wednesday right after work. This is when the bar has their Happy Hour which I would say is one of the best in the area because the joint does 2 for 1′s. After placing your first drink order (ours was drafts of PBR) the bartender places a chip next to your glass for you to redeem for a second drink at no charge. Obviously this is a rare deal especially in this area. Just be sure to tip well especially during these cheaper times. The music during these early hours are kept low and mellow, which makes sense since you are trying to have conversations during this time. 2A is doing several things right in order to stay relevant and most importantly open for many years. I guess being number 2 really isn't a bad thing at all.
Bar Type –  Bi-level laid back, near dive joint with spectacular views of all the Avenue A craziness from their huge windows and corner location.
When to Visit – Weekends are really when 2A truly comes alive. The place is generally packed to the gills with like minded folks who all want to just drink and party instead of being stuck up.  But at the same time one cannot deny hanging out here on a weekday after work for an extremely laid back time with a good selection of beers and great people watching.
Value – 2A is the home to a great buy one get one deal. During Happy Hour customers are given chips when they place an order to turn in later for the same drink again at no charge. And yes, I just explained how this works to people who are reading a bar blog. I get the irony.
The Lowdown – It's rare these days to find a bar in the East Village where both 20 and 30 somethings can co-exist peacefully. But that's exactly what you'll find at 2A. The bi-level set-up also helps the flow, allowing a jammed bar on the first floor and room for a birthday party on the second.  In addition to the set-up and vibe, the drink prices are reasonable and the bar is no stranger to the occasional celebrity drop in. 
- Alex Corrine
Related Articles
Share
About Author
(0) Readers Comments