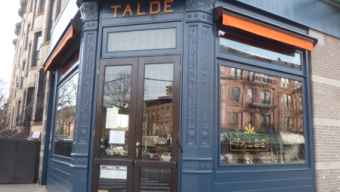 Talde
369 7th Avenue, Park Slope
347-916-0031
Getting There: F, G to 7th Avenue
http://www.taldebrooklyn.com
Bravo TV's immensely popular "Top Chef" program has launched the careers some of the brightest stars of the culinary world. In recent years, New York City has seen a highly positive injection of Top Chef contestant run eateries. While some have opened to critical acclaim and remain prosperous, others have fallen by the wayside. Former contestant Dale Talde kicked off 2012 in style along with partners John Bush and David Massoni (Owners of Thistle Hill, Pork Slope). With the opening of his namesake establishment in the growing neighborhood of Park Slope, Brooklyn, the chef's first restaurant Talde has become a renowned eatery for folks residing outside of the borough as a casual, Asian American restaurant with Filipino inspired sensibilities. Our party decided to walk-in for an early evening Sunday dinner and as soon as we reached the front entrance, the smell from the open air kitchen immediately enticed our senses.
As we waited for our table to be set, we made a beeline for the bar for some pre-dinner drinks. Once situated, our eyes became glued to the classic Chinese restaurant interior, using dark wood to enhance the décor and to frame each space. The affordable pours of Miller High Life draughts would set a comfortable tone for the laid back dinner set to follow.
As the sun started to set, our party was ushered to our rather large table. Our initial goal was to sample some spicy and savory fare and we quickly began with the "Pretzel Pork and Chive Dumplings" ($8) and the "Banana Leaf Sticky Rice" ($7). The dumplings featured a fantastic, slightly fried texture with a hearty bite of juicy pork just inside, while the supplementary mustard was akin to the traditional Chinese restaurant variety, but with an extra kick of heat that lingered on the palette long after the dish had been finished. The side order of sticky rice was both moist and tasty, served on a vibrantly colored banana leaf. While perhaps typically suited to accompany main entrees, the dish was delicious enough to be served on its own.
Moving toward the main portion of our dinner, we opted for the "Crispy Oyster and Bacon Pad Thai" ($16), which filled out the spicy quotient that we had been seeking. Admittedly, we were forewarned by our server with regard to the bed of extremely hot Thai chile peppers mixed throughout the dish. Knowing better, we immediately began to dig into the delicious mixture of salty bacon, sweet tasting oysters, and tangy flavorful noodles. Somewhere in the mixture, we stumbled upon a huge chile pepper, instantly spicing up our tongues. Luckily beer was on hand to put out the fire, and all was well. We also enjoyed the "Lobster Tom Kha ($14), our savory entry of the meal. It must first be noted that the portion was entirely generous and more than enough for two to enjoy. Flavors of freshly cracked lobster permeated the steaming bowl of broth. Between the lobster and the rice noodles, the classically inspired dish combined corn and coconut milk for an outstanding collaboration of truly decadent flavors.
Chef Talde's newer, perhaps more bandied about restaurant Pork Slope, is an even more casual take on the chef's innovative style of preparation. But when pressed to compare, his initial foray as a restaurateur is the finer choice of the two. From the passionate knowledgeable servers, to the cool vibe of Talde's retro decor, there's hardly any pretension here, and that's a good thing. Talde brings to light some distinction amid a flood of fusion restaurants that simply don't seem to put it all together as well as the former Top Chef contestant. And it's nice to see that he's not resting on the value of his name alone.
Rundown of the Meal
Appetizers
Pretzel Pork & Chive Dumplings ($8)
Mains
Crispy Oyster & Bacon Pad Thai* ($16)
Lobster Tom Kha ($14)
Sides
Banana Leaf Sticky Rice ($7)
*Meal Highlight
Related Articles
Share
About Author
(0) Readers Comments