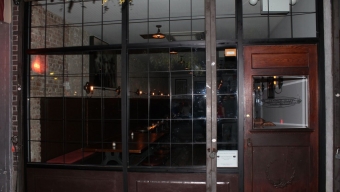 LocalBozo.com correspondent Link Cromwell vowed to have a drink at every bar in Hoboken before running the 2011 New York City Marathon. With every bar visit in the "Sixth Borough" now completed along with a successful race now finished, it's time to reel our reporting back toward the City. And as such, every single Friday we'll be taking over where Link left off, showing you distinctive bars in each borough perhaps for the very first time, perhaps to refresh your memory of a fun place you've ducked into, or perhaps to suggest a new spot for you to check out. You can follow our travels as we approach each weekend on Friday mornings with LocalBozo.com's "Drink Here Now."
Tooker Alley
793 Washington Ave between Lincoln and St. Johns Pls, Prospect Heights, Brooklyn
347-955-4743
Getting There: 2 or 3 to Eastern Parkway/Brooklyn Museum
http://www.tookeralley.com
Drink Here Now: Tooker Alley
In the infant stages of this new weekly piece we have been pleased to bring you some local bars that have been opened for quite sometime. They are places we love and think you should be drinking at now. But today, we couldn't be happier to be able to bring you an exclusive look inside a joint that is less than 24 hours old and is already turning heads with their inventive drinks and buzzworthy atmosphere. LocalBozo.com's "Drink Here Now" team made our way to Brooklyn's Prospect Heights to take a hearty step into the world of serious drinks and fantastic ambiance at this brand spanking new bar. It's "Tooker Alley," an exciting cocktail lovers den from the minds of Del Pedro (former barman at Pegu Club) and business partner Cheryl Brown.
Washington Avenue, the section of Prospect Heights where Tooker set up shop, is currently going through a business renaissance of sorts. And with the Brooklyn Museum of Art literally down the street, it's rapidly becoming a must stop destination within the borough. Just a step through the doors of Tooker Alley reveal the meticulous precision that went into building out each aspect of the joint. From reclaimed wood used for the long highly accommodating and ornate bar space, to the original ceiling tiles showing their age proudly, first time customers will have a ton to gawk at. But don't stand around staring. There are plenty of drinks worth trying now.
During our inaugural visit, Del Pedro himself was manning the bar whipping out his arsenal of prime time cocktail concoctions. To keep customers happy and imbibing, Pedro was joined by Curtis, a staff bartender. Various greatest hits were being shaken, muddled, and poured on all sides of the bar to the satisfaction of whomever held a glass. Yet it was the "Hobo Julep" that truly caught my eye. Now it must be said when you order a proper drink it takes time to prepare. My patience was rewarded in kind seeing this drink made with splashes of bourbon, rock candy syrup, Amaro, and club soda. The bartender then added a blizzard of snow cone shavings to the top of the glass adding the aforementioned rock candy syrup. Artistically, this is a beautiful looking drink and should be on the top of your list for your very first visit. Like many of the other high quality mixology oriented spots throughout town you can expect long waits once word gets out. So take your buddy Alex's point and get over there this weekend!
Bar Type – Spot on recreation of a classic, historical cocktail centric bar.
When to Visit – As you've read, our visit was on the opening night. Therefore virtually any day is perfect for your first foray into the Tooker Alley. Just make sure to get there soon before everyone finds out about it.
Value – Don't go in here looking for a cheap can of brew because this place transcends the traditional dive bar. Tooker Alley is all about high quality liquors and fresh ingredients, all merged together to create memorable drinking experiences.
The Lowdown – There are cocktail-mixology joints all over town these days, it's true. But it takes a certain amount of charm and design to make a place truly shine. Luckily, Tooker Alley is manned and owned by well-known bartender Del Pedro and his staff, working tirelessly behind the bar mixing your drinks. The bar space and surrounding tables are warm and highly accommodating for you to sip on a Hobo Julip or Cherry Orchard while grabbing a spot to chat with some friends. And if that isn't enough for you, the bar is a stone's throw from the Brooklyn Museum of Art. Culture and booze? We have a winner!
- Alex Corrine
Related Articles
Share
About Author
(0) Readers Comments