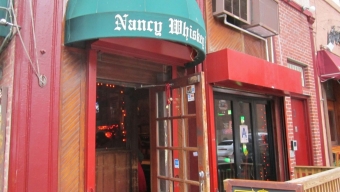 LocalBozo.com correspondent Link Cromwell vowed to have a drink at every bar in Hoboken before running the 2011 New York City Marathon. With every bar visit in the "Sixth Borough" now completed along with a successful race now finished, it's time to reel our reporting back toward the City. And as such, every single Friday we'll be taking over where Link left off, showing you distinctive bars in each borough perhaps for the very first time, perhaps to refresh your memory of a fun place you've ducked into, or perhaps to suggest a new spot for you to check out. You can follow our travels as we approach each weekend on Friday mornings with LocalBozo.com's "Drink Here Now."
Nancy Whiskey Pub
1 Lispenard Street On the corner of Lispenard, 6th Avenue, and West Broadway, Tribeca, Manhattan
212-226-9943
Getting There: A,C,E to Canal Street
http://nancywhiskeypub.com
Drink Here Now: Nancy Whiskey Pub
I believe it was a little over four years ago that I stepped inside the walls of "Nancy Whiskey Pub" for the first time. My crew and I had just rocked out to the 80s comedic hair band stylings of "Steel Panther" next door at the Canal Room and wanted a laid back place to drink and continue the party. I'll just speak for myself here when I tell you that in no uncertain terms- I was in the bag. Of what I remember, the "Whiskey Pub" was alive that night with rowdy groups celebrating with big laughs, awesome bartenders, cheap booze, and for my table, a gigantic sampler platter containing only the finest in fried foods. And even though this memory remains a bit foggy today, I knew a good time was had. Luckily when it comes to bars, second chances are right around the corner. I recently revisited the Tribeca dive, and am happy to report it was equally as fun and somehow even better than I remember.
This second outing took place on a Thursday during the late afternoon hours. This just so happened to be smack in the middle of the bar's extremely generous Happy Hour where Monday – Thursday from 4-7pm patrons can enjoy $2.50 bottles or drafts of Budweiser and Bud Light. Moreover, pitchers of both were just $10 until closing. With our cheap brews in hand we grabbed seats at the tables that surround the bar. "Nancy" is filled with regulars who sit up at the bar, "Cheers" style. Sure, they hold down prime bar space, but they are still some of the friendliest and funniest bar patrons we've had to pleasure to booze with in quite some time. This place is such a regulars spot that a birthday party was even going down during our visit.
When you're gulping down multiple bottles of Bud you're going to get hungry, and you should be eating. Fortunately, "Nancy" is the home to some of tastiest and cost effective pub food in the area- which can be a struggle to find in Tribeca. If you're like us then "Baskets" are the name of the game. This old school way of snacking is still going strong inside this bar. Start with an order of their "Chicken Fingers" ($7.25). The hearty order comes with a side of fries but you can substitute onion rings or a side salad for just 75 cents.  When you order the fingers, make sure to ask for extra honey mustard sauce because it is killer. Beyond the value you get from the drinks and food, it is really the overall atmosphere that makes "Nancy Whiskey Pub" such an attractive place to hang out at. The legendarily bad "Social Distortion" was playing the city that evening, and a few of the concert goers were hanging in the bar to pregame. And as a nice cherry on top of their evening, the bar played a ton of "Social D's" greatest hits, making for an excellent tailgating session. You won't find many other dive type bars in Tribeca, making "Nancy's" a virtual diamond in the rough both in this neighborhood and in Manhattan in general.
Bar Type – Old school New York City dive with a rock n' roll vibe.
When to Visit – Anytime. Long day of work? Head there for Happy Hour. Concert in the area? Be cool and they might even play some tracks of the band you're going to see as a perfect boozy pregame. This joint is perfect for all times and all comers!
Value – If you only have a saw buck in your pocket then Happy Hour at "Nancy" should be your imbibing destination! On Monday – Thursday from 4-7pm patrons can enjoy $2.50 pints and bottles of Budweiser and Bud Light. These prices are unheard of throughout town, thus making "Whiskey Pub" a must visit.
The Lowdown – As mentioned earlier, this was not my first time inside this storied Tribeca dive. The first time was a total blur but what I remember it was a great time. There's not many joints left in our city that have that well worn divey feeling but with absolutely zero attitude. Sure, there may be a group of regulars who pretty much own the bar stool space but they are all great people who simply add to the overall dynamic making you want to return. During any given visit you can rock out to some Ramones, drink cheap brews, play shuffle board, and snack on a killer sampler plate. And if that's not good enough for you then take a walk elsewhere pal! 
- Alex Corrine
Related Articles
Share
About Author
(0) Readers Comments