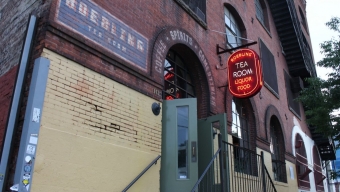 Roebling Tea Room
143 Roebling Street, Williamsburg, Brooklyn
Getting There: L to Bedford Avenue
www.roeblingtearoom.com
Restaurant Review: Roebling Tea Room
Williamsburg's Metropolitan Avenue is full of highly popular joints hiding behind nondescript and even some misleading signs. The once industrial street an ideal one to explore for a pint or a recognizable place to grab a hearty bite. Located beyond the walls of an elegant old warehouse space sits the Roebling Tea Room. The much talked about restaurant sits as an example of what one can do with reclaimed space, paired with a bold approach to seasonal menus and choice meat selections. Upon hearing of their offerings and spotting this cool building and signage from the street it called out to our group to step inside.
As we stepped through the Tea Room's front door, the loud sounds of Metropolitan Avenue subsided, exchanging the bustle of Brooklyn for a relatively relaxing dining experience. The restaurant inhabits a rather large space capturing the Brooklyn of yesterday while serving up some tastes of today. High ceilings, industrial huge windows, eye catching plant life and even a disco ball provide a warm and immediately comfortable atmosphere inside coupled with an old fashioned combination of light fixtures and dated wallpaper which add a similar charm to the place. Additionally, weather permitting, guests may choose to sit in the outdoor area out back to enjoy their meal or cocktail as well. During these early dining hours, the tables quickly began to occupy but luckily we were able to secure some seats at a table along the side wall providing a great view of the restaurant's entire interior.
In the heart of full disclosure, we did not sample any of Roebling's namesake teas, for this first time visit was solely for sampling some of the restaurant's hearty main dishes and sides. Once seated, our friendly server did a quick stop at the table to take drink orders and we quickly ordered up cans of Hite, a popular Korean brew priced under five bucks. A true favorite of ours, the canned beer is light and infinitely drinkable, pairing well with virtually any meal.
Perusing the menu, it's easy to notice right away that the Roebling Tea Room offers no shortage of hearty meat dishes. "Beef Brisket" ($23), "Duck" ($25), and even a "Steak Tartar" ($19) entree comprises much of the dinner menu. With that in mind, we decided upon the "Cheeseburger" ($15), which sounds like a fairly fundamental dish to prepare, but with so many fantastic burgers popping up all over town, many places don't understand the intricacies of doing it right. The medium-rare burger was delivered to the table perfectly cooked, served on a soft sesame seed bun and topped with a mixture of artisan cheeses and an aioli spread. The generous burger portion was a highly satisfying juicy burger plated next to hand cut, skin on French fries delivering us our salty fix.
Based on our server's recommendation, we sampled the "Baked Sheets" ($17), thick sheets of al dente pasta pairing fresh ricotta, gomasio, fresh green fennel seeds, and topped with shaved pecorino cheese. Vegetarians will swoon over the fresh homemade pasta housing a memorable combination of delicious elements. Beyond the bold flavors, the portion size is not necessarily heaping but is easily shareable with the table. On the other hand, the "Mussel Pot" ($11) that we ordered up was sizable. Prepared in a tasty soup like broth, the mussels acted as a side dish as we utilized every piece of bread for lapping up the garlicky white wine mixture. Sided with a plate of "Cooked Greens" ($6) to add a little extra flare to our meals, the fresh green kale had a lovely and distinctive garlic flavor with hints of lemon. If you choose not to indulge on all the fries with the burger, it was a delicious and healthy way to round out your dinner at Roebling Tea Room. 
With an ever changing, seasonal menu every visit to Roebling Tea Room will be unique to each party. The space is cozy and informal, but is comfortable and feels like you're being served a special, home cooked meal. The fact that much of the menu revolves around different 'comfort' foods, this should be considered no coincidence. The Roebling Tea Room delivers tasty fare, spot on service, and a very different-very cool atmosphere. On our next visit we promise to order some tea. Well, maybe.
Rundown of the Meal
Entrees
Cheeseburger ($15)*
Baked Sheets ($17)
Mussel Pot ($11)
Sides
Cooked Greens ($6)
*Meal Highlight
Related Articles
Share
About Author
(0) Readers Comments