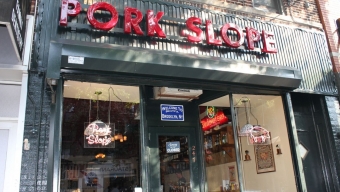 Pork Slope
247 5th Ave, Park Slope, Brooklyn
Getting There: D, N, R to Union St.
As a fan of supporting joints that suits my personality, I could not have been more thrilled to hear that a roadhouse style bar was coming to Park Slope. My interest in this mystery project increased when I found out that Chef Dale Talde, David Massoni and John Bush- otherwise known as "Team Talde" for creating the immensely popular restaurant named after the aforementioned chef- would be its owners. This new joint would be aptly named Pork Slope, an all out love letter from the owners paying tribute to the bars and restaurants they have frequented. Needless to say, I got myself over there right away to check it out.
I walked into Pork Slope on a Friday afternoon, just after they opened for the day and the place was already filling up. It appears the word of mouth advertising and the fact that a respected ownership team was behind it has made the place an instant hit. Once inside I could tell already that it was my kind of bar. Pork Slope has a roadhouse feel without being a dive. It's very hard to straddle that line but these guys have done it perfectly. Late '70s era rock played from the speakers while I walked through the joint seeing everything from pictures celebrating Brooklyn to stuffed heads of boars. In the back of the house sits a pool table and dart board, perfect for keeping with the roadhouse feel and giving patrons something to do between beers and bites. There is literally so much stuff hanging or nailed to walls that it would take several visits to see it all.
Once you have soaked up the cool decor it's time to make your way over to the bar for a drink. Pork Slope boasts a beer menu that is super friendly to all fans of the suds. For those of us who enjoy the simple things in life you can grab cans of Pabst Blue Ribbon, Schaefer, and Milwaukee's Best (aka Beast). The latter brew can be paired with a shot of a revolving selection of bourbon titled, "The Slippery Slope" for $5. Craft beer cans such as Brooklyn's own Sixpoint and the very fitting Pork Slap are also on hand to quench your thirst. Pork Slope's selection of fresh draft beers extend from classic Budweiser to Duvel. And as a cherry on top, pitchers are also available for all draft beers. Yes friends, the elusive pitcher is back!
Now that you've had a few different beers and maybe even some bourbon I'm guessing hunger is setting in, right? No problem, because Pork Slope has you covered. Chef Dale Talde and his team have curated a comfort food menu based on the late night food they would seek out. Patrons can seat themselves at various tables and counter space throughout the joint. Food is ordered in the back of the house and is cash only. A number is given for the order and food is delivered promptly. All the food offerings are reasonably priced, as the ownership wanted to create an environment where everyone could hang out without breaking the bank.
During our first visit we checked out a perfect side dish for drinking, "Tater Tots" ($4). The tots were cooked to that perfect golden finish, and served in a large basket easily feeding several at once. The "Fried Chicken" ($14) is served generously, and paired with pickles. This is a far cry from the everyday drive-thru variety since it comes from the culinary mind of Mr. Talde. Finally, we made our way to one of the top signature dishes at Pork Slope, the "Porky Melt" ($6.50). If you love all things pig, you need to run not walk and grab one of these sandwiches. The melt is prepared using a house made pork sausage patty cooked on a griddle with cheddar cheese and onions. This mammoth delight is then placed on marble rye and topped with mustard. These three items are only a preview of the tasty treats you can get at the recently opened joint. So hop on the train and show your taste buds to some fun.
When a place has this much going on while still remaining very laid back you simply have to take notice. Who knows what comfort food creations or drink deals they will roll out next. But you can be sure the LocalBozo.com crew will be there with a shot and brew in hand.
 - Jay Rubin
Related Articles
Share
About Author
(0) Readers Comments