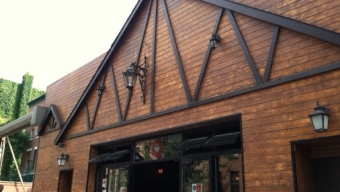 Die Koelner Bierhalle
84 St. Marks Place, Park Slope, Brooklyn
Getting There: D to Atlantic Avenue – Barclays Center
www.thekbh.com
Blog: Die Koelner Bierhalle
The summer of newly established Brooklyn bars continues. To date, we have provided you with pint by pint coverage of a hand full of major openings, thus causing us to dub this the 2012 "Pub Gold Rush." Another anticipated Brooklyn opening came to light in the Park Slope neighborhood mere days ago. It's the Die Koelner Bierhalle, a gigantic warehouse sized German bier hall painstakingly built to recreate everything we love about the communal drinking experience. The LocalBozo.com crew picked a beautiful day to travel inside the brand new watering hole to bring you coverage of a joint worth going out of your way to seek out.
Our crew walked down the mostly residential St. Marks Place (between 4th and 5th Avenue) and came upon the large wooden European-style house entrance to the hall. Just beyond the wide open doors we could hear the masses inside imbibing and laughing. Inside, this place is mammoth, easily accommodating hundreds of patrons at the large communal tables, several at the bars, and plenty of others who just choose to stand around. During our inaugural visit we decided to to pony up to the bar and even though the hall was busy, the bartenders were friendly and willing to make suggestions. We learned that the bar will be serving seventy varieties of beers. That's thirty drafts and forty bottles (As always check with the bartender regarding current offerings). And in keeping with the traditional German-style, beers are served in glasses ranging from 0.2, 0.5, all the way to the 1 full liter size many refer to as "steins."
As a way to settle in beer wise, we gravitated towards Löwenbräu, an easy drinking German brew we enjoy on hot days. The beer, served in a bottle, was ice cold and quenched our thirst instantly. After a couple of these we moved onto some uncharted territory in the form of the Weihenstephan Kristall Weissbier. Weihenstephan is known for being the "World's Oldest Brewery" and we could see why. The brew was sold in bottle and poured expertly into its matching glass. After pouring much of the bottle's contents, the bartender vigorously rubbed the sides of the bottle, later explaining that it releases the beer's full flavor potential. And full flavor it was! The Kristall Weissbier is a serious summer ale, being generally light, with medium sweetness coupled with some tartness and hints of banana.
As we deep dived into Die Koelner Bierhalle's impressive beer menu, droves of patrons made their way inside the hall grabbing seats at the long tables for waitress service. The music was played at a reasonable volume for that time of the day, but we hope this joint gets into the Oktoberfest spirits with Oom-pah music blaring. If the fine selection of brews and terrific atmosphere weren't enough, Die Koelner sports a back grill doling out traditional fare such as large pretzels and a killer variety of German sausages, making this place a one stop shop for your booze and food needs. 
It's truly remarkable what bar owners are doing with once residential and former industrial spaces locally. The word of Die Koelner Bierhalle will travel outside the borough of Brooklyn quickly, so make sure you plan to visit this joint as soon as it opens daily. Grab one or fifteen friends and plant your butts down at the tables and spend the day raising a huge glass to a mutual love of imbibing at cool, new places.
- Jay Rubin
Related Articles
Share
About Author
(0) Readers Comments