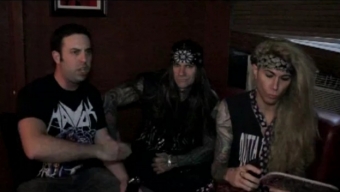 As unabashed lovers of all things rock music, Los Angeles glam quartet Steel Panther is right in our wheelhouse. Meshing the flash of 1980′s metal with a modernized aggression and a penchant for dick jokes, the band is one of the most unique touring outfits in rock music's storied history. And probably, the most fun. From ragging on their very own fans to bringing topless girls on stage from the crowd, the band is a virtual time machine, a throwback if you will, to the early days of the sunset strip- the sex, the drug use, the sleaze- all of it.
No strangers to LocalBozo.com, Steel Panther has been returning to the east coast more and more frequently in 2012, this despite weekly residencies out west. With a return date set in New York City on July 18th and a just announced gig in August at the Starland Ballroom, the band is turning into a bi-coastal behemoth. Last month, LocalBozo.com managed to catch up with the band backstage before their show in front of a packed house at Irving Plaza. Watch our exclusive video interview with Steel Panther bassist Lexxi Foxx and drummer Stix Zadinia. We discuss the band's pre-show rituals, the success of their latest release, "Balls Out," and hints about their prospective next album. We've got some candid shots from the show and a some extra footage as the two glam icons discuss being in New York City. The band is primed to return in July with one of the most fun and entertaining live shows you'll ever see, so grab your tickets now, and for more information on all things Steel Panther, check out steelpantherrocks.com.
For a glimpse of what a Steel Panther concert is all about, read our recap from the band's January show at Irving Plaza or read more about the band's show on the night of our interview in May by checking out our recap here.
- Jane Van Arsdale
Related Articles
Share
About Author
(0) Readers Comments