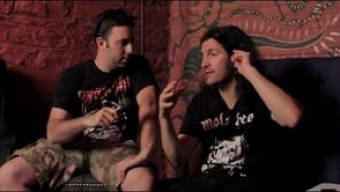 Every fan of heavy metal has dreamed about seeing their thrash heroes sharing one stage for a night of pure headbanging decadence. And for a few hundred lucky metal heads this dream came true in early September. What once started as an instrumental clinic has given birth to a full blown live hard rocking music experience. As such, the "Metal Masters" and their sold out return to NYC's Gramercy Theatre was nothing short of mind blowing and face melting. The LocalBozo crew was in the house for this historic night, furnishing our readers with this exclusive review loaded with killer live photos. But don't click over there just yet. Since several members of our team are long time diehard metalers, we couldn't pass up the unique and rare opportunity to interview a handful of the Metal Masters themselves ourselves.
A few hours before the curtain would go up we headed to the backstage area to have a lively chat with metal and hard rock legends Frank Bello (Anthrax), Billy Sheehan (Steve Vai, David Lee Roth, Mr. Big) and Gary Holt (Exodus, Slayer) respectively. Our conversation with the guys focused on the formation of the "IV" lineup, which is unique since it now features Sheenan, who has mostly been associated with the straight forward rock and progressive camps. In our fully transcribed interview (below), we also discuss selecting the evening's set list, the show's highly in-tuned corporate sponsorship, and so much more. Enjoy, and keeping spreading the good word of metal!
The audio has been transcribed for your reading pleasure below.
LocalBozo.com: LocalBozo.com is at the sold out Gramercy Theatre for "Metal Masters IV!" I am here with Frank Bello, Billy Sheehan, and Gary Holt. Whats up guys?
Metal Masters All: Hey how you doing!
LocalBozo.com:Â  All of this started started with the Big 4. But what brought about this current grouping for Master Masters 4?
Frank Bello: This actually didn't start from the Big 4. It actually started from the clinic that I started with Dave Ellefson from Megadeth a few years ago from Sam Ash in Manhattan and it just blew up. It just grew and great players like these guys over here just joined the crew.
Gary Holt: (Jokes) We are the newbies!
FB: Yeah, newbies who got right involved and are as relevant as anything. So, the whole thing right here is the family vibe.
LocalBozo.com: So as far as tonight's set list, is it pre-determined or is it organically called out on stage?
GH: The set list is pretty much, set. But, is it set in stone, I don't know? Stranger things have happened, like a spontaneous Rory Gallagher jam.
Billy Sheenan: You never know.
FB: (Jokes) We should break out a Thin Lizzy song.
GH: I think that's the beauty of it. Because I think no one would mind if someone broke into some other cover song, and join in for four bars. At these things you don't know what can happen.
BS: At sound check we were doing half a dozen cover songs.
FB: Billy Sheenan does this sick thing on bass, with Charlie Benante on drums and Phil Anselmo as singer. Yeah it's, "Hot for Teacher" and he's (Billy Sheenan) doing it on bass.
BS: (Laughing) It's a comedy routine.
FB: It's incredible to fucking watch and my theater is right there. Imagine that at a Metal Masters show?
LocalBozo.com: Yeah, grab your beer, take a seat and watch one of the masters do his fucking thing.
FB: It's respect all around.
BS: It takes one to know one.
GH: It's super fun playing with these guys. There are going to be lots of smiles. It's not going to be the usual thrash metal with grim and anger. Everyone is going to be laughing.
FB: It's a blast and you can't take it too seriously.
LocalBozo.com: It's Christmas for Heavy Metal fan's today.
FB: It really is.
LocalBozo.com: Taking a step back from this show. Thrash Metal is making a major come back from coast to coast. With new bands popping
up all the time. What do you guys think about this?
FB: I don't think Thrash has ever left. Gary do you agree with that?
GH: How man times has metal or even hard rock been declared, dead? It's hilarious it always goes in cycles. But metal is always a sleeping giant kicking ass and taking names!
FB: Exactly, and this is a celebration of that to keep the torch passing.
LocalBozo.com: With a show like this fans are going to ask will there be a live recording or video of this super group style performance?
GH: We're recording it tonight!
LocalBozo.com: What do you want fans that are here tonight to take away from the show?
BS: For me I would like to see barriers broken down between genres. It would be a surprise to most people to know that we all like music that we aren't popularly associated with. It really varies.
FB: I never lose my thought process with this. It's a loyal fan base thing and it will always be there, and staying true to the music. I have to say one more thing that we haven't touched on is for Samson, Hartke, and Zoom to have the balls to be the corporate sponsor. They put the money together to fly all these musicians out here and that' a big deal. I think to have that kind of balls in this corporate environment is huge. And the fact that ticket prices were kept low at $20 is extremely fan friendly as well.
LocalBozo.com: Metal Masters, fucking Gramercy Theatre! Thank you guys!
- Jay Rubin
Related Articles
Share
About Author
(0) Readers Comments