You might know him as the legendary voice of Special Ed and Bobby Fletcher on Comedy Central's "Crank Yankers." You might know him as the current co-host of VH1 Classic's "That Metal Show" alongside Eddie Trunk and his comedic partner in crime, the hilarious Don Jamieson. You might be a subscriber to his wildly popular free podcast 'Comedy Metal Midgets.' Or you may have just spotted Jim Florentine doing what he does best- performing stand up live. However you've gotten your taste of the quick witted comedian, his impact on an audience is both relatable and undeniable at once.
Florentine, a New Jersey native, perfectly mixes his love of all things metal with a sharp comedic tongue. Each episode of the aforementioned, "That Metal Show" is chock full of the performer's immense knowledge of the hard rock and heavy metal scene and its rich history, paired with good natured trashing of co-host and resident rock guru Eddie Truck. Together with partner Don Jamieson, each episode pairs the trio's antics with interviews of iconic rock guests while making most episodes hilariously memorable.
With some dates lined up on the "Killers of Comedy Tour" in New Jersey and Connecticut with the aforementioned Jamieson, stand-up is clearly the performer's bread and butter. But with a new season of "That Metal Show" slated for taping in the coming weeks and with a new live comedy album and DVD release set for the fall following 2011's hilarious "Cringe and Burn," Florentine looks poised to make 2012 his most successful year yet.
This past weekend, LocalBozo.com sat down with comedian Jim Florentine backstage at Metallica's first annual 'Orion Music & More Festival.' With a half hour set on Day 1, the comedian meshed his brand of humor with his knowledge of metal to appease the thousand or so metalheads piled under the 'Frantic' stage tent. Reminiscing about having opened for the mighty Slayer in similar style, Florentine proclaimed it was "almost like emceeing a rape. I knew I wasn't going to die going in, but I knew there was going to be a lot of emotional damage I was going to have to deal with for the next ten years." Listen in to our exclusive interview with Jim Florentine, where we discuss performing on Metallica's first festival, working with Don Jamieson, and his plans for the rest of 2012. And for more information on Jim Florentine, including his bio, videos, and tour dates, check out out jimflorentine.com.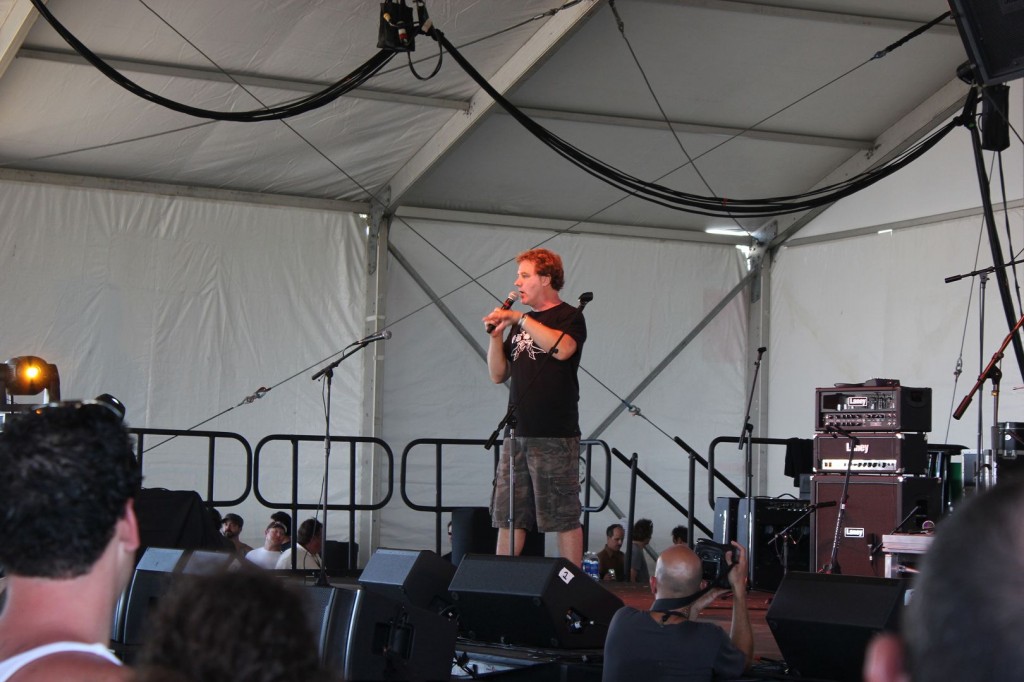 (Photo Courtesy: Vince Edwards)
- Jane Van Arsdale
Related Articles
Share
About Author
(2) Readers Comments