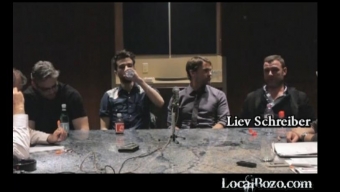 The sports comedy is one of the most celebrated facets of the comedic film world. Many of these movies, like a certain an early 1980′s flick about golf, have become classics with dialogues that are quoted ad nauseum to the point where they have become a well known part of our cultural lexicon. Others however seem to miss their mark completely, either being unrealistic or uninteresting and instead of being revered, these films are often relegated to the bargain bin at truck stops on the Mass Pike. 'Goon' (R), released in select cities on March 30th, is an all out love letter to the hockey player brought in strictly to fight, and by combining elements of humor and violence with the realism of minor league hockey, it captures the essence of what makes a quality sports film.
Goon stars Seann William Scott (Role Models, American Pie),  as Doug Glatt, a New England guy with little else going for him aside from his work as a bouncer and being gifted with a great right hook. On a night out at a local hockey game with his loudmouth yet good-natured buddy Ryan, (Jay Baruchel; co-writer of the film) who prods one of the players to come into the stands, Glatt is forced to defend his frine and show off his fighting ability. Seeing this fan pummel one of their players, the crowd becomes unglued, and subsequently, the team's coach, impressed by Glatt's 'skill,' asks that Glatt join the team, becoming the titular 'Goon,' and starting a career playing hockey.
Jay Baruchel and fellow Apatow alum Evan Goldberg have written a screenplay that truly pays tribute to the unsung heroes of every hockey team. Nowhere in the script is Glatt portrayed as the villain he would be in every other film, despite the fact that he is constantly getting into fights and knocking people's teeth out. But we soon realize that his fighting is necessary, an essential part of the game and an imperative part of defending his teammates within the context of the rising action.
Seann William Scott was hand picked to play the lead in 'Goon,' and while his face is the same, it's a more humble, vulnerable role than we're used to for the actor. In fact, Scott's performance in 'Goon' directly plays against the type he may have been forced to play after the success of the American Pie movies. Scott's Glatt is a fully formed, three dimensional character who thinks, feels, regrets, and most importantly reacts, even though he is often soft-spoken. From his modest beginnings as a bouncer to a budding hockey enforcer, the audience follows him on his journey. And as such, we reap the rewards of his successes with some funny moments as well as some poignant ones during his positive life change- his undying inability to please his sour parents, his futile attempts to win the heart of an already taken girl, his overcoming the label of 'goon' and becoming an actual hockey player.
Supporting performances help to round out 'Goon,' giving it a lot of heart and soul. Most notably shining is Liev Schreiber as the grizzled veteran Ross Rhea, a legendary hockey enforcer in the twilight of his career. Rhea, a hero to Glatt, becomes one of his major antagonists during game time. But his multi-faceted role also gives Glatt a glimpse of the harsh realities that a fighter on the ice can face once he's bled enough for his team. The few scenes between Scott and Schreiber are dramatic, highly engaging, and make the film satisfying on their own. Additionally, Director Michael Dowse brings Baruchel's exciting screenplay to life by filming Scott as the movie's center and moral compass. We see his strengths, weaknesses, and uncertainties thrown in to make him a highly realistic character, while Dowse's game footage is intense and filled with the type of violence you would expect from an old school hockey game. Dowse lets the scenes play out almost in real time and when action leaves the screen he refrains from chasing it, showing great talent and restraint. This realism is even more evident when you find out that this film was based off of the book, "Goon: The True Story of an Unlikely Journey into Minor League Hockey" by Adam Frattasio and Doug Smith, the real life Glatt.
'Goon' avoids all of the pitfalls it could have easily fallen into simply for laughs and instead creates a vivid and inspired ode to some of the toughest players in hockey's history- those who may not light up a stat sheet for goals scored or assists, but possess the intangible, unwavering warrior mentality which makes them irreplaceable to their teammates. Instead of compromising the kind of film they wanted to create, the filmmakers treat the audience with respect, refusing to pander to cliched or outdated jokes just to distribute the film to a wider audience. By doing so, the well paced film packs in some laughs with some gratuitous at times violence, but it also manages to produce a very real final product, with a ton of heart and authenticity. And a film that everyone can take something from, hockey fan or otherwise.
The LocalBozo crew was fortunate to catch up with the cast and production team of 'Goon' for a press only Q & A session. Stars Seann William Scott, Liev Schreiber, writer/actor Jay Baruchel, and director Michael Dowse were all present to field some questions from New York City media outlets. From start to finish, all four men spoke passionately about the project and it's overarching message while relating certain aspects to their own lives. Luckily for our readers, LocalBozo was able to film the exclusive press event and we are proud to present to you our coverage.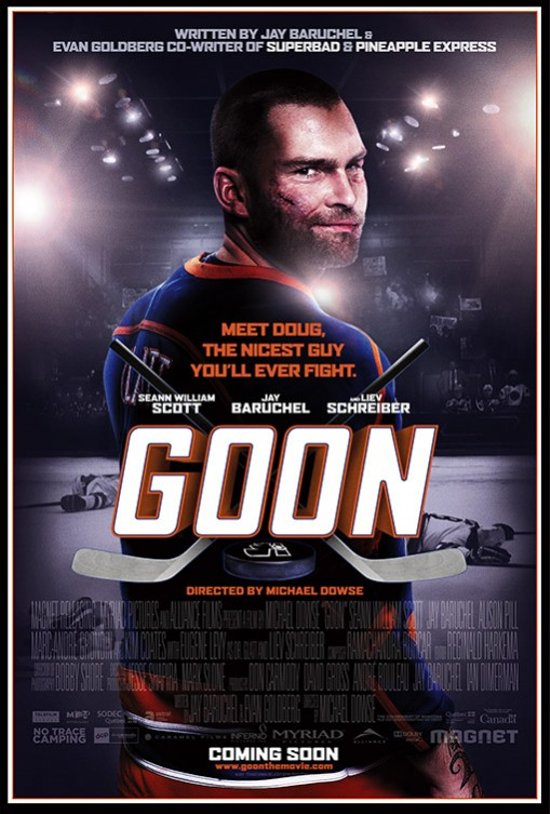 "Goon" is rated R, starring Seann William Scott, Liev Schreiber, and Jay Baruchel, has a runtime of 92 minutes, available now on Video On Demand and a limited theatrical release on Friday, March 30th.
- Jay Rubin
Related Articles
Share
About Author
(0) Readers Comments