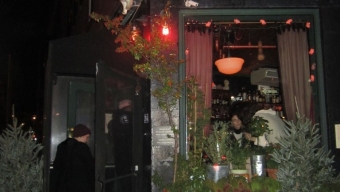 The Spotted Pig
314 West 11th Street, at Greenwich Street, West Village
212-620-0393
Getting There: 1 to Christopher Street – Sheridan Square; L to Eighth Avenue; A,C,E to 14th Street
http://www.thespottedpig.com
Restaurant Review: The Spotted Pig
Since becoming New York City's first true gastro-pub to setup shop in town, the formula of The Spotted Pig has become one of the most replicated and copycatted, with similarly small taverns now spreading out to the other boroughs. But delivering just a cozy bar setting and a menu featuring some basic high end comfort foods, does not an excellent restaurant make. Following a by the book formula certainly won't be enough to attract the legendary clientele- from A-list celebrities to big name rappers- that 'The Pig' routinely does, nor the dinner time, 60-90 minute wait times for tables that patrons are all too happy to wait out. Clearly, there's something unique about The Spotted Pig, and after hearing so many great things about it for years, it was finally time for us to head on over.
Judging by the place's notorious popularity and the fact that they don't take reservations, unless your name ends in Paltrow, you must give your name at the door, and wait like everyone else. With an estimated two hours or so in front of us on a Thursday night, we made certain to arrive early and put our name down on a basically empty wait list. After grabbing a pre-dinner drink elsewhere we headed back into the packed restaurant but were told it would only be a few minutes before our table was ready.
We enjoyed a cocktail at the upstairs bar while waiting to be seated, taking note of the painstakingly detailed décor installed all around us. The restaurant itself takes up two floors of a townhouse building, and every inch of it is elaborately ornamented, like you'd find in an old school British pub. Ornate pictures and different lamps line the walls, while a plethora of potted plants sit just next to the tables. The place is surrounded with little eye catching 'knick-knacks,' which are a little kitschy, but work well to enhance the vibe inside. Wood and brick is put to good use here, giving the entire place a warm and welcoming feel, even though in the dining area space is certainly a commodity. Since 'The Pig' is trying to pack in the crowd and turnover customers quickly, they have seating options available at both bars and their surrounding counters, so make sure to ask for a table if you plan to stay for dinner.
The menu at The Spotted Pig is both affordable (there is nothing priced above $30) and inventive. Chef April Bloomfield is incredibly innovative when it comes to her signature 'nose-to-tail' cooking style, which is evident from the distinctive options at 'The Pig.' That said, the menu itself is not vast. With just five entrée items, the remainder of the menu is broken down into bar snacks, plates- suitable for sharing, and sides. Attempting to get a taste of each course, we opened with the "pot of pickles" ($6). Hoping for an actual pot of pickles, this was a simple, small bowl of pickled vegetables- tasty but unmemorable. On the other hand, the "Devils on Horseback" ($7) were outstanding. Candidly, we were forced to ask the server what these actually were but upon hearing that the 'Devils' were full prunes stuffed with slices of pickled pear, wrapped in bacon, with a touch of chili powder , and subsequently broiled, made these a must try. And the resulting flavors worked together in a perfected marriage of savory and sweet, each served with a toothpick to share. The "crispy pig's ear" ($15) was also a delectable shared dish. Deep fried to a fault and served with a side of lemon caper dressing on a small bed of greens, the ear was deliciously sticky with plenty of taste packed into its skin. In our first foray into eating ear, 'The Pig' opened our palettes up nicely. The side of insanely delicious caramelized "Brussels sprouts" ($8) accompanying, also complimented our starter items, and frankly were appetizing enough to have been ordered on their own, instead of a side dish.
When it came to ordering our main entrees, our group was torn between ordering the restaurant's signature dish or trying something more adventurous. The "Hampshire Pork Belly" ($28) struck us immediately as a viable option, paired with a salsa verde and Borlotti beans. The "pan seared bass" ($28) served with cauliflower and hazelnuts and the "pan roasted skate" ($28) plated with fingerling potatoes and some baby bok choy also sounded incredible. But it's been said time and time again that the burger at The Spotted Pig is their trademark on taste. Once the server confirmed that the burger is "probably the best burger you've ever had," what to order was a question no longer. Served with a heaping portion of shoestring French fries, the "Chargrilled Burger" ($17) was topped with creamy Roquefort cheese, and was prepared at a pitch perfect temperature. The burger itself is massive and is served on a large, soft bun. The expertly seasoned fries are not overly greasy and are so tasty, they almost demand that you eat them in piles. The medium rare burger was pouring with juiciness with the taste of each bite melting in our mouths as if we were eating a delicious porterhouse steak. Yet it was the Roquefort cheese that truly set this burger apart from the rest of the pack. The aged cheese has a sharp and spicy finish which contrasted yet complimented the savory, fresh red meat. Ultimately, the excellent burger reinforced that we'd made the right call with our dinner choice as The Spotted Pig's burger is a true winner, and stands alongside some of the best in town.
Related Articles
Share
About Author
(2) Readers Comments