With the countdown toward 2012 coming much quicker than anyone anticipated, it's time to look back at the year that was 2011 here at LocalBozo.com.  Check in with us all week long as we'll be choosing our favorite New York City experiences of the past year including restaurants, concerts, bars, films, and local events.  Have a Happy and Healthy New Year and a Prosperous 2012 from all of us at Localbozo.com: All Local Stops.
With so many openings and closings each year, pinpointing the best restaurants is always a challenge.  Being critical of excellence is always a tricky and subjective task, especially considering the fact that each dining experience encompasses so many unique variables.  That said, like our restaurant reviews, this list is comprised of our complete impression of each place- from the décor, to the food, to the service, to the overall atmosphere.   And now, LocalBozo.com is proud to count down our Top 5 dining experiences of 2011.  Buon Appetit.
Number 5.  The Lion, 62 West 9th Street , near 6th Avenue, West Village (Posted 8/9/11)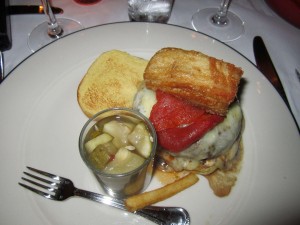 What we wrote then: "A glimpse of The Lion is a glimpse of Manhattan's elite, or at least what you'd expect Manhattan's elite to resemble on a seemingly regular work night."
Looking Back: Nondescript black awning aside, the bar area alone sets the mood for an upscale evening.  Lengthy table waits remain, but once seated in the old-fashioned looking dining room, the food and drinks make the wait worthwhile.  Glancing around for celebrities might be frowned upon, but is impossible to avoid here because the place is so very cool.  The menu is pricey but their "lamb porterhouse" (41) and their "burger 'special blend'" ($21), topped with a pork belly and a provolone/cheddar mixture were memorable entrees.  Just make sure to wipe the grease from your face, lest anyone important see you.
Number 4.  Lavo, 39 East 58th Street, near Madison Avenue, Midtown East (Posted 12/21/11)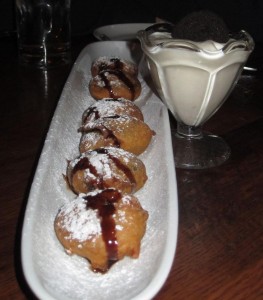 What we wrote then: "Upon entering Lavo, the very scene of the bar area is striking.  Some of the best looking people in New York City are here…its upscale feel and energetic vibe make you excited to blend right in with the cool crowd inside."
Looking Back: While The Lion is a more intimate setting for Manhattan's finest to get dolled up and kick back drinks, Lavo packs the same caliber of people into a massive space, preparing them for a raucous night out, rather than a casual private dinner.  From the minute you step through the doors here, the entire evening is about excess- beautiful women, huge portions of food, tasty mixed drinks, and booming music and energy throughout.   Cliches aside, New York City finally has that flashy place that would comfortably fit inside of a Las Vegas hotel, and with a nightclub below assuming you can get inside, there's no need to race around the city looking for where to go next.  The Kobe beef "meatball" ($21) is gigantic, topped with creamy fresh ricotta, but the must try here is easily the "oreo zeppole" dessert ($10)- deep fried oreos, served with a malted vanilla ice cream for dipping.  The fare here was surprisingly very good even without a true standout entrée, but the full dinner experience makes Lavo a worthwhile hotspot.
Number 3.  The Breslin Bar & Dining Room, 20 West 29th Street, near Broadway, Midtown West (Posted 7/14/11)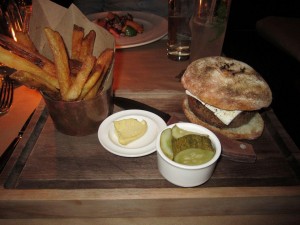 What we wrote then:  "The bar and restaurant that sits on the ground floor in the Ace Hotel is casual yet chic, forging a pub-like atmosphere within a prime Manhattan hotspot."
Looking Back: Like sister restaurant "The Spotted Pig," The Breslin is a highly sought after dinner spot night after night.  No reservations make securing a table difficult, but with a fun little bar inside complete with mixologists whipping up tasty drinks, the wait is never as bad as feared.  It's basically an exquisite looking pub, with the food standing out well above the atmosphere.  The menu features experimental items based on the philosophy of 'nose-to-tail' cooking, but the true standout item is their must-try "chargrilled lamb burger" ($21), topped with a sharp feta cheese and a cumin mayo.  Salty but not sloppy, and unbelievably tender and tasty, this was the best burger we tasted all year.  Bar none.
Number 2.  Osteria Morini, 218 Lafayette Street, near Kenmare Street, SoHo (Posted 3/23/11)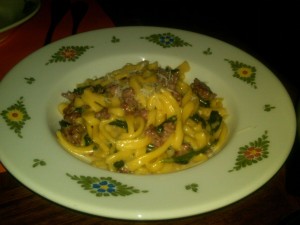 What we wrote then:  "A restaurant is only as good as its reputation once its patrons leave.  While admittedly on the pricey side, Osteria Morini is one of the most noteworthy new restaurants to open in some time and somehow despite an awful lot of praise, it was every bit as good as advertised."
Looking Back: It's no coincidence that Chef Michael White's restaurants occupy the top two spots on our list.  The first of which, the exceptional Osteria Morini brings an exquisite and traditional, old world Italian vibe to SoHo.  The energy inside the restaurant is always vibrant, refreshing in itself because it's obvious that the place is packed first and foremost as a result of how extraordinary the food is.  The pastas here are the show stealer with the capelletti ($19)- a mascarpone ravioli with butter and prosciutto- and the "maccheroni" (special)- served with lamb sausage, spinach and chestnuts- being two excellent options.  The "polpettine" ($10) was also an especially great value for the mortadella and prosciutto meatballs.  So many tasty options to try here, and none of them were less than spectacular.   Just a first class, food first restaurant that gives a nod to timeless Italian cooking and traditions.
Number 1.  Marea, 240 Central Park South, near Broadway, Midtown West (Posted 7/21/11)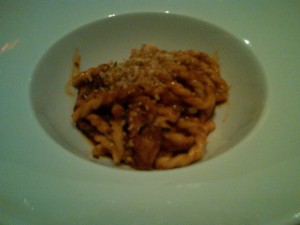 What we wrote then:  "Marea is without question the best dining experience that we've had in 2011, and urge you to experience White's Italian masterpiece for yourselves."
Looking Back: Since we last visited Marea in July, city restaurants had a full five months to reach the standard that Chef White's number one restaurant had set.  And each one simply fell short of the incomparable Italian eatery.  Located in a beautiful location, adjacent to Central Park, describing Marea can be done with a simple word: special.  The clientele and atmosphere share a fundamental refinement that encompasses classy and chic.  Each pasta is carefully hand crafted in house and the fresh fish are literally flown in daily.  Moreover the four course tasting menu (highly recommended) allows you to choose from the restaurant's entire menu at your discretion.  The restaurant's "fusilli" ($31) deserves a full paragraph to extol its virtues.  Brilliantly prepared, the dish is served with chunks of red wine braised octopus and a salty bone marrow for an unforgettable flavor.  Hands down, Chef Michael White's "fusilli" was the best dish that we had the pleasure of tasting in all of 2011 inside his charming palatial ode to Italian cuisine.
Honorable Mention: Here's a few of our other favorites that JUST missed the cut:
Porsena, 21 East 7th Street, near 3rd Avenue, East Village (Posted 2/9/11)
Favorite Dish: "lasagna al forno" ($18)- savory meat ragu and cheese served in a clay bowl; not overly saucy and a traditional, inventive delicious dish
A Voce Columbus, 10 Columbus Circle, near Broadway, Upper West Side (Posted 5/11/11)
Favorite Dish: "pollo al mattone" ($25)- a chili marinated brick chicken with fennel and chili; the salty skin is pressed into the chicken for a tasty, salty finish
ABC Kitchen, 35 East 18th Street, near Broadway, Flatiron District (Posted 6/23/11)
Favorite Dish: "kasha and bowtie pasta with veal meatballs" ($24)- a creamy ricotta square surrounded by fresh pasta and herbs and tender meatballs in a thick, gravy-like sauce
- Jane Van Arsdale
Related Articles
Share
About Author
(0) Readers Comments