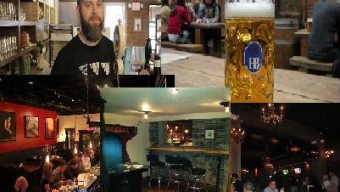 With the countdown toward 2012 coming much quicker than anyone anticipated, it's time to look back at the year that was 2011 here at LocalBozo.com.  Check in with us all week long as we'll be choosing our favorite New York City experiences of the past year including restaurants, concerts, bars, films, and local events.  Have a Happy and Healthy New Year and a Prosperous 2012 from all of us at Localbozo.com: All Local Stops.
Sometimes choosing a favorite bar in New York City is like being asked who you love more, your mother or father. In this town of ours you literally have hundreds of choices when it comes to wetting your whistle- be it at a dank dive, a speakeasy, or a trendy see and be seen club. As we've all seen over this past year, places we have loved for decades have suddenly closed, while many new joints were only given months before they had to shutter due to a mixture of high priced rents and a struggling economy. But alas your pals at LocalBozo have traversed the city and its boroughs providing you with our top five drinking establishments that we sauntered on into in 2011, which we hope are here to stay.
Number 5. Good Beer 422 E 9th Street, near Avenue A,  East Village, (Posted 5/12/11)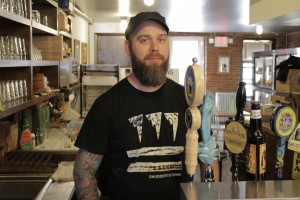 What we wrote then: "Good Beer sprouted from the mind of David Cichowicz. Cichowicz an avid beer fan himself, has created a relaxed, informative, and most importantly, a friendly environment for purchasing craft beer and all the accoutrements that go along with it."
Looking Back: There was a noticeable emergence of craft beer specialty stores in the past year. Each of them tried to put his or her spin on the high quality beer movement. Yet David Cichowicz's Good Beer managed to stay above the fray. By utilizing social media tools like twitter and facebook on a regular basis, David has been packing folks into his East Village shop for rare tastings and promotions from some of the craft beer words best purveyors. The seemingly endless fridges of suds featuring a stock of roughly 80% American and 20% German varieties along with additions from Belgium and the UK, are always changing. Be it seasonally or trends wise, Good Beer is keeping the brew movement fresh.
Number 4. Radegast Hall & Biergarten 113 N 3rd Street, near Berry Street, Williamsburg, Brooklyn (Posted 1/5/11)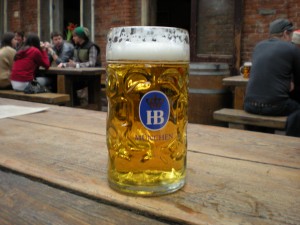 What we wrote then: " The Radegast Hall & Biergarten, is a true taste of Germany in Brooklyn. It is a multi-service venue where a group of people can imbibe large beers while humming along to the German Om pah music blaring out out of the speakers."
Looking Back: Radegast Hall must be doing something right. Every weekend this huge, multi-room venue is packed in like a can of sardines. The outdoorsy-like biergarten still features a wide selection of Hofbrau brews in gigantic steins ($13). It is truly one of the best in the city and the lines for sitting at one of the long wooden tables reinforce that fact. The authentic style and service is unmatched and with a grill pumping out Bratwurst ($7) and Venison Sausage ($11), they are unbeaten.
Number 3.  Uncle Barry's Bar, 58 5th Avenue, near Bergen Street, Park Slope, Brooklyn (Posted 11/11/11)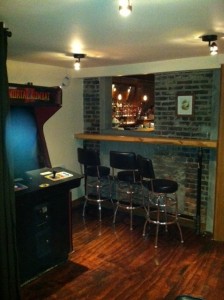 What we wrote then: "It may have been Uncle Barry's Bar's first night, but I could already tell that it will become a popular Park Slope hang out. Uncle Barry's layout is minimal yet cool."
Looking Back: Park Slope was in desperate need of a unpretentious hang out bar that still featured awesome spirits. And that's exactly what they got with Uncle Barry's Bar. Since its November opening, owner Josh Ellis and his partners have kept their promise to make this spot unique. Ellis, a Wisconsin native, has dubbed "Barry's" a Green Bay Packers bar showing games all season long. On Wednesday nights, they run a funny and laid back trivia night, with great domestics and craft beers on table and on occasion you can sample some treats like prosciutto-wrapped Twix bars ($3). Once can only guess what 2012 will bring for the bar. So take the train to Brooklyn and find out.
Number 2.  The Ainsworth, 122 West 26th Street near Sixth Avenue, Chelsea, (Posted 7/20/11)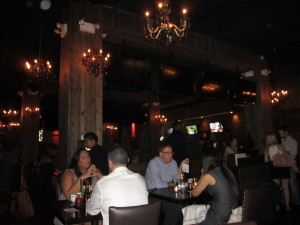 What we wrote then: "If the size of the entire place doesn't impress you, the clientele sure will, especially on a weeknight. Since The Ainsworth is considered an upscale sports bar, it shouldn't shock you to find cliques of business men, decked out in suit and tie all around the bar."
Looking Back: The Ainsworth is truly a sports bar with style. The large Chelsea outpost features a classic American yet trendy feel with both its layout and food selections. The attractive space has been the home to several corporate events and private parties, making it an attractive venue to impress and be seen at. Over the past year, sports fans have called this place home to grab a pint, sample delicious fare like the Peking duck burrito ($12), tuna tartar tacos ($16), and St. Louis ribs with cole slaw ($12 half rack, $19 full rack), all the while watching their team on one of several large HD flat screens. The soft leather chairs should be enough to keep you planted for at least a few hours. But wait times for NFL Sundays are insanely long. The place is packed with football fever, with fanatics sitting and staying seemingly all day. There are only a couple weekends left to enjoy the spirited Sunday action here- but take it from us- get there early.
Number 1.  Alewife, 5-14 51st Avenue, Long Island City, Queens (Posted 7/20/11)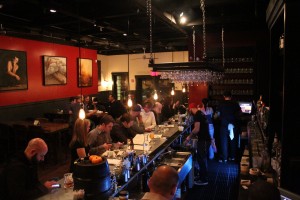 What we wrote then: "What's nice about Alewife is that because they do not expect you to necessarily have a beer of choice when you enter, they offer small beer samples of any draught before you order. Long gone are the days where you sit in your seat, stewing over a bad craft beer selection, and it's an excellent touch to an already excellent place."

Looking Back: 2011 is easily the best year that Queens has enjoyed in quite some time- at least at a food and drink level. Young people and trendsetters are now calling the borough home, and setting up new businesses. One such establishment, Alewife has taken up residence in the popular Long Island City section to the pleasure of those near and far. Easy access from Manhattan's Grand Central subway station makes the joint even more attractive to people on the "mainland." Alewife's draught list is ever changing and seasonal giving customers a true beer drinking experience, mixed with a tasty dinner and late night menu, which pair perfectly with these unique suds. It's all about variety here and with an ultra friendly staff to boot, patrons never have to feel embarrassed about asking questions when it comes to what's on tap. This is what drinking ought to be! And the launch of a new brunch menu gives us all the more reason to head out to Queens. Hopefully the rest of Long Island City continues to develop around it.
Honorable Mention: Here's a few of our other favorites that JUST missed the cut:
The Growler: Bites & Brews 55 Stone Street near William Street, Financial District (Posted 11/2/2011)
The Buy Back: The Growler comfortably sits among its well warm brethren pubs on the popular Stone Street, one of the Financial District's best after work spots. The pub features way more than just beer by sporting a diverse cocktail list. 
Chelsea Brewing Company  59 Chelsea Piers, inside Pier 59, Chelsea (Posted 8/22/11)
The Buy Back: Their beer is no great secret. It's featured in many if not all of New York's beer bars. But it's the flagship brewery location that is the true gem. Nestled in the heart of Chelsea Piers, the joint boasts great views of the Hudson River, a place to go after hitting golf balls, and some of the best pours in town straight from the source.
- Jane Van Arsdale
Related Articles
Share
About Author
(0) Readers Comments