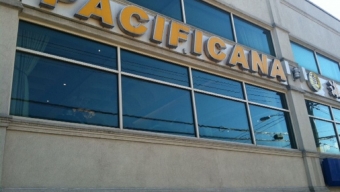 Pacificana
813 55th St
Brooklyn, NY
(718) 871-2880
Getting There: N Train to Fort Hamilton Pkwy
If Canal Street is the first thing that comes to your mind when you think of Chinatown, then you need to start thinking a little bit outside of the box. Just a short trip over the East River will land you in the other, often considered better, Chinatown. It's in Brooklyn, specifically in the ever changing neighborhood of Sunset Park. Starting at 50th street and 8th avenue you will find one of the fastest growing and most vibrant Chinese populations in the east. Most of the population has immigrated from the Shanghai region of China and and its streets are filled with several places where you can eat great food any day of the week. But for a truly authentic experience head toward Pacificana during a weekend day for traditional Dim Sum.
Dim Sum is similar to a Chinese version of Tapas, where one tries small portions of many different types of food. But to truly experience proper Dim Sum, one must allow oneself to experience true decadance. And that's were Sunset Park's Pacificana comes in. Located on the second story of a rather large building for the 'hood, the restaurant boasts some of the most spacious dining in the area. Not only is this place huge, but it also actually looks nice. There is nothing run down or divey about this place and it may remind some of you of the highly ornate and attractive Chinese places you grew up with in the suburbs.
Now, the first thing you need to know about Dim Sum at Pacificana is that it is insanely popular. When you ascend to the second floor you will see what I mean- large, mostly Asian groups, have collected there and are waiting for their tables. When each party arrives they have to approach the outside hostess who gives your group a number. Then for however long you are asked to wait, you will hear the hostess shout each number in Chinese, then English. It is truly unique and a great way to start out your time there assuming, that you're not waiting too long for a table. Luckily we were sat fairly quickly, as it only took about ten minutes. I personally think the key to getting sat quickly is all about timing. We arrived there after the early afternoon rush had ended, around 1:30pm.
Once seated, prepare to start making food choices right away as waiters are not already at your table hounding you, but instead various carts are circulated throughout the restaurant floor with a virtual cornucopia of exciting and exotic delicacies. Whenever you order something off a cart, the server marks a card given to you upon sitting in order to total your meal. Before you start to worry about having a huge bill, fear not as most items are under ten dollars, while others are dirt cheap. So have fun and try as much as you can handle. 
And all you can handle we did. Dumplings were the hot item of the day for our group. As the woman pushed the steaming cart up to our table we knew it was decision time. There were several attractive options available but we had to narrow it down in order not to fill up on these doughy balls of goodness. We went with pork filled soup dumplings, a seafood loaded shumai, and finally a meat and peanut stuffed plump dumpling. Each selection was unique and tasty, but the soup dumpling stood heads above the rest. The pork inside was tender and juicy, as it blended beautifully with the hot soup center.
After emerging from the dumpling cloud, we had our eyes set on some more exotic and meaty delights. The first of which is an item that many wouldn't think is downright delicious, chicken feet. Yes, you read that right. Chicken feet are a staple in Asian diets, therefore we had to try them. They arrived in a tangy red sauce, topped with scallions and were served piping hot, perfect for any fans of chicken wings. They are a perfect combination of solid white meat with a little bit of fat. The next highlight was the crackling suckling pig, served cold on a bed of jelly fish salad, and a hoisin dipping sauce on the side. The meat retained all of the flavor that it would have if served hot and the jelly fish salad provided a great crunchy, sweet contrast to the savory pork. Additionally, every table is given pots of hot Chinese tea. The tea is a Dim Sum standard and is not only refreshing, but it assists in digestion.
Sure, the Manhattan Chinatown is convenient and is more well known. But convenience isn't always necessarily a good thing. Sometimes you just have to go that extra distance in order to sample some of the tastiest, most reasonably priced, and truly authentic Chinese food in the city. And we're big proponents of getting you out to explore just a little bit more.
Related Articles
Share
About Author
(0) Readers Comments