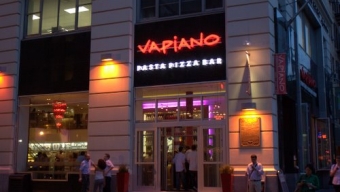 Vapiano
113 University Place between 12th Street & 13th Street, Union Square
212-777-9477
Getting There: 4,5,6 to 14th Street- Union Square

http://www.vapianointernational.com
The real estate surrounding Union Square is among some of the most sought after in the city. And whenever a new eating establishment moves into the area, one hopes it will be both original and delicious. The casual, yet hip, Vapiano has done just that. With locations in many of the world's busiest cities, Vapiano has found a home on the bustling corner of University Place and 13th Street, bringing with it a unique approach to dining out.
Once inside, it would be hard not to notice the fine architecture and ornate designs throughout. From its light up staircase to its post-modern chandeliers, this place has plenty of cool going for it. But it would be an understatement to simply say that the restaurant is big in size- mammoth would probably be a more appropriate term. Dozens of tables fill its floors providing its guests with a comfortable experience without being on top of one another. And in a city where many of its eateries are either small or overly packed, this factor goes a long way. Vapiano's bar continues the same trend of "size matters," with its multiple bartenders for fast friendly service, and plenty of seating to grab a pre or post-dinner drink.
The unique aspects of this joint do not end with its design because, hey in the end you came for the food. Vapiano serves a variety of made-to-order hand tossed pizzas, fresh house-made pasta, and hand tossed gourmet salads. But the method in which they serve the food to their customers is where the true innovation begins. Patrons use a "chip card" (which they are given upon entry) to personally order their food or drinks from the bar or from the individual stations. This provides them with an easy going flow to hand pick the foods and drinks they want, avoiding anything they don't.
The LocalBozo team was invited to Vapiano for a intimate tasting event to sample some of the dishes and drinks that customers will be able to purchase on a regular basis. The restaurant savvy crowd sipped a fine selection of red and white wines, as well as international beer favorites such as Peroni and Pilsner Urquell. These drinks were expertly paired with cheeses, olives, fresh breads, and a wide array of signature deserts.
Waitresses walked the floor serving various pass arounds. Our favorite tasting was a bite sized Bruschetta on hard bread, which was both tangy and sweet all at once. The crowd seemed to be in agreeance, as the waitress' tray was first to go whenever she did another round.
Vapiano's casual and fast, yet trendy feel is sure to be a hit at its Union Square location. New Yorkers want cool and hip atmospheres when dining out but by nature we are busy people who want service at our speed and food we want to eat. Vapiano hits on each of those levels.
- Jay Rubin
Related Articles
Share
About Author
(0) Readers Comments