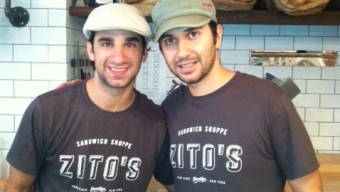 Blog: Zito's Sandwich Shoppe
Zito's Sandwich Shoppe
300 7th Ave
Brooklyn, NY 11215
Getting There: F To 7th Avenue
The New-American food scene has taken Brooklyn by storm over the course of the past five years. Even though this progress is exciting and innovative, we need to take a collective step back and experience Brooklyn history. That is, experience it through food, of course. Recently opened, Zito's Sandwich Shoppe in Park Slope is here to take us time traveling on our taste buds.
The interior of Zito's is a true combination of old school charm with a modern twist. Upon entering you can spot traditional Italian meat shop standards like sausages curing on strings, huge cans of tomatoes, a shiny meat slicer, and retro butcher shop signs. The new-school flavor can be seen with the addition of organic foods, free-Wifi, and a large flat screen TV perfect for catching a soccer match. If that wasn't enough, Zito's boasts an outdoor back porch area for the warmer months.
The sandwich options at Zito's will speak to any lover of hearty, savory foods. During our first visit we decided to go with a classic- the meatball parm ($8). All of Zito's food is made to order and arrives quickly. The sandwich arrived on a twelve inch piece of Italian bread, loaded with huge meatballs, and dripping with sauce and mozzarella cheese. The meat to cheese ratio was spot on and each bite was simply delicious.
Once the sandwich was no more, I spoke with one of the owner regarding the meat blend, and was informed that there was a great deal of veal inside. Although it is a staple in meatballs, veal can turn any good meat dish, into a great meal. Along with the meatball parm, Zito's Sandwich Shoppe will feature thirteen classic sandwiches along side a create your own option.
Zito's will be resourcing their foods from local purveyors including Faicco's Italian Specialties, Salumeria Biellese of Hells Kitchen, Ottamanelli & Sons Meat Market of the west village and Applegate Farms Organic Meats and Cheeses. And coming soon customers will be able to wash down that sandwich with adult beverages as they will be serving local beer provided by Sixpoint Craft Ales on tap and wines provided by Gotham Project. Once word gets out about this place, expect lines down the street, especially with the hospital right next door.
- Jayson Rubin
Related Articles
Share
About Author
(1) Reader Comment