Burger and Barrel
25 West Houston Street at Mercer Street, SoHo, (212) 334-7320
Getting There: B,D,F,V to Broadway-Lafayette Street
http://www.burgerandbarrel.com
The days of eating a sloppy hamburger sopping wet from a greased up grillpit are long gone. Today, the old-fashioned hamburger and to a degree, comfort food in general, is concocted using some of the finest ingredients, taking a historically unusual place on the menus of some of Manhattan's most notable eateries, and in many cases becoming the standout dishes at these fine establishments. Burger and Barrel, the fantastically executed sister restaurant launched from the talented team behind Lure Fishbar, is an American wine and gastropub that manages to intertwine exceptionally prepared comfort food with a mellow, old-pub style ambiance that marries together in a manner that can only be defined as tastefully traditional.
The layout of Burger and Barrel is welcoming, with a lively bar scene at the immediate entrance serving great local craft beers and wines, with solid rock hits accompanying the room's background sound. To the right of the bar, just like a fine bottle of wine, the restaurant really opens up nicely, with a spacious seating area, that really feels more special than just "another burger place." The tasty burgers here make you feel that way too. Clearly, the sprawling, dimly lit space is great for socializing. Be it a big group dinner, a first date, or a guys night out, Burger and Barrel is well designed to cater to any sized parties special needs.
Although "burger" is in the restaurant's title, there's plenty of other savory fare on the advantageous menu worth tasting. The "chicken lollipops" ($10), a favorite from Lure Fishbar, are prominently featured here as sharing portions for the table, along with some outstanding "short rib tacos" ($10) and "tuna tartare" ($13). We also seriously enjoyed the fresh "chilled shrimp ceviche" ($13), served with a concoction of citrus, avocado, and surrounded by crunchy corn tortilla chips for lapping every ounce of the dish. The crispy "fried chicken" ($19) and the "short rib ravioli" ($18) from the affordable entrée portion of the menu, also deserve your attention. Let's not also forget the fact that Burger and Barrel also serves wine on tap (hence the "Barrel" aspect), for a unique tasting experience.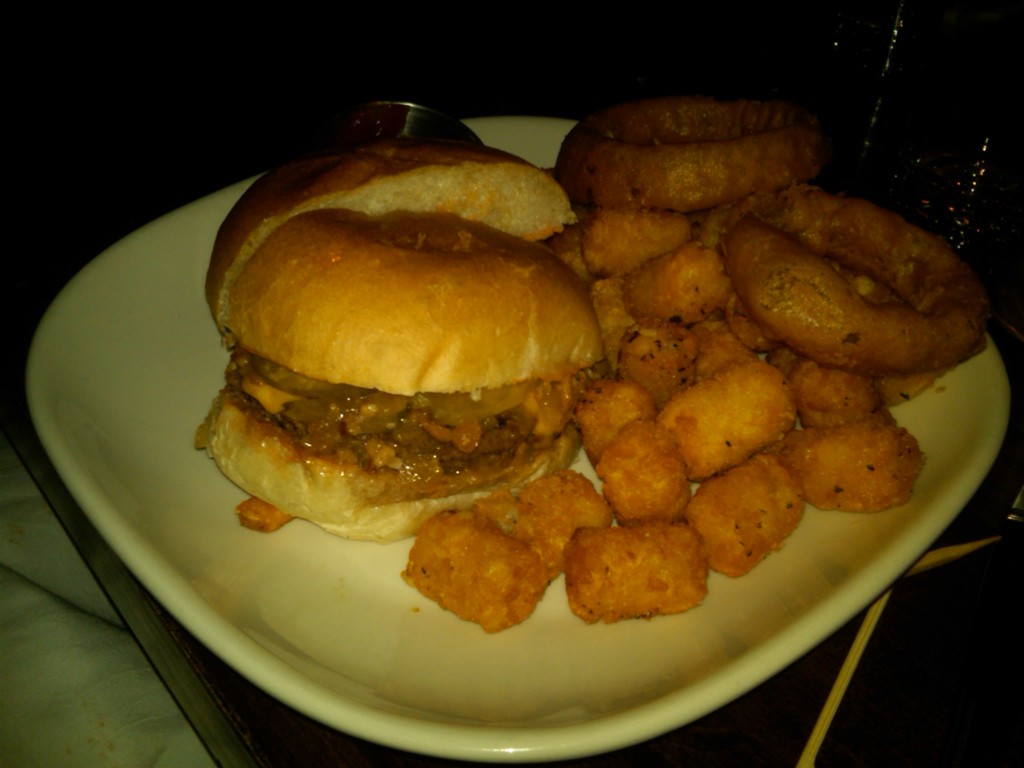 For months and months, we have heard rave reviews about the infamous "Bash Burger." Affordably priced at just $14, the burger combines a savory 6 ounce blend of Pat La Frieda beef, served on a freshly backed bun, smothered with silky American cheese and a caramelized onion and bacon jam, and topped off with crunchy pickles and B&B's special sauce, with some crispy onion rings atop the bun. The 2009 New York Food and Wine Festival winner of the "Best Burger" award was a culinary success from the inventive mind of Capon himself, and the item is clearly the highlight of the Burger and Barrel menu. While other tasty burgers and sandwiches round out the remainder of the menu, the "Bash Burger" is the must-try. The collaboration of the juicy, not soggy tenderly prepared meat with the sweet sauce and jam mixture, provide a true distinction over the sea of other Manhattan burger joints, putting Burger and Barrel clearly in the upper echelon as far as taste goes.
Our experience at Burger and Barrel was an evening of firsts. From sipping glasses of wine served from a tap to finally getting to taste the aforementioned "Bash Burger" which we had heard so much about, the restaurant truly exceeded all of our early expectations, bringing an old-school vibe into an excellent modern restaurant.
Full of energy, head chef Josh Capon took a few minutes to sit down with us at LocalBozo.com to discuss the infamous "Bash Burger," other tasty items from the eclectic menu, and what makes Burger & Barrel a must visit New York City destination. Make sure to watch the video above now!
Related Articles
Share
About Author
(1) Reader Comment