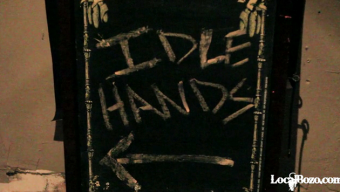 Idle Hands
25 Avenue B (Downstairs), near East 3rd Street, East Village (917) 338-7090
Getting There: F to Second Avenue
http://www.idlehandsbar.com
Most bloggers utilize just a single platform as a forum to appropriately express themselves. Detroit native and longtime New York City resident Reverend David Ciancio is a pundit of a different kind. He is widely known as New York's most socially connected burger blogger, running the extremely popular burger website burgerconquest.com. There Ciancio, or "The Rev" as most call him, gives his readers a blow by blow account of each burger joint he visits with his loyal crew of burger loving friends. He rates each burger out of a possible ten ounces. Much of the focus is on NYC based joints, but The Rev takes it a bit further with some of his more recent posts- chronicling his travels through Austin, Texas' South By Southwest festival, and some brilliant cross promotion with California based, heavy metal burger truck, "Grill 'em All." When he is not blogging for Burger Conquest, he runs Yeah! Management representing musical acts like Poison The Well.
If this wasn't enough to keep The Rev busy, he is taking his love for all things rock and New York City one step further by opening two bars in New York's east village, stacked literally on top of each other. The upstairs level boasts Billy Hurricanes, a New Orleans themed party bar, and Idle Hands Bar which is located directly underneath Billy Hurricanes, in the basement. Idle Hands is your go-to place for, "Bourbon, Beer, and Rock." And along with his business partner Marc Schapiro they cover all three of these decadent staples with excellence. LocalBozo recently caught up with The Rev to discuss his two new drinking establishments, specially made bourbon just for the bar, and his life as a burger blogger. It was on a night where Idle Hands would be running their ongoing craft beer series, "Learning to Beer." This particular edition featured Illinois', Two Brothers Brewery. These events happen all month long, so be sure to check out their calendar for updates.
- Alan Smithee
Related Articles
Share
About Author
(1) Reader Comment